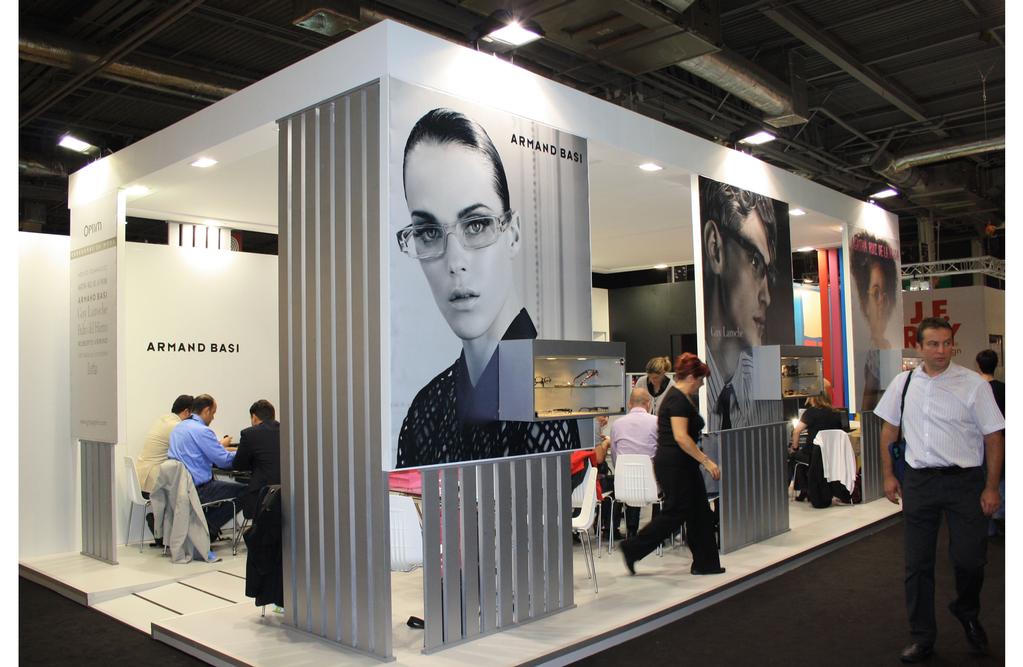 In an uncertain economic climate, it is important for companies to gain first hand experience of their markets, meet with clients and prospective clients and take up the opportunity to explore the widest product ranges available. Being the international exhibition for the entire optics and eyewear sector, Silmo provides a unique business platform, a chance to discover new brands, to exhibit new trends and innovations; a showcase for talent and skill of all kinds.
I arrived in Paris with eyewear foremost in my mind and as I wandered the streets to my hotel I couldn't help but notice the names so recognisable on the international fashion eyewear front popping up on optician signs along the fashionable streets of Paris.
Pinton, Lafont, Mikli to name a few… I felt as though Silmo was rising up to greet me before even setting foot in the vast halls of the exhibition centre.
Purple Haze
The next thing I noticed upon my arrival was the colour purple – clothes, tights, flowers, ads, shop windows – everything was purple. It seems purple is the new black.
"…even from a distance you couldn't help but notice the old Mercedes parked in the middle of the stand with a toaster on the boot and tables sprawled everywhere with sales people and customers hanging from them."
I sat with a well known optical star from Sydney on the plane and was ready and completely versed on what I should look at and where I should go whilst at the fair which gave me a leaping start.
With my press hat on I noticed the fair in a different light to my normal "business first – look around later" attitude. My aim was to immerse myself as quickly as possible into the attitude of the fair – to drink in the energy of the designers and ride on the excitement of the new and unseen.
Village Visit
The village was my first stop – I knew from previous shows this was where I was going to be most inspired and it did not disappoint me. The purple haze I had felt since arriving in Paris was vibrant and in full swing as I walked through the entrance of the halls to the village.
My first rendezvous in the village was with some fellow Aussies running around with the Silmo catalogue in hand looking to purchase new frames to set themselves and their practices apart from the norm back here in Australia. It was comforting to see that with all the talk of the GFC, they were still spending time and money bettering their businesses and venturing abroad to one of the most expensive cities in the world.
I was to ask the question for the first of many times over the next few days: "What is the most exciting thing you have seen so far?" This answer was to be the same whether I asked optometrists, wholesalers or designers: "Not one thing is standing out but technology and colour is playing a huge part in what's going on in eyewear".
Stand Up
I started with familiar stands… ic! berlin was my first stop – even from a distance you couldn't help but notice the old Mercedes parked in the middle of the stand with a toaster on the boot and tables sprawled everywhere with sales people and customers hanging from them.
I was quickly ushered into a photo booth with ic! berlin designer extraordinaire Ralph Anderl blowing in my ear for a crazy set of photos and then to disappear back into his buzzing booth.
Vicky Strojek, press manager then took me through the new developments of this iconic brand – everyone is a designer she says – the glasses of this latest collection are from the bowels of the company – Hubert the sales rep, Tom the technical department and Olivia the trainee, to name a few. There are stories for each of where the inspiration came from to design their frame and how they can turn metal into something courageous, brave and with a strong story to tell.
Next on my list was Prodesign – another big name in Optics worldwide and always a brand to be reckoned with. This year they had a frame nominated for a Silmo design award. It didn't take home the prize but is well worth a look when this new Silmo collection reaches our shores.
Onto a personal favourite, Vera Wang – this range has gone from strength to strength from a small catwalk launch originally, it is now a collection not to be missed when looking for that stylish, well designed women's frame. The collection is synonymous with exquisite acetates and this new Silmo release surpasses all expectations.
Onto some homegrown talent with Jono Hennessy and Colab sharing some space in the Village and showing Europe and the rest of the world what the Australian contingency can do. The Hennessy range of Sunglasses and Optical was looking as cool as ever with Jono's love of acetate and vintage a big influence on his 2009 Silmo collections.
The next stand I spent some time with was William Morris London – a fabulous English range newly launched into Australia. The vibe was hot here and with the champagne flowing heavily I took some time to relax and talk to designer Brian McGinn who has just returned to London following a very successful design stint in Australian eyewear.
Brian took me for a walk through the village to show me what he had found to be most interesting and inspiring at the fair and this is where I met the infamous Jacques Durand. Speaking with the help of an interpreter I found out all there was to know about the man who for the past 30 years has worked alongside Alain Mikli and was the product manager of the Phillipe Stark range.
"I am not a designer I am a conceptor – I hold the hands of the designer." He went on to explain when asked what his design style was like. His concept is simple – nurture artists and help them create eyewear…stay tuned for his name on the international eyewear stage….
"I couldn't help but notice the party atmosphere at the Orgreen stand. Orgreen continues to be one of the leading brands in Europe and it was obvious that the Orgreen design continues to inspire many other designers in the Village section. What I like about Orgreen is the identity of their unique and inimitable product. People wearing an Orgreen can be immediately recognised," says Jim Kareh of Matrix Eyewear Australia.
I have to mention Francoir Pinton, not only was their stand looking as fabulous as always with our very own Wallace of Wel Eyewear in residence but every second person at the show and on the streets was wearing a Pinton frame. Gorgeous acetates rich in colour, looking both luxurious and trendy at the same time.
Down on Numbers
As was the case with Odmafair this year I couldn't help but notice the empty space surrounding the booths and the wide empty hallways at Silmo.
The threat of flu, smaller travel budgets and confusion over the changed dates may have played a part in the drop in visitor numbers to 32,000. Figures were quoted at a 20 per cent downturn in attendees this year which was being blamed mainly on the GFC.
Eyewear giant Safilo was absent, whilst Luxottica was only represented with a small stand for its Persol brand. However, that said, the low profile maintained by the conglomerates allowed smaller brands to shine.
The Europeans as a whole bring so much style and grace to these trade shows, it makes it easy to become envious of the opticians and their amazing scope of eyewear they can purchase and sell in their boutiques.
I am off now to buy a François Pinton frame – preferably in purple if there is such a model.
WINNERS OF THE 16TH SLIMO D'OR
Lenses: Serengeti, 'Polar PhD' | Frame Technological Innovation: Rolf, 'Imperator' | Children's Frame: Julbo, 'Tango' | Teen's Frame: IDC, 'Kumi' | Sport Eyewear: Demetz, 'Translation' | Low Vision: Essilor, 'After' | Optic Frame (style, design): Morel, 'Seville' | Sunglass: Rodenstock, 'P8481 Porsche Design' | Village – Optic Frame (style, design): Derome Brenner, 'Harlem' | Village – Sunglass: Face à Face. 'Miami' | Workshop Tool and Equipment: Essilor, 'Mr Blue' | Eye Test Exam: Nidek, 'Ark-560 A' | Luxury: Exalto, 'Atom' | Product Environment: BOZ, 'Kit PLV' | Accessory: Alain Milki, 'Delfina' | Optical Instrument: Bushnell, 'BackTrack' | Contact Lens: Johnson & Johnson, '1 Day Acuvue TruEyes'
Jacque Katsieris is the Managing Director of ProOptics. She has worked in the optical industry for over 10 years and says she "absolutely loves her job" and that her "customers are divine."