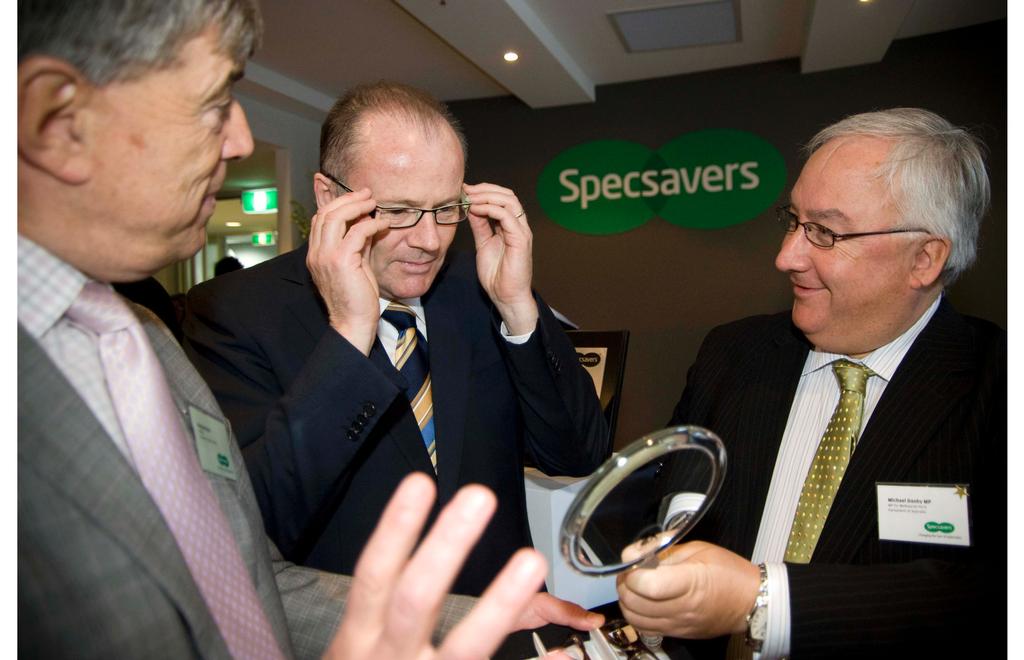 Specsavers opened its new multi-million dollar head office in Port Melbourne with the announcement that they plan to create 1,000 jobs across its rapidly growing Australian retail network.
The Specsavers team and more than 100 guests from across the optical industry came together to hear Specsavers founder Mr. Doug Perkins remark on the success of "the fastest rollout the company has seen in its 25-year history".
In his address Mr. Perkins stated that "the company is on track to beat its initial financial year forecast of AUD$200 million in revenue by more than AUD$50 million."
The privately owned optical franchise has opened close to 200 stores across the country since February last year, with a further 30 scheduled to open before Christmas.
"…due to our fast growth the issue we face, like all others in our industry, is a shortage of trained staff."
"The retail expansion will generate at least 800 jobs in the coming 12 months, with an additional 200 new jobs being created at the 13,000 square metre manufacturing and operational facility in Melbourne – more than 1000 jobs in total," said Perkins.
Big Plans
At the opening, attended by The Hon. Lindsay Tanner MP, Federal Minister for Finance and Deregulation and The Hon. Martin Pakula MP, Victorian Minister for Industry and Trade, Mr. Perkins revealed big plans to "invest in training and career development in Australia to assist in beating the skills shortage."
He said "the investment in the new headquarters underlines a phenomenal first 20 months of trading operations for Specsavers in Australia."
"Within the multi-purpose facility our new Specsavers Training Academy now offers a full range of skills and career development opportunities to a new generation of optical professionals, to deliver an exceptional standard of customer service in eye care within Australia. The new facility gives us the platform we need for the next stages of growth in both our Australian and New Zealand markets."
Focus on Training
The head office houses three specially equipped training centres for interactive online and daily face-to-face training sessions for the network of stores, plus a fully functioning Specsavers store for hands-on store training. N.Z. and Statebased Academies are also in the process of being set up, together with local mockstores for store training.
Specsavers' Australian MD Peter Larsen gave further insight into the need to invest in training, commenting that: "due to our fast growth the issue we face, like all others in our industry, is a shortage of trained staff. That's why we have taken the step, within this building, to invest in the formation of the Specsavers Training Academy. This will bring together a full range of training at all levels from optical assistants starting their first jobs straight out of school, to continuing professional education courses for optometrist and optical dispensers.
"To do our part to address the skills shortage itself, we will 'find, recruit and train' the very best – with the aim of providing skills and career development for the next generation of eye care professionals in Australia and New Zealand."
Development and Growth
Mr. Larsen also reported on local manufacturing growth, pointing to 27,500 pairs of spectacles being produced each week in the on-site laboratory. The company predicts the total volume will grow to 37,000 per week by February 2010.
On behalf of the Federal Government, Lindsay Tanner welcomed the opening of Specsavers' Regional Headquarters for the Asia-Pacific region in Melbourne, saying: "Specsavers' entry in the Australian market during some of the most challenging global financial conditions seen in recent years is a great success story both in terms of business growth and local employment opportunities.
"Today's announcement is great news for Specsavers and great news for the Australian economy, with increased competition and investment in the Australian market resulting in increased productivity and thousands of new jobs across the nation.
"I also commend Specsavers' commitment to not only creating new jobs, but investing in them for the future with the Specsavers Training Academy focusing on career development for local employees."
Victorian Industry Minister Martin Pakula commented: "The new HQ complex sets the stage for the company's development and growth for employment in Australia, and a prosperous future for job opportunities within Victoria."