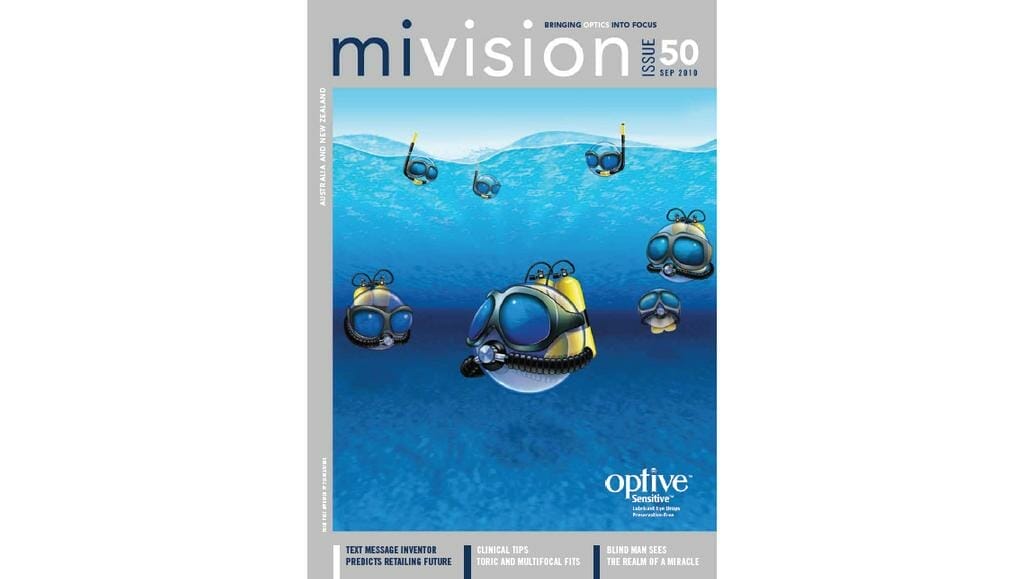 It's Spring again, and with it, allergy season. In this issue of mivision we've got tips and tricks to help your customers avoid the onset of allergic conjunctivitis – and for those who can't avoid it, some advice for treatment.
Do you believe in miracles? If the answer is "No", then you might change your mind when you read about the amazing story of Canberra father of three, Frank Pedliham, who underwent a series of eye operations only to eventually lose his sight and be declared legally blind.
But suddenly some months later, Frank, who had even considered being a candidate for a bionic eye, had his vision returned. There is no medical explanation as to how it happened. Frank, who says he's not a religious man, describes it as "a miracle".
His ophthalmologist, Dr. David Tridgell has never seen or heard of this in his career and is careful when saying it is "in the realm of a miracle".
You'll be amazed to read Frank's first hand accountand Dr. Tridgell's medical report on what we can only describe as "a medical miracle".
In this issue we also bring you the amazing story of an Australian pioneered laser that's been a decade in the developmental stage and is now undergoing what researchers say are successful human trials. It uses nanosecond technology and is set to revolutionise the treatment of Age-related Macular Degeneration (AMD) and Diabetic Macular Edema (DME).
In ophthalmology news, we publish a report by a team of ophthalmologists from various specialties in Australia who travelled to the recent ARVO conference in Fort Lauderdale, Florida, USA. The topics the team covers range from retinal and corneal diseases to stem cell therapies and glaucoma.
In our business section, Dr. Peter Herse explains 'How Not to Be Left Behind' and suggests that given the recent changes with National Registration, you might want to get back to doing some more continuing education, before you drop back from the cutting edge.
And renowned futurologist, Dr. Ian Pearson, writes how "augmented reality will play a significant role in shaping future lifestyle, but the most important differentiation between retail now and in the future will be how retailers integrate technological personalisation with human interaction".
All this, as well as the most up-to-date news and fashion. Plus, a few eye opening facts and figures on the rapid advance of technology that are guaranteed to get you thinking about the future of optometry, ophthalmology and life in general!
Enjoy this issue.
Mark Cushway
Editor
September 2010 contents:
| | |
| --- | --- |
| | News: The latest news on optics from Australia, New Zealand and around the world. |
| | mistory: An amazing story by Norm Lipson on how a blind man miraculously regained his sight again. |
| | mifeature: Join the World Sight Day Challenge on 14 October. Optometrists around the world will step up to the plate to help to alleviate avoidable blindness around the world. |
| | mifeature: Carolyn Morely went to Mongolia recently with The Wandering Eyes Project to help provide vision to the local communities. |
| | miophthalmology: Dr. Colin Chan presents a case that demonstrates the benefits of taking a comprehensive approach to Dry Eye treatment. |
| | miophthalmology event: A team of ophthalmologists from Australia report on the recent Arvo ophthalmology conference in Florida, USA. |
| | micolumn: Geoff Lawson writes on the coming Ashes series. For those of us from Australia and England, the Ashes aren't just about sport; zinc cream or eskies of lager. |
| | mioptometry: The OAA state divisions report on the important happenings and events that effect members of their local optometry division. |
| | mieyecare: Advances have led to improvements in soft lens materials, design and manufacturing; incorporating soft toric and multifocal lens designs into practice. |
| | miequipment: New laser treatment pioneered in Australia is set to herald a revolution in the treatment of age related Macular Degeneration (AMD) and diabetic Macular Edem (DME). |
| | mibusiness: Given the recent changes to National Registration Dr. Peter Herse suggests that it is now a good time to get 'back to school' to update your knowledge. |
| | mibusiness: Retailing now is different from retailing in the future. Dr. Ian Pearson, the first text message conceiver writes his opinion on future retailing. |
| | miproducts: The latest optical products from Australia, New Zealand and around the world. |
| | mifashion news: The latest fashion news in optics from Australia, New Zealand and around the world. |
| | mifashion: French fashion house Chloe continues to inspire with its latest range of cool, feminine eyewear. |
| | mifashion: Fashion is ever changing, but it is important to start stocking the basic 'timeless' styles as customers will be asking for them. |
| | The Last Word: the Internet craze continues to spiral in large circles, but what does this all mean? Will 'real pleasure' eventually replace 'virtual pleasure'? |
| | |
| | |
| | |
| | |
| | |
| | |
| | |
| | |
| | |
| | |
| | |
| | |
| | |
[/vc_column_text][/vc_column]