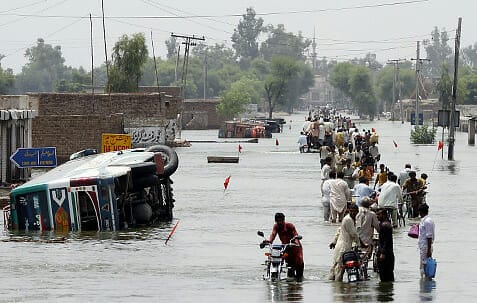 Pakistan is flooded and the people are in great need of food, clean water and shelter.
We're sure readers of mivision will recognise the humanitarian disaster unfolding in Pakistan with millions upon millions of lives being threatened. There is currently an urgent need for assistance.
The figures are mind-numbing – over 20 per cent of the country of Pakistan is flooded and the number of people who have been left homeless ranges from between four to 20 million.
These people now face deadly disease, starvation and exposure that could wipe out generations. The basics of life – medicines, food and shelter – could save them. We should all be asking ourselves what we can do to help and then do what it takes.
…over 20 per cent of the country of Pakistan is flooded and the number of people who have been left homeless ranges from between four to 20 million
Many aid agencies such as Save The Children, Unicef, World Vision and Oxfam have set up Pakistan Floods Appeals to help raise money to get vital aid to the people who have been made homeless.
Ian Woolverton, from Save The Children, is trying to help with the relief effort in southern Pakistan. He has been working at a school in Sindh province which has been turned into a shelter for displaced people.
"Sindh province has an estimated two and half to three million people displaced, so the needs down here are absolutely massive," says Ian.
"There were some 2,000 people living in the school, in what used to be classrooms," says Ian.
"The conditions in that school, in that camp, are I'm afraid squalid. People are having to go to the toilet in the corridors, there's urine everywhere. The sanitary conditions are awful."
Geoff Lawson is a former Australian cricketer and Pakistan cricket coach and a trained Optometrist. He has been a regular visitor to Pakistan and is a columnist with mivision.
He has made the following plea: "As someone familiar with some of the countryside that is inundated and the people that have lives torn away, I can empathise enormously with the common people of Pakistan who have suffered this catastrophe. The problem doesn't end with the flood recession, the crops that won't be planted and won't be harvested will have a huge effect on all of Pakistan in the next 12 months and beyond. The rural people of Pakistan are amongst the most hospitable and friendly in the world, they would give a visitor their last roti. Please help them now in this time of desperate need. "
Pakistan is flooded regularly during the summer monsoon season but this year has been like no other with an estimated 180 per cent more rainfall than the average.
Ian Woolverton says "the biggest health threat at the moment is diarrhoea, we can't overstate this enough really."
"The number of people who could die as a result of watery diarrhoea and therefore dehydration is a real concern for us. It really is very basic types of illness that can kill people here."
A donation of AUD$10 could literary save a child's life.
To give to a Pakistan Flood Appeal send a donation to one of your preferred charities or you can make a donation by going to Save The Children, the Unicef Pakistan Flood Appeal, World Vision or Oxfam Pakistan Floods Appeal.