Medical science is evolving at a rapid pace with new cures and procedures that help us overcome ailments we previously had to endure. But there are some extremely rare cases when a person somehow overcomes a major affliction that medical science is unable to explain. That's the case with Canberra man, Frank Pedliham, who went from being legally blind to suddenly having his vision restored… perhaps by a higher authority… who knows?[/vc_column_text][/vc_column]
Frank Pedliham is not an overly religious man, but his only explanation for what happened to him is "it's a miracle."
And his ophthalmologist, Dr. David Tridgell, says: "Well, I must be careful in how I describe it, but I would say it is in the realm of a miracle."
It all began for the 53-year-old father of a teenage son and daughter, about four years ago, while riding his motorbike in Canberra's business district.
Frank's eye was so badly damaged that he needed six operations over the next six months
"Suddenly, I realised I couldn't see the traffic lights any more. I pulled up and that was pretty much it."
Frank explains that he was born with an amblyopic right eye in which he had almost no vision and he only ever had one functioning eye. Without warning, his good eye seemed to 'pack it in'.
"I called my wife Juanita, who took me to the hospital where they told me they couldn't really do anything for me.
Frank recalls a doctor saying, "You'd better get to the Sydney Eye Hospital immediately, before you go blind."
"It turned out that I had a detached retina in my left eye and I have no idea how on earth it happened.
"I went to see a specialist and was sent to Sydney Eye Hospital that night. When Juanita and I arrived at 11.30pm, the medical team was waiting for us. They began lasering my eye straight away due to so many tears and the detached retina.
"I have no idea how I got the tears in the eye. I don't remember doing anything to contribute to it. I had no vision at this stage. I was pretty much blind. It was like looking through an extremely thick fog."
Patient Fear
Frank admits to being scared at the prospect of going blind, but he says he did not panic because he truly believed the doctors would fix whatever was wrong.
"They said they could only do so much at the hospital because the eye was so fragile. They said I would have to go back and forward over several months to get a number of laser treatments done."
Frank's eye was so badly damaged that he needed six operations over the next six months, which meant he had to travel back and forth from Canberra.
"Over that period I was virtually blind. My left eye was patched up and I was relying on the remnants of vision I had in the right eye which was almost nothing. In effect, I was blind.
"Naturally enough, everything goes through your mind. I was working for a plant hire company putting plants in office buildings. I thought I would lose my job and I'd have financial problems. I wondered how long I would be off work and how soon the specialists would fix my sight."
Under a severe handicap, Frank returned to work, figuring he would get through as best he could. The people he worked with assisted, driving him to where he had to go and Frank says he managed to get offices that were fairly easy to walk around in.
"Life was like looking through a pair of glasses that had Vaseline on the lenses but I convinced the boss I was still able to carry out some work. I put the easier offices on my list of jobs rather than the more difficult ones. I still had to carry plants and place them, but my workmates would drive me there and pick me up at the end of the day."
However, Frank soon came to the realisation that this situation could not continue indefinitely. He believed he would go blind.
"I had no concept of what blindness was. I thought it was complete darkness and the next step would be to get a Seeing Eye dog. I didn't know about degrees of visual impairment and how much there was to vision impairment compared to what I had. I kept thinking 'I'm not really blind yet… I'm not really blind yet…' I hoped that whatever operations they were going to do would fix it.
"My wife and kids were concerned about it, but I don't think they completely understood what sort of condition my eyesight was in. It finally got explained to my wife when the doctors said: 'We are going to have to do another operation and try to fix this detachment because it's not being fixed by the laser'."
In the final operation at Sydney Eye Hospital, where he spent a week, Frank says: "They ended up putting a gas bubble behind my eye to make the eye wallpaper stick back to the wall. In other words, they were just trying to fix the retina so that it would be strong enough to do what it's supposed to do.
"It was a case of see how we go. There was only so much work they could do on it because it was my good eye and it was so fragile. It was virtually held together by sticky tape and whatever else they could do to make it work".
Legally Blind
Not long after that surgery, Frank visited Dr. Tridgell who found that Frank had developed cataracts.
"The doctor told me he would have to remove the cataract and insert an artificial lens. He asked me whether I wanted to see long or short and I said 'let's see far. I've never seen far'."
Dr. Tridgell successfully removed the cataract in the left eye and inserted the lens which allowed the vision to return to almost normal. Frank was relieved. But while he was able to return to work, his employer was not too happy about his handicap. Eventually Frank had to part company with his plant hire job.
A few months later, Frank's relief and joy was turned on its head. He suddenly lost his vision and was back at square one.
Dr. Tridgell, who had been so happy with the initial results following cataract surgery, says he was downhearted at the news. Frank could not read the top letters of the eye chart and it was Dr. Tridgell's unhappy task to inform him that he was now legally blind. He could not explain what had gone wrong.
"That was the big moment where you think 'wow…this is it,' said Frank. "My family was upset and frustrated to see me in this position. I was unable to read, watch TV or do a whole range of things.
Frank sought the help of Vision Australia who arranged for him to have special computer equipment to help him work in a travel agency.
"But it got to the point where the company I was working for really wasn't interested in having me on board, so after three months they fired me.
"I had been in constant contact with Vision Australia since the initial loss of vision, but after I was fired, I turned up on their doorstep, completely soul destroyed and with no one else to turn to for advice. Under the management of Eileen Muscat, Graham Templeman and Nikki Toohey suggested I volunteer with Vision Australia a few days a week. I thought volunteering was for retirees and students, how wrong was I.
"I just couldn't sit at home feeling sorry for myself – it was driving me crazy. I started work as a volunteer for Vision Australia a few days a week then a receptionist position became available at the organisation. I applied for it and got it.
"Working with Vision Australia, listening to the clients, from the very young to the very old, and working through the various degrees of vision impairment they had, sort of gave me a lot of support. I didn't feel quite as helpless and hopeless and useless because of the different stories they had to tell. I realised I wasn't the only one and I was in no way in the worst shape.
"With Eileen Muscats excellent team providing me encouragement, technical adaptability, and a complete stress free environment, I really felt that I had found my niche, I had empathy and understanding with our clients and I really wanted to do all I could to assist them," he said.
High Hopes
While Frank considered offering himself up as a candidate for a bionic eye, he says he never lost hope that one day, somehow, he would be able to see again.
With that hope in his heart, Frank regularly visited the local motor registry office and asked one of the staff there, Robyn Duggan, if he could try to read the eye chart. She agreed, but it seemed a forlorn hope as Frank tried to read the top line.
"Robyn Duggan was great, but I really couldn't even see much of the large letters. I was mainly guessing. I was really trying to just guess the large shapes.
"I kept hoping that something would happen. My license was suspended and I didn't want to go five years without one because, if my vision somehow returned, after five years I would have to sit for the test again."
Then one day, about three months ago, a 'miracle' began to unfold when Frank turned up to the motor registry and attempted to read the chart. Robyn Duggan stood there gob-smacked. "You've actually correctly read a line, something you've never done before," she told him.
"I said 'wow, that's fantastic.' I left there and went straight to the eye specialist and asked him to have another look at me. He sat me down and said 'let's try cleaning up the lens'. He cleaned the plastic lens with a laser which was basically like pulling a curtain back so that a lot more light got through.
"With that I walked out of his office and I could see a lot more than I could before. The light was glary – I actually had to put sunnies on. It was like someone had switched the light on in a dark room.
"Until that time, seeing faces was almost impossible. Now I was seeing faces with more clarity, although not so much the colour of eyes and wrinkles. I could see the traffic and the street, but it was still fairly blurred.
"I was buoyed and feeling really good. I patched my right eye to try to make the left eye work harder, something I remembered doing as a kid to try to make my lazy eye work. I figured my right eye was wasting too much of my brain power and I thought that if I could make the left eye believe the right eye was no good…"
A couple of weeks later Frank returned to the motor registry full of confidence. "Frank, you've now read two lines lower than you ever have," she told him excitedly.
"I just kept feeling stronger and stronger regarding my eye," Frank recalls.
"Then I went to see my friend, Greg King of Simpson Optometry and Greg King Eyewear and he set me up with a new pair of glasses. My optometrist said: 'I think you've done remarkably well. You can almost see as clearly as possible'."
A Miracle
With that, Frank went back to see Dr. Tridgell who said to him: "I don't know what you've done. You've undergone some neurological remodelling."
To add to his joy, Frank got his driver's license back and can now drive unrestricted with glasses on.
"I had to wear glasses before. Now I can see pretty much the same as I could beforehand. I can read the paper, watch TV… The doctor can't explain this. No one can!
"I still get some floaters, but it is a miracle for sure."
As for Dr. Tridgell, he says he is at a loss to explain what has occurred: "I have never seen this before and I doubt anyone else would see it often either. It is highly unusual."
Frank says he still puts a patch over his right eye sometimes to exercise and strengthen the left eye and he intends to stay at his Vision Australia job, something he loves doing. "It's the best job I've ever had for the most rewards. I get to understand a lot about human beings in a lot of ways."
Reflecting on his experience, Frank says: "I have no way to explain what has happened to me. All I can say is miracles do happen."
Medical Report on Frank Pedliham by Dr. David Tridgell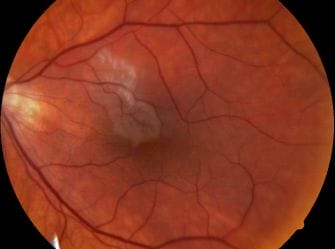 Figure 1. A photograph of the patient's retina from January 2007 shows the area of retinal pallor looking like semi transparent cotton wool.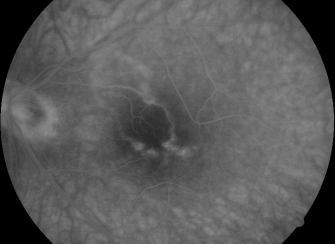 Figure 2. A fluorescein angiogram shows damage to the vessels at the macula as the fluffy indistinct white patches. The normal vessels outline clearly at the edge of the picture.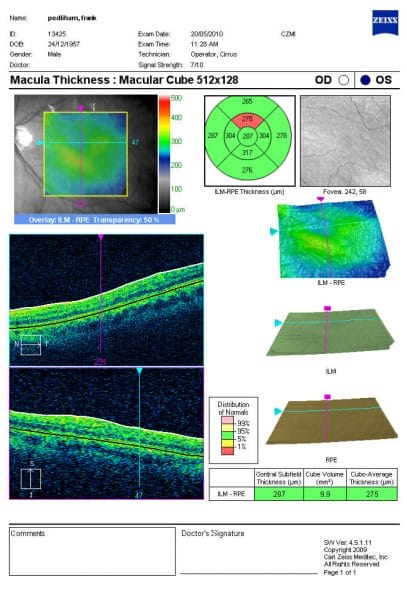 Figure 3. An Ocular Coherence Topography scan shows the thinning of the retina in the area of the retina affected on the initial angiogram. Dr. Tridgell says this indicates retinal damage to the area and that the delay in the return of the patient's vision and the structural changes seen on the OCT indicate the patient has re-learned to see with the remaining non-affected areas of his macula.
Frank Pedliham first presented to me in June, 2006. At that stage he had recently had retinal detachment surgery at Sydney Eye Hospital. He had best corrected visual acuity1 of 6/24 right and 6/9 left with development of posterior subcapsular cataract on the left side.
His right visual acuity was reduced from preceding amblyopia.2
By August 2006 his best corrected vision had dropped one line to 6/12 due to increasing cataract formation. As his left was his dominant eye, and the one he relied on for all his visual functioning, he was booked for cataract surgery which was carried out uneventfully on 30 November 2006 at Calvary Public Hospital.
Post-operatively his vision was initially much improved and his vision on the first day after surgery, and one week after the operation, was almost normal at 6/9.
On 19 January 2007 the patient reported clouding of the vision in his left eye and he had developed an area of pale retina at his left macula with the clinical appearance of a branch retinal artery occlusion. He was fully investigated for underlying inflammatory diseases and there was no systemic abnormality to be found. His vision at that time was 6/18 and dropped progressively over weeks so that by March 2007 he could only see part of the 6/60 letter (see Figure 1 and 2).
He was ably assisted by Vision Australia to find work suitable for someone with a small defect in their central vision but otherwise good peripheral vision.
In November 2009 he returned noticing increasing blur in the left eye. He had developed significant posterior capsule opacity3 and there was no clear view of his retina. He proceeded with left laser capsulotomy4 and one week later his vision had improved to around 6/18 and his vision progressively improved in the months afterwards. By May of 2010 his unaided vision had returned to 6/9 and, with full peripheral vision confirmed on visual field testing, he was able to apply for and have his driver's licence reinstated (see Figure 3).
I believe that this gentleman had a retinal vascular occlusion affecting his left macula. In the years that followed he likely had revascularisation of the area of retina affected however he was not aware of any improvement in his vision due to progressive development of posterior capsule capacity. His vision after laser capsulotomy did not immediately improve but I suspect that there was an element of relearning to use his left macula in the months that followed, aided by the relatively prolonged visual deprivation from the dense posterior capsule opacity.
Retinal vascular recover has been reported previously but I understand this is an infrequent occurrence and this is the first and only instance that I have seen.
I am very happy to have been able to see such a happy occurrence.
Dr. Tridgell is an ophthalmologist based in Canberra, ACT.
References
1. http://en.wikipedia.org/wiki/Visual_acuity
2. http://en.wikipedia.org/wiki/Amblyopia
3. http://en.wikipedia.org/wiki/Posterior_capsular_opacification#Complications
4. http://en.wikipedia.org/wiki/Nd:YAG_laser