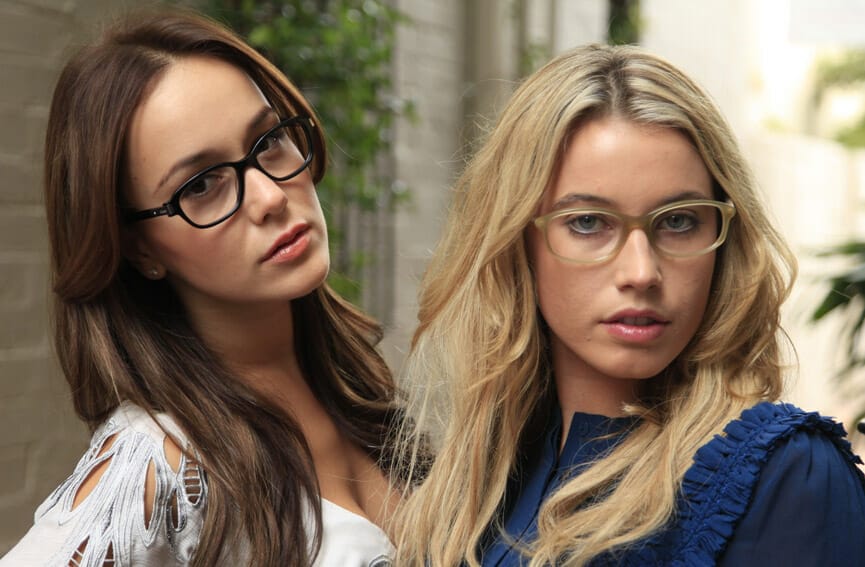 French fashion house Chloé continues to inspire with its latest range of cool, feminine eyewear.
The new Chloé range of eyewear promises to express the very essence of 'the Chloé woman': romantic; self-assured; a little bohemian with a retro twist; but still very much anchored to the present.
Created to complement its clothing line, Chloé sunglasses, with their oversized vintage feel, are already popular in Australia and the optical range capitalises on that.
The frames go hand-in-hand with the season's colours of grey, plum, ivory, old pink, marine and chocolate. The wide range of colours offered in the collection brings out the volume and shape of the design as well as the qualities of the materials. The frames always combine an elegant design with a strong identity.
The collection has a sophisticated, feminine feel, while remaining true to the bohemian spirit of the Chloé brand.
The cases bear a studded plate as a nod to the accessories line.
Mr. Bernard Badoche, the Managing Director of CIEL, the L'Amy Group's subsidiary responsible for Chloé, is the man charged with developing the Chloé eyewear licence. He says Chloé has always been associated with a clear fashion identity and that is translated into eyewear.
"Little by little we are finding our feet…today we think we have found it. More and more our consumers will identify with these. We will do some communion of metal and acetate face, some ophthalmic versions of our best selling sunglasses."
By drawing inspiration for its prescription eyewear from its sunglass range, the overall range has a coherent, coordinated effect. The 'retro' style influences some prescription models, reflecting the current vintage trend.
Chloé prescription eyewear, which features both acetate and metal models, is available in two special ranges, each one inspired by a different kind of woman. The first is a more sophisticated range. It is somewhat unusual, offering creative, sometimes avant-garde models. Then there is a more conventional range, which is marketed to the elegant, refined women. The shapes in this range are oval, gentle and have a feminine, chic style.
About Chloé
Chloé was created in 1952 by Gaby Aghion, an Egyptian born Parisienne, who rejected the stiff formalities of the 1950s, instead embracing a more bohemian, body conscious 'luxury prêt-à-porter' clothing line.
Over the years, Chloé has been shaped by some major designers, the most famous perhaps being Karl Lagerfield, who was the artistic director for Chloé for 25 years. He was followed, in 1997, by Stella McCartney, who brought a new vitality to the line with her sensual flair, making Chloé more glamorous and modern, and Phoebe Philo, whose sharp, tailored style complemented the luxe-hippy styling of the brand.
Hannah MacGibbon became artistic director of Chloé in 2008. This English designer conveys a complete creative vision through femininity, elegance and softness.
Chloé sunglasses and Chloé eyewear collections have been adopted by many celebrities, with the distinctive, chic style recently seen on the faces of Kim Kardashian, Eva Mendes, Natalie Portman, Julianne Moore, Christina Aguilera and Rihanna.
Retro to Aviator
There is a coherency among the different product lines with accessories coordinated with the ready-to-wear collection and Chloé eyewear is an integral part of this strategy.
Chloé first released its sunglass range in Australia in 2007 and it was enthusiastically embraced by locals. The brand's first optical range was launched last year.
Mr. Badoche says the new Chloé range will be in the "same vein", playing with shapes and volumes, from retro to aviator, from oversized styles to more timeless models with a simple shape.
The collection has a sophisticated, feminine feel, while remaining true to the bohemian spirit of the Chloé brand. The eyewear is created to complement other Chloé accessories, with frames reflecting the colour, buckles, handles and the brand's other collections.
"Chloé customers know what they are looking for. (They have) a knowledge of Chloé and a good fashion sense," Mr. Badoche said.
"We work closely with Chloé in Paris. In the end we (are able to present) a collection that is unique to the market today, as it has a clear Chloé identity. This is what helps us get up in the morning as we have built something that we are very proud of."
Chloé is available through L'Amy Australia on (AUS) 02 9428 1500.