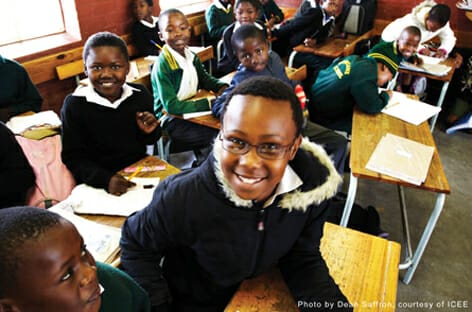 World Sight Day is Thursday 14 October. Optometrists around the world are stepping up to the plate to take responsibility for funding the eradication of one of the leading causes of avoidable blindness and the condition that is key to their business – uncorrected refractive error.
In today's world, where millions of dollars are spent developing cars that can practically drive themselves and trillions spent sending rockets into space, it is morally absurd that a child's potential is restricted simply because they can't see to learn at school.
If born in Melbourne, or one of thousands of other developed towns or cities around the world, that child could be one of your patients. But because they were born in a village in Africa, Sri Lanka or another developing country, without enough trained eye care personnel, their refractive error is never picked up and they may be limited to a life of poverty.
Over the years, the sustainable programs Optometry Giving Sight has funded have identified children with refractive error and have provided them with the spectacles they needed, enabling them to learn at school and get the education they need.
Donate your eye exam fees from World Sight Day – Thursday 14 October (or any other day in October)…
Nlando's Story
Nlando is nine years old and attends Vulemelani Primary School in South Africa. She received her first eye exam and pair of glasses as part of the Giving Sight in South Africa program. Nlando and most of her school friends live in a local township where unemployment is high and the average family income is just USD$7 per day.
Education is Nlando's only real hope to escape the poverty she has been born into. Enabling her to see to learn at school, her new glasses provide hope for her future.
The Giving Sight in South Africa program has screened more than 245,000 children and 200,000 adults through the development of an eye care service delivery system within the district health system. The program aims to develop and implement a comprehensive child eye health program to immediately deliver vision care to more children like Nlando. Concurrently the program aims to strengthen and develop the capacity of existing government structures to deliver ongoing services in KwaZulu-Natal province in South Africa.
Take the Challenge
By taking the World Sight Day Challenge this year, you will make your voice heard. Optometry Giving Sight can provide you with the tools you need to share your involvement with your staff and patients. Once registered, you will receive a free kit with posters, counter cards, leaflets and ideas on how to make the most of the Challenge in your practice.
Optometry Giving Sight can also assist in placing an article in your local paper to promote your practice to your local community. Last year many local papers sent a photographer to practices and published an article with a picture of the optometrist and practice staff wearing World Sight Day Challenge t-shirts.
"Each year there seems to be more excitement and awareness about the World Sight Day Challenge," commented Bob Lees from Lees and Henschell Optometrists in Queensland and Chair of Optometry Giving Sight in Australia. "This is the fourth year that our practice has participated and our staff really gets behind it. They enjoy wearing the t-shirts on the day and throughout October."
Patients understand the importance of good vision. They will value knowing that you and your practice support a cause they can relate to, and many are happy to make a donation into the donation box following their appointment.
"Last year I was touched to see a little girl, about four years old, putting a coin in the donation box. From a personal point of view I'm involved with Optometry Giving Sight because I understand the desperate need out there and want to do whatever I can to help – seeing other staff, patients and Optometrists rise to meet the challenge gives me a great sense of encouragement. It makes you realise that people do care and nothing is impossible," said Bob.
Long Term Solutions
The funds raised through the World Sight Day Challenge will go to sustainable programs that focus on long term solutions. Optometry Giving Sight currently funds programs in 18 countries around the world, including Sri Lanka, Mozambique, China and Mexico. Training local eye care professionals who will provide vision care to thousands of people over the coming years is one example. Establishing schools of optometry in which training can take place and developing vision centres in which the newly trained optometrists and vision technicians etc. can work is another. Of course, the third area that is funded is the delivery of eye exams and glasses; together these three strategies have the potential to transform the lives of millions of people through the gift of vision.
Growing Support
Last year in October optometrists from five countries, including Australia, took part in the World Sight Day Challenge by donating one day's worth of eye exam fees or inviting practice staff and patients to make a donation. This year it is hoped that two more countries will join the challenge.
There are many ways your practice can raise funds including holding staff BBQs and morning teas on World Sight Day and inviting your staff to donate AUD$5 to dress down for the day. Optical companies taking the World Sight Day Company Challenge include General Optical, who hope to double their contribution from last year, and CooperVision, who are participating for the first time.
Optometry students are also invited to take the World Sight Day Student Challenge. UNSW have led the way for the last two years, raising the most of any university worldwide. Students at UNSW have already indicated their intent to raise funds and we hope their peers at QUT and ACO will again rise to the Challenge and help keep the title in Australia!
VISION 2020 has focused the theme of this year's World Sight Day on the countdown to 2020. Significant progress has been made by working in conjunction with other sight charities, but we still have a long way to go. We want to ensure that everyone has access to affordable vision care in order to obtain the eye exams and glasses they need.
Register Today
If you've participated in the World Sight Day Challenge before, thank you! -we'll automatically send you a registration kit soon for this year. However, if you haven't participated in World Sight Day before, you can register online at www.givingsight.org, or you can phone (AUS) 1300 88 10 73.
Jo Humphries is the Communications Manager for Optometry Giving Sight. Jo has eight years experience working with eye care charitable organisations and is passionate about eye health in developing countries.
World Sight Day Challenge – How You Can Be Involved
Donate your eye exam fees from World Sight Day – Thursday 14 October (or any other day in October); or
Make a personal or practice donation to www.givingsight.org
Plan a practice celebration and invite patient donations over the month.
To participate in the World Sight Day Challenge register at www.givingsight.org or phone (AUS) 1300 88 10 73.