Join us for a glittering night at the Optometry Giving Sight Crystal Ball!
Funds raised will help give the gift of vision to more people like Mihiranga (Read his story below).
Wear your own mask or buy one on the night, with proceeds going to Optometry Giving Sight.
$88 per ticket (includes a sumptuous three-course meal, live music and plenty of room to dance!)
$850 for a table of 10.
Wine and other drinks available for purchase.
Fantastic door prizes and raffle on the night.
Purchase tickets for the Crystal Ball by calling the Epping Club on (02) 9876 4357 or by contacting Ron Baroni on (02) 9385 5198.
The Epping Club, 45-47 Rawson St Epping, NSW 2121
Mihiranga's Story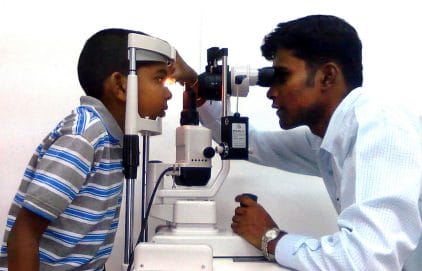 Mihiranga couldn't see the chalkboard and struggled at school. Niroshan, a trained Vision Technician, performed an eye exam and provided him with a pair of glasses in the new Vision Centre in rural Sri Lanka.
A year later Mihiranga's schoolwork has improved significantly and his future looks bright.
Optometry Giving Sight provides funding for the training of eye care professionals, development of vision centres and the delivery of eye exams and glasses.
[/vc_column_text][/vc_column]