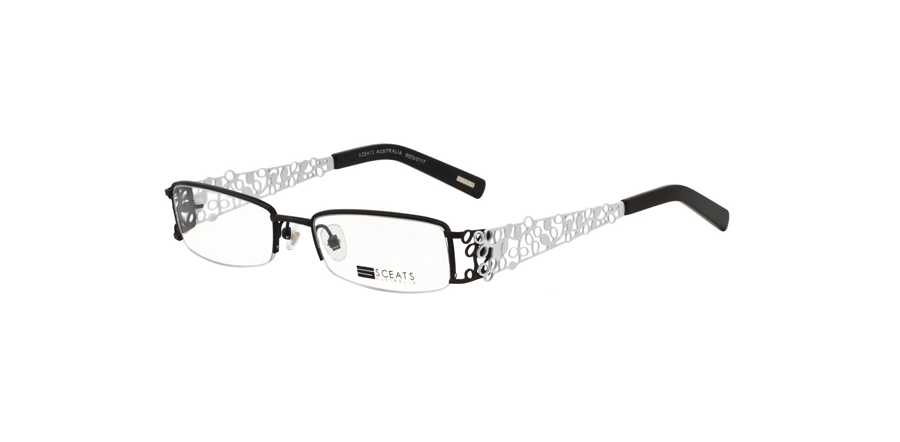 Professional eyewear is uniquely individual so what better way for your customers to kick off a new year back to the office than to funk up their wardrobe with a new pair of premium specs.
Eyewear is an essential part of any person's wardrobe, but when it comes to the office professional, eyewear is the key that unlocks style, personality and creative flair.
A person's eyewear makes a statement about their personal style and interests and reflects on the way they see themselves and how they wish to be perceived by their colleagues, clients and managers.
While most people will change their suit, shirt or even shoes every other day, their specs are often worn week in, week out, with many prepared to splash out on a pair that projects the image they most aspire to.
It's important that you, as the eye care professional, take the time to ask appropriate questions of your customer
Jumping to Conclusions
As an optometrist, optical dispenser or sales assistant, it's important that you don't jump to conclusions the minute a customer enters your store in an outfit pulled indiscriminately from their weekend wardrobe.
A story comes to mind of a businessman friend of mine who walked into one of the larger optical chains stores with his brother, after they had gone to the gym, looking for his first pair of reading glasses. His brother was jibing him about picking up 'women's glasses' as the shop assistant walked over and asked him if he'd like to try on some frames.
Awkward and slightly uncomfortable, my friend obliged but he didn't know what shape would suit his face. The shop assistant started to show him some glasses in the 'two for one' section but my friend asked "what about those black acetates behind the glass cabinet?" To this question the shop assistant dropped one of the all-time great clangers in sales by responding, "they're expensive, you wouldn't be able to afford them". You can imagine how the rest of the story unfolded.
It's important that you, as the eye care professional, take the time to ask appropriate questions of your customer. Talk to them about their professional life, the way they dress at work and the way in which they wish to be perceived.
Differentiate Your Range
Take a step back to assess your customer profile – the type of work they are engaged in and the styles they are most likely to select. Source optical frames that differ from others sold in your area and choose a range of prices – while many of your professional customers are happy to pay premium prices for a premium look, there will be some looking for a great look with a budget price tag.
Ensure your range is consistently turning over with fresh new styles and colours prominently displayed in your window to maintain repeat customer visits and generate excitement.
Examine Their Needs
Successful professionals expect attention. That means you need to offer high-level service to ensure each customer feels their personal needs are being taken care of and their professional image is understood.
Be prepared to discuss this in depth – you want to find out about their lifestyle, fashion preferences and essentially, their professional environment. While some who work in conservative organisations may prefer an elegant yet discrete pair of glasses that helps them blend in with the crowd, others may prefer bright, uniquely shaped frames, which make them stand out.
Fashionistas will want the latest styles from the runway while your sporty or more adventurous types may be searching for a conservative looking pair of specs with a sporty edge. Think extremes, such as Bolle or Oakley – both of which have smart styles with subtle elements that give a hint of the weekend warrior within.
You'll also need to enquire about the type of work they do – does your customer spend most of their time at a computer screen, in meetings or in the car? Does the work take them out on site or into heavy industrial areas?
Sophisticated glasses with safety features may provide the ultimate combination for day to day activities, while a pair of specs with clip on sun lenses will offer absolute convenience for a customer who regularly moves from the indoors to outdoors. And for those who spend the majority of their time on the road, drivers lenses will help protect them from eye fatigue.
Trial and Error
While some of your customers will be happy to select a colour and style of frame they are familiar with, others see choosing a new pair of specs as an opportunity to create an entirely new image. It's most important to encourage all of your customers to try on a variety of specs in order to experience feel, colour and style. Make suggestions based on their face shape and colour; encourage them to experiment with styles they would normally be too shy to try and give them objective feedback. Most importantly, ensure the entire buying experience is fun and non-threatening so they enjoy their time in your store. Following the sale, offer your customers ongoing after sales assistance that will reassure them of the value you deliver.
The Year Ahead
The great news for this year is that optical frames are adventurous, exciting and highly functional.
While shapes remain influenced by retro designs, colours are individualised and vibrant. Sure, there are plenty of frames in dark hues and neutrals for those who like to play it safe, but for the more adventurous, a selection of striking new designs are destined to turn heads. Then there are those that are conservative on the outside with a hint of colour or a distinctive pattern inside the temples.
For professionals who are often out on site, Eyres Optics has released elegant, brightly coloured safety frames that defy all the traditional notions associated with safety glasses. And, for those creative types who like to match their eyewear to their clothing or dress according to the people they are meeting on the day, an innovative range from the French designer Dilem provides the ultimate solution. With over 400 interchangeable temples that simply click into place, wearers can choose a new look for every day of the year and beyond!
In terms of materials, the emphasis is on ultra light weight frames, absolute comfort and durability. Frames are made from titanium, carbon fibre, stainless steel, thin acetate and polymer. Screwless frames, spring hinges and rubber temples maximise comfort for long term wear and add to the sleek, minimalist styling.
What's On Offer for 2011?
Dilem
Dilem is a revolutionary patented concept with interchangeable temples. Designed and manufactured in France, Dilem frames are made from a hard wearing technical polymer called XP2. Wearers can create a unique 'look' by selecting from over 400 interchangeable temples to suit individual tastes or various situations. The temple designs vary from plain colours to highly decorative patterning and include embellishments such as diamantes and 3D textured finishes. Each frame is delivered with two pairs of temples, the first selected by Dilem's stylist and the second by the wearer. Fashionistas can obtain additional temples to enable even more fashion combinations. Distributor details: Luxol Eyewear (AUS) 1800 777 239
Eyres Safety
Eyres Optics Lifestyle prescription collection is made from TR90 and combines subtle safety features, to compliment 'grey collar' occupations where the workplace constantly shifts from the office to being on-site.
The Eyres Lifestyle collection is compliant to either AS/NZS1337.6:2007 (prescription eye protectors for industrial applications) or AS/NZS1067 (sunglass fashion spectacles) and comes in a range of fashion forward frame shapes and colours. Lens options include single vision, bi-focal and progressive as well as clear, polarised grey and transitions(r) lens tint alternatives. The collection is also available with Anamorphixx NXT lenses in multiple tints. Distributor details: Eyres Optics (AUS) 1300 663 209
Wayne Cooper
Wayne Cooper's newest optical collection combines contemporary styling with functionality. The use of 100 per cent Japanese titanium ensures comfort and durability for wearers of these ultra light, sleek specs for men. Distributor details: Tiger Vision-Matrix Eyewear Group (AUS) 02 9557 2988
Bollé
Named after a small commune in north-eastern France called Colmar, this half rim Bollé optic is made from lightweight materials that make it comfortable to wear while still maintaining durability and strength. Colmar features flex spring hinges which allow for wide, comfortable fit without putting any pressure on the frame. The style is available in tortoise black, shiny black and red tortoise. Distributor details: Bolle (AUS) 1300 138 098
Fendi
Fendi's POP model for women is specially designed for classic oval, diamond and triangular face shapes. Available in dark gunmetal, brown or red, these oval specs feature wire at the core for enhanced durability and easy fitting as well as adjustable nose pads that make them more adaptable for individual customer's facial shapes. Fendi frames feature the elongated double 'F' which symbolises Fendi's heritage and future: Fendi Forever. Distributor details: General Optical (AUS) 02 9697 8045
Kirk Originals Kinetic
Kirk Originals have introduced a Kinetic collection with four lenticular panel designs that animate the temples: Spectrum, a living spectrum of colour; Flash, a flash arrow that shoots along the arm; Skull, a strip of blazing flames with a skull at the core and Equaliser, a base line equaliser which ripples and pulsates with motion. Kirk Originals was nominated for the prestigious Silmo D'Or Award for Best Optical Design 2010. Distributor details: Eyemakers (AUS) 02 9960 7766
Oakley
Oakley's Deringer specs (R1 2011) for men are sleek, ultra light and durable. Made from titanium, the classically styled frames are available in gun metal and silver. Temples are inspired by the barrel of a gun and feature a twinshock hinge. For women, Oakley's Convey specs are crafted from acetate with a metal temple detail. Shaped to reflect the popular retro catseye design, these glasses are available in duo tone frames or in a single colour on the outside with lively stripes of colour on the inside of the frame. Distributor details: Oakley (AUS) 1800 034 217
Moschino
Moschino eyewear is designed for those who dare to wear fashionable, bold and colourful designs. Italian designer, Frank Moschino's vision to stray from the traditional encapsulates the essence of the brand. Quirky, with an ironic twist, this recipe for original eyewear is exciting and energising. Distributor details: Modstyle (AUS) 03 9387 9411
DSquared2
Dean and Dan Caten, the Canadian twin brothers from Willowdale Ontario who created DSquared have followed up the global success of their sunglasses with an optical range. In keeping with the basic DNA of the brand, this range comprises 19 versatile models designed for both younger consumers seeking a striking and unconventional look, and the more mature market looking for sophisticated eyewear.
Metal, acetate and plastic are alternated and combined in the five models for women, the nine for men and the five unisex models. With multiple sources of inspiration, the range includes everything from retro to more contemporary shapes, colour contrasts, multi layered acetates, patternings and eye-catching inserts and logos. There's nothing shy about DSquared2! Distributor details: Healy Optical (AUS) 02 9420 3200
Seiko
The Seiko foldable half eye is the only sprung hinged bridge in the world. Together with Seiko's renowned quality and titanium's lightness, this style maximises both form and function for the wearer making it an ideal frame for any business man. The compactness of the half eye makes this eyewear perfect for travelling. Distributor details: L'Amy Australia (AUS) 02 9428 1500
TITANflex
TITANflex has manufactured flexible frames for over 22 years. According to Harald Heinrich, Designer for TITANflex; "the key to any good design is to fulfil the wishes and needs of the customer". Accordingly, the TITANflex range of frames for men places a strong emphasis on comfort, technology and contemporary, sleek design. The range is available in a wide range of colours and styles. Distributor details: European Eyewear (AUS) 03 9877 7956
Silhouette
Silhouette Titan Design frameless eyeglasses are inspired by simplicity. These classic, yet modern frameless eyeglasses feature precise, tapering lines which are accentuated by their high-tech titanium construction. With different bridge sizes and temple lengths available, the eight Essential Lifestyle models within the range can be tailored to individual needs. Modern hinge solutions without screws ensure simplicity in maintenance and adjustment of the frames by eyecare professionals, as well as longevity for the wearer. The Silhouette Titan Design range is available in an extensive colour palette. Distributor details: Mimo eyewear (AUS) 02 9970 1800
Convertibles
Convertibles are a perfect choice for professionals. Optique Line has released stylish men's and women's specs that come with clever magnetic polarised sunglass clip-ons. The micro magnetic pads and detachable sunglass lenses are both practical and convenient. Distributor details: Optique Line (AUS) 03 9853 0796
ÖGA
ÖGA designs originate from the Swedish designer Jonas Blanking who worked as a designer with Ferrari, Alpha Romeo and Volvo before becoming involved in France with ski projects for Salomon, communication products for Alcatel… and the list goes on. In 1995, Jonas began to work on the creation of the ÖGA line which today comprises numerous products characterised by surprising combinations of materials. Inspired by contemporary architecture, Jonas Blanking uses building shapes to create geometric and radical designs target today's professional male. Distributor details: Eyes Right Optical (AUS) 03 9763 1333
Spotters Optical
Spotters Boutique Optical range exudes elegance, restrained beauty and refined lines. With styles to suit both males and females, from classic to more modern designs, these stylish frames are built for comfort and durability. Distributor details: Spotters Optical (AUS) 03 9728 2055
Dirty Dog Optical
Dirty Dog's Australian design team has released new styles for the typical Aussie bloke. The brand's latest optical styles consist of strong athletic shapes ranging from the classic semi-rimless metal frames, to more retro angular acetate models. Frames are engineered from the best optical materials coupled with distinctly masculine colours featuring black, gunmetal and Havana. The result is comfortable yet tough frames that will stand the test of time and don't cost the earth. These frames are accompanied by a custom designed black/red leather style case to protect the frames. Distributor details: VMD (AUS) 1800 449 845