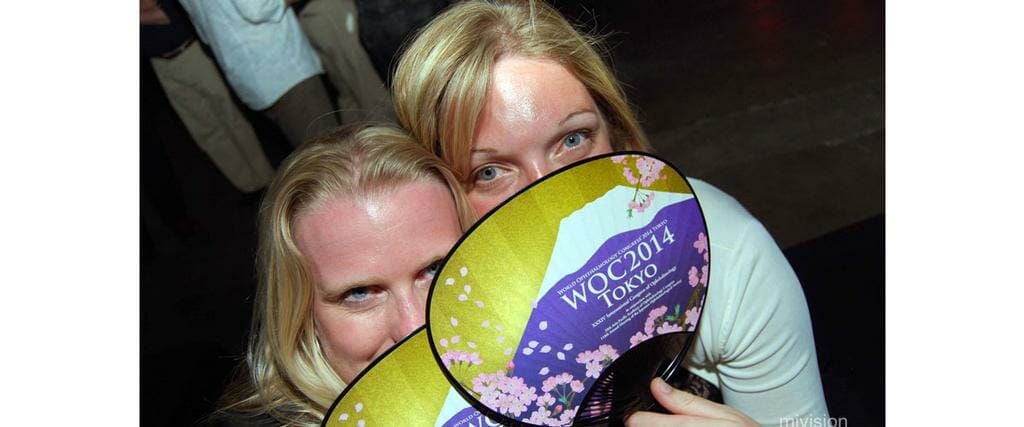 Live surgeries, vigorous academic debate, and a robust and comprehensive scientific program were the highlights of the Asia Pacific Academy of Ophthalmology Congress (APAO Sydney 2011) – one of the biggest eye health conferences ever held in Australia.
Spare a thought for the poor patient who was under the knife for the live surgery which was performed for delegates at the Asia Pacific Academy of Ophthalmology's 26th Congress held at Darling Harbour in Sydney.
While the prospect of cataract surgery would be nerve-wracking enough for any patient, how much more daunting would it be being operated on live, to expert commentary in front of an audience of hundreds of interested observers?
The live surgeries broadcast at APAO were valuable educational tools that provided opportunities for ophthalmologists to witness a skilled colleague demonstrate new technologies and techniques.
There were three camera angles – one down the microscope, one on the surgeon's hands and the patient's eye; and one wide-angle view to see the operating theatre, including the scrub nurse assisting the surgeon
For many delegates, including ophthalmologist Arthur Chang, from Hong Kong, the live surgeries were a highlight of the five-day event, which took over Sydney's Convention and Exhibition Centre in Darling Harbour in March.
"If you're just watching a video, you know it can be cut, it can be edited, but when it is live, you can see the way other surgeons perform the surgery and how they deal with the reactions of their patients… one of the patients was quite nervous and it was good to see how the surgeon handled that," he said.
The surgeries were broadcast, on separate days by Bausch + Lomb and Alcon to showcase their new technologies.
Bausch + Lomb's Marketing Manager for Surgical in Australia and New Zealand, Greta Michelsen said the logistics of organising the live link between the New South Wales Eye Centre in Ashfield and the Darling Harbour venue were staggering, involving teams of people at the hospital and the Convention Centre.
"There were three camera angles – one down the microscope, one on the surgeon's hands and the patient's eye; and one wide-angle view to see the operating theatre, including the scrub nurse assisting the surgeon," Ms. Michelsen said.
The surgeons and an expert panel commented on the operation, and delegates were able to ask questions of the surgeon afterwards, as the patients were wheeled out of the operating theatre.
Panellist, Dr. Gregg Feinerman, from the U.S, said one of the surgeons, South Australian surgeon and RANZCO Fellow, Dr. Russell Phillips did a "phenomenal" job demonstrating 1.8mm micro-incision cataract surgery (MICS) with the Stellaris phaco machine, implanting an aspheric accommodating intraocular lens.
"Beautiful surgery," he declared, as the audience applauded Dr. Phillips.
International Event
But while a highlight for many, the surgeries were just one aspect of the Congress that attracted more than 4,000 ophthalmologists, orthoptists, optometrists, ophthalmic nurses, other allied eye-health professionals and ophthalmic industry representatives from 67 countries.
APAO featured approximately 700 speakers, more than 2,000 individual presentations, posters and videos, and an exhibition hall showcasing the wares of more than 100 exhibitors.
Professor Charles McGhee, the Chairman of the Congress Scientific Program Committee said the program covered "every aspect of eye care… from contact lens and external eye, refractive surgery, to contemporary cataract surgery and the diagnosis and management of glaucoma and retinal diseases".
Honours
Prof. Ghee was one of several leaders in the field of ophthalmology to be honoured at APAO Sydney 2011 for their work. He received the De Ocampo Lecture award for excellent academic achievements during a spectacular opening ceremony, which featured Indigenous performers, music from the NSW Doctors Orchestra 'Musicus Medicus' and the haunting and soulful sounds of the harmonica, played by Sydney-based Dr. Frank Cheok and accompanied by Western Australian opera singer, Dr. Annette Gebauer, both of whom are also ophthalmologists.
Professor Frank J. Martin, an Australian expert leading the world in paediatric ophthalmology and strabismus, was honoured with APAO's most prestigious medal, the Jose Rizal Medal for excellence in ophthalmology within the Asia-Pacific region.
The Jose Rizal International Medal, awarded to outstanding personalities from outside the region who have made exceptionally valuable contributions to ophthalmology with the Asia Pacific region, was bestowed on Professor Robert Ritch from the United States, for his work in developing glaucoma training and education programs in the Asia Pacific over the past two decades.
Other award winners were: Associate Professor Prin Rojanapongpun from Thailand (Holmes Lecture award); Professor Nadeem Hafeez Butt of Pakistan (Susruta Lecture); Assistant Professor Yasuo Yanagi (Nakajima Award); Professor Ningli Wang (Arthur Lim Award) and Hong Kong's Professor Dennis Sun-Chiu Lam (IOC Golden Apple Award).
New Ideas
As is expected from a professional Congress of this size and scope, a number of the speakers presented new information and ideas to challenge delegates.
Professor Paul Mitchell, Director of the Centre for Vision Research at the Westmead Millennium Institute, used the APAO platform to call for a change in clinical practice after finding that an inexpensive cholesterol medication that targets abnormal blood fats in diabetes also slows the progression of diabetic retinopathy.
Fenofibrate, a lipid lowering medication, has been shown to reduce the progression of the sight-threatening disease, and reduce the need for laser treatment in two major international trials involving 14,000 people, Professor Mitchell said.
Diabetic retinopathy, which affects about 300,000 Australians, occurs when retinal blood vessels swell and leak into the surrounding tissue, causing oedema and forming abnormal new blood vessels, which are prone to bleeding. If left untreated, it can lead to serious vision loss and blindness. The current treatment protocol is laser, which seals leaking blood vessels, drying out areas of swelling.
But Prof. Mitchell said two major international studies had shown the benefits of fenofibrate, an established drug that is officially indicated for its role in treating lipid abnormalities in diabetes, but is not yet approved for its role in reducing retinopathy.
"Many people with diabetes are already on other lipid-lowering medications… statins, for example… however, fenofibrate is more effective in treating the particular blood fat issues associated with diabetes – high trigycerides and low levels of high density lipoproteins.
"It is also possible that fenofibrate impacts on diabetic retinopathy via a mechanism unrelated to its effect on blood lipids," he said.
"This is a new reason to use an old drug. One tablet, once a day, can prevent sight threatening damage to the retina in people with type 2 diabetes," Prof. Mitchell said.
Video Recording Diabetic Eye Disease
Also focused on diabetic eye disease was Dr. Daniel Ting, a PhD research candidate of the University of Western Australia and Australian E-Health Research Centre.
Dr. Ting spoke at the APAO Congress about a new imaging technique that uses video recording to assess the health of the retina, which has the potential to boost early detection of diabetic eye disease.
"We've screened 150 eyes at the Royal Perth Hospital and found that retinal video recording is as accurate as still photography and slit lamp examination in detecting the clinical signs of diabetic retinopathy," he said.
He said while slit lamp examinations were the "gold standard", it is a specialist technique that involves long waiting lists. Retinal still photography has become the default in many places, he said, as it allowed specialist review at a later time.
But Dr. Ting said retinal video recording may be a novel alternative to current techniques.
"It is able to image a larger area of retina within a shorter period of time (than still photography)… it also provides a good continuity of retinal information and is less dependent on the cooperation of the patient who may move or lose focus during the process of still photography," he said.
Dr. Ting said the technology could be potentially suited to telemedicine applications for regional, rural and remote communities.
An Apple a Day…
Unlikely as it seems, a team from Stanford University School of Medicine in the U.S. has told the Congress that it has developed an electronic approach to testing visual acuity using an iPhone.
Professor Mark Blumenkranz – who reassured delegates that he was not on the Apple payroll – said the team's first step was to measure the degree of correction between near and distance vision testing when using ETDRS eye charts and Rosenbaum cards under standard illumination, with those on an LCD of a specially programmed iPhone.
"We found there was a systematic slight overestimation of near visual acuity in both macular degeneration and normal patients. We also found that equally-sized letters on an LCD screen have significantly better readability than letters printed on cards," Prof. Blumenkranz said.
"If I have patients who have trouble reading a book, I tell them to try reading on a backlit LCD screen," he said.
Prof. Blumenkranz said the second goal of his research was to exploit similarities and differences between the testing systems for disease monitoring and therapeutic purposes.
Contrast sensitivity, low illuminance and inverse contrast were among the variables tested. He said patients with macular disease (MD) had slightly poorer performance in the ability to read blue letters on a black background "so we think this is a potentially interesting screening tool for MD", Prof. Blumenkranz said.
He said he hoped to launch his smart phone application later this year, once it has been further tested and validated.
East Meets West
Organisers of APAO 2011 closed the Congress with a festival of colours, flavours, aromas and culture celebrating the cultural differences of Australia and countries from South East Asia.
Delegates were invited to a gala event, on the theme of 'East Meets West'.
In a superbly luxurious take on the hawker markets of Asia, chefs prepared sensational meals using fresh produce collected from 'on site' gardens. Guests could choose from Thai, Chinese, Japanese and Malaysian cuisines, to name just a few, and were entertained by traditional dance groups.
Over in the Australian quarter, delegates could view an authentic homestead, listen to the sounds of a bush band, visit a mini petting zoo and savour the flavours of a typical Aussie BBQ.
Bars were manned by outrageous fire breathing bar tenders and music reverberated through Sydney's Entertainment Quarter late into the evening.
This was not an evening for formalities – it was all about fun – and the perfect way to end an event that had been six years in the planning.
Organisers of APAO said they were thrilled by the success of this year's Congress and the enormous presence of eye care professionals from around the globe.
The next APAO Congress will be hosted in Busan, Korea in April next year.