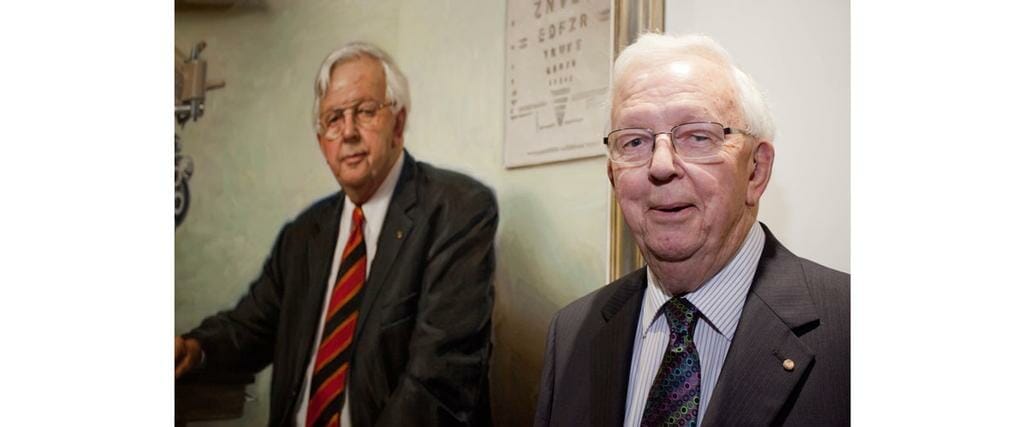 Few have made as formidable an impact on optometry as Professor Brian Layland OAM. Without doubt, optometry in Australia and the lives of those most in need and least able to access or afford eye care, have forever been altered through his efforts.
For more than 50 years Prof. Layland's fierce commitment to advancing eye health has seen him involved in historic changes to the scope of optometric services in Australia and to government health care provision. He was instrumental in the inclusion of optometry services in the Medicare benefits scheme and Veterans' Affairs – a battle that lasted 22 years. Prof. Layland also led the call for optometrists to be permitted to use diagnostic drugs and was involved in the first optometry course in Australia to provide accreditation for this purpose.
Australian research, education and public health have also benefitted greatly from Prof. Layland's energy and vision. Through his involvement in several ground-breaking eye research organisations, he has helped create opportunities for more than $100 million in royalties being reinvested in these areas.
Most recently he has been a champion of Aboriginal health, both through his efforts to deliver sustainable eye care services to Aboriginal communities across NSW and Northern Territory, and his crucial support for the establishment of the Aboriginal Health College at Little Bay in Sydney.
Brian Layland has made a major contribution to helping people in need throughout his remarkable life
Prof. Layland was also a dedicated and much-loved optometrist to the thousands of patients he treated through his optometry practice in Liverpool, Sydney for 45 years.
In his 80th year, Prof. Layland's determination to improve the vision of all people remains undiminished and he continues to forever change some lives and inspire others. In March 2011, he was honoured by the University of New South Wales (UNSW) for his outstanding contributions to tertiary education at the university, when it named him an Honorary Fellow of UNSW.
A Different Era
Brian Layland was born in 1930, in the then working class Sydney suburb of Balmain. In 1937, the Layland family moved to Ingleburn in Sydney's south-west. With the onset of the Second World War in 1939, Ingleburn was transformed into the country's largest army camp, at one stage home to 28,000 troops. Tanks, gun carriers, planes and brass bands were a constant presence in the suburb.
At nine, Brian started working in the army camp selling newspapers, which was a great help to the family's finances at the time. The job continued for three years. During that time Brian met many soldiers who came and went, prompting a lifelong interest in interacting with people from all walks of life.
After leaving school at intermediate level (year nine), Brian served an apprenticeship with optometrist Alex Hale as an optical mechanic in Castlereagh St, Sydney, then later transferred to Gibb & Beeman. While working with this firm, he completed his leaving certificate at night, which enabled him to gain entry into an optometry diploma course.
Brian graduated in 1953 with his diploma and was hired to run a travelling consulting room in a truck. His first port of call was the small town of Portland, just west of the Blue Mountains. It was the first stop in a two-trip regular route to the north-west via Canberra to the south coast.
A year later he opened his own optometry practice in Liverpool, in Sydney's south-west. A dedicated and talented optometrist, Brian delivered outstanding care to his patients over the next 44 years. Despite many absences, due to his tireless work representing his profession, his practice thrived and at one stage, employed seven optometrists.
In 1958 Brian converted his Optometry Diploma into a degree at the then NSW University of Technology. It was the beginning of a long association with what would later become the University of New South Wales (UNSW).
As an educator, Prof. Brian Layland has been involved with the School of Optometry and Vision Science at UNSW since its inception. More recently, in conjunction with Aboriginal community controlled medical services; he has overseen the delivery of eye health training programmes to Aboriginal health workers in remote and regional communities throughout New South Wales and the Northern Territory.
Advocating for Optometry and Patients
Prof. Layland's legendary determination sustained his involvement in a 22-year campaign to have optometry services included in the Medicare National Health Insurance Scheme and Veterans' Affairs benefits.
Optometry in New South Wales became regulated in 1930 when the first registered optometrists set up shop. Initially optometrists did not charge fees for examinations (they lived on filling prescriptions). Difficulties began when they put a charge on professional services and competition with ophthalmology began in earnest.
In 1948, the health insurance programme made medical insurance benefits available to patients who saw an ophthalmologist but not to the patients of optometrists. This decimated the optometry profession. From seeing 60 to 70 per cent of people who needed an eye examination, the numbers fell to less than 40 per cent. Student numbers dropped, and optometry schools in Adelaide and Perth closed.
Prof. Layland became closely involved in negotiations to have optometric services included in the Medicare Benefits Schedule (then called Medibank). Active in both meeting rooms and in public, he made many trips to Canberra and gave television and radio interviews to promote the cause. Prof. Layland organised for members of the Australian Optometrical Association (AOA) – later to become the Optometrists Association Australia – to meet with their local members to push the cause. He met with a succession of five health ministers.
With the legislation due to go to parliament, Prof. Layland and colleagues from the AOA national executive council – Dr. Bruce Besley, Dr. Arthur Ley, and Dr. Damien Smith – took turns over three weeks to be present at parliament, ensuring someone would be on hand to answer questions the day the legislation was introduced. On 1 July 1975, optometry became the first and only non-medical profession to be incorporated in the national health insurance scheme.
Shortly before this change the profession received a significant boost when optometrists were granted the right to direct referral to ophthalmologists. Prior to this, patients needed a referral from a GP to receive insurance benefits.
Defending Veterans' Rights
Prof. Brian Layland also succeeded in a campaign for the right of Veterans to see optometrists under the Veterans' health insurance programme. Previously all New South Wales Veterans had to be seen by an ophthalmologist in Concord Hospital to be eligible for benefits. Prof. Layland also supported the presence of optometrists in Defence hospitals, and worked on expanding the range of spectacles available to Veterans through the defence health programme.
Another lengthy battle saw optometrists finally gain authorisation to administer diagnostic, anaesthetic and therapeutic drugs to patients. Prof. Layland was the second optometrist in Australia to gain a certificate to administer drugs after his colleague Professor Brien Holden. They both conducted the first optometry course on this subject at the then School of Optometry at UNSW.
Prof. Layland's influence has extended beyond optometry. A keen interest in the impact of diabetes on sight has seen him take on roles with the Optometrists Association Australia, Australian Diabetes Society and the NSW Department of Health Diabetic Retinopathy Steering Committee. In 1998, the Commonwealth and State health departments and Diabetes Australia recommended that diabetic patients should have their eyes examined every two years by an ophthalmologist. Through Prof. Layland's efforts this was altered to include optometrists as well.
Helping People in Need
Prof. Brian Layland has made a major contribution to helping people in need throughout his remarkable life. When Cyclone Tracy ripped apart the Australian city of Darwin in 1974, he and his friend and colleague Prof. Brien Holden, saw an opportunity to restore sight to those who'd lost everything, including the ability to see. "Their glasses were buried or washed out to sea, so we rode in the ambulances, went into the hospitals and gave them back their sight," Prof. Holden recalls.
More recently, Prof. Layland and colleagues established VisionCare NSW, which has distributed more than one million spectacles to low income earners across New South Wales since 1992, by administering the NSW Government's Spectacle Programme.
Upon 'retirement' from his practice, Prof. Layland has devoted himself to improving eye care services to Aboriginal people. In 1999, he joined the International Centre for Eyecare Education (ICEE), which had committed to addressing the high rates of vision impairment in Aboriginal communities in NSW.
At a meeting with representatives of the Office of Aboriginal and Torres Strait Islander Health NSW, Prof. Layland learnt that the major barriers to Aboriginal people seeking eye examinations were the lack of optometric and ophthalmology services within Aboriginal health services and the fact that Aboriginal people were reluctant to visit mainstream hospitals, community health centres, optometrists or ophthalmologists for treatment.
In consultation and partnership with the Aboriginal Health and Medical Research Council of NSW (AH&MRC), Prof. Layland proposed that ICEE establish eye care clinics with optometric services to provide initial eye care and referrals where eye diseases were observed.
Under Prof. Brian Layland's direction, ICEE has now established 161 eye clinics in remote and regional communities throughout NSW and more recently the Northern Territory. Since 1999, around 30,000 spectacles have been provided to Aboriginal people in these locations.
A long-term vision of the Aboriginal community had been to build a dedicated health education institution, administered by Aboriginal people, where Aboriginal educators would train Aboriginal health care workers. This became a reality in 2009 – and it was a historic achievement – when the Aboriginal Health College was opened at Little Bay in Sydney.
Prof. Brian Layland was a tremendous advocate for the project – he helped secure crucial government support to finance the building and maintenance of the College. At the opening of the Aboriginal Health College, Prof. Layland was honoured by the board of the college when it named its lecture theatre the 'Layland Auditorium'. In 2006, he was also recognised for his contributions when he was honoured by the NSW Department of Health for excellence in health service delivery by a non-Aboriginal person.
In 1979, Prof. Layland was awarded the Medal of the Order of Australia, for services to the profession of optometry. Among numerous honours he was named International Optometrist of the Year in 1992 and given the J. Lloyd Hewett Award for excellence in optometry in 2010. From 1975 until 1988 Prof. Layland served as Australia's delegate to the International Optometric and Optical League (now the World Council of Optometry). He has also been a selfless contributor to his local Liverpool community and in 2002 was named Business Pioneer of the Year by the Liverpool Chamber of Commerce.
Prof. Brian Layland's legend continues on at the Brien Holden Vision Institute. In December 2010, noted portrait artist, Paul Newton, was commissioned by the board of the Institute to paint commemorative portraits of Prof. Layland and his long-time colleague and friend, Prof. Brien Holden, which now hang at the Institute.
Stephen Davis is a senior writer at the Brien Holden Vision Institute, Vision CRC and the International Centre for Eyecare Education at the University of New South Wales, where he is also completing a Masters in International Public Health. He would like to give special thanks to Kylie Evans and Professor Brien Holden, whose earlier profile on Brian Layland was of great assistance in compiling the article.
Reference
Holden B & Evans K (2003), Profile: Professor Brian Layland OAM – Fifty years of commitment to optometry. Clinical and Experimental Optometry. 2003; 86:4:260-264