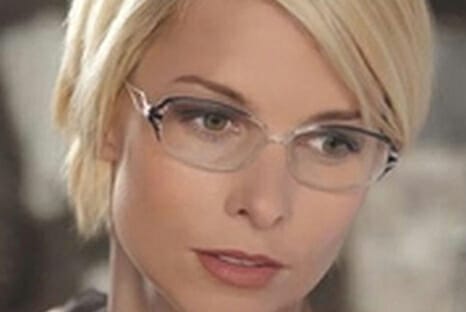 A chance discovery of the magnetic clip-on concept behind Convertibles eyewear and a close working relationship with the creator of the European brand Stepper, have ensured a solid future for Optique Line.
The company had been going for just seven years when its founders, John Nicola and Andrew Philip discovered the product that sent their business sky rocketing.
It was 1997 and the business partners came across the Convertibles eyewear brand. They were immediately impressed by the products two-for-one function – sunglass clip-ons that instantly click onto prescription frames with micro-magnetic pads.
"The concept was a joint venture between Japanese and Taiwanese companies and at that stage was in its infancy," said Mr. Nicola. "They had established markets in the U.S.A. and in Canada but didn't have a distribution or licensing network in Australia. When we realised this, we could see an enormous opportunity and put our hands up."
We looked at the magnetic clip-on concept and we could see it would take off in Australia…
At that time, spectacle wearers who wanted the convenience of sunglasses to fit over their optical frames were restricted to clip-ons that fitted on the bridge of the frame. This later evolved into the claw system that fitted around the frame.
"I didn't find clip-ons easy to use or especially attractive," said Mr. Nicola. "Transitions was also an option but, at that stage, the market for these lenses wasn't as well developed as it is today.
Taking a Gamble
"We looked at the magnetic clip-on concept and we could see it would take off in Australia but we weren't too sure how the product would last – whether it was a gimmick or if we could hang our hat on it for many years.
"However, Americans and Canadians had embraced the concept and the prices were competitive – at retail level patients could pay the same price for a Convertible with a sunglass clip-on that they were paying for a mid-priced fashion frame."
In an effort to generate instant awareness among consumers, Optique Line launched Convertibles with a major television campaign, supported by billboards and window displays throughout Australia and New Zealand. The strategy, to create demand from consumers rather than to expect eye care professionals to recommend the product, worked.
Design Influences
Several fashion focused frames have been added to the Convertibles collection since its launch in Australia and New Zealand. As with the company's second major imported brand, Stepper, Mr. Nicola and Mr. Philip have had a significant influence on the designs.
"We've both been in the trade for over 25 years and we are still on the road as sales people, so we get feedback for our designs from our customers. We also keep in touch with the latest fashion developments by visiting European tradeshows," commented Mr. Nicola.
"Our local market's tastes are quite distinct. We have to ensure the collections we import are not too European because over here we just can't sell some of the sharper, flatter, more angular shapes they can wear… We're smoother and softer in design style," said John.
"Once we'd established our relationship with Stepper, we spoke to the founder of the company, Hans Stepper about the design, colour and structure of his collection- and what could be changed to make the products more saleable in Australia. Hans was taken aback at first but he realised we knew our market. Nowadays, he consults us on many aspects of his collection."
Home Brands
In addition to distributing Convertibles and Stepper, John Nicola and Andrew Philip also design their own home brands for Optique Line – Aura, Aura Flex, Gemini and Paparazzi – all of which are targeted at the budget conscious end of the market.
"Fashion in the optical market, even in that basic to middle price point, is changing at a far more frequent rate than what it did 15 to 20 years ago so we definitely have to be a lot more dynamic in looking for the next range of eyewear – in terms of designs colours and shapes. It's exciting and it's something we love to be involved in."
Faced with an ageing market in Australia and New Zealand, Mr. Nicola and Mr. Philip have turned their attention to designing more fashion-oriented frames that fit progressive lenses.
"We're finding there is a greater need for larger frame styles to take these lenses so that's where we are going with the design, Stepper has made a big push into retro design and our generic lines will be influenced by this to a degree," Mr. Nicola said.
Stay tuned for the next design concept to come from this dynamic Australian company.