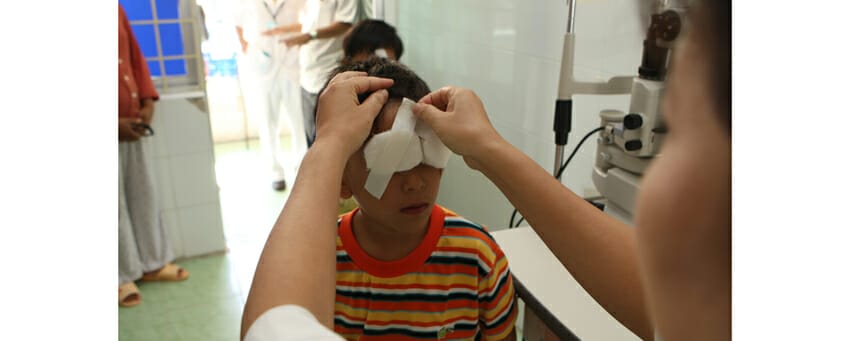 Bun Chem, 65, is one of thousands of Cambodians who now sees things in a different light thanks to the work of Vision 2020 Australia's Global Consortium's first year of programming across the Asia Pacific.
A few years ago Mr. Bun Chem, who farmed rice and vegetables to support his family, gradually started to lose his sight. In a country where a day without work may mean a day without food, Mr. Chem's family were often forced to leave him home alone so they could work in the fields.
"Relying on my family was really difficult. It was a very sad time; I felt like a burden on the children," says Mr. Chem.
Thankfully, Mr. Chem received cataract surgery at the Kampong Chhnang Eye Unit from medical staff who obtained training and equipment through the Fred Hollows Foundation Cambodia Avoidable Blindness and Visual Impairment Project.
About half a million children become blind every year, and up to 60 per cent of children in low income countries are likely to die within one year of losing their sight…
Mr. Chem's case reflects the lives of more than 7,600 people who received surgery in Cambodia in 2010 during the Vision 2020 Australia Global Consortium's first year of programming across the Asia Pacific.
Partnership in Action
Launched in November 2009 by former Parliamentary Secretary for International Development Assistance, the Hon Bob McMullan MP, the Global Consortium consists of Vision 2020 Australia and nine leading agencies from across the eye health sector.
These agencies working together as part of the Vision 2020 Australia Global consortium are CBM Australia, Centre for Eye Research Australia, Foresight Australia, International Centre for Eyecare Education, Royal Australasian College of Surgeons, Royal Institute for Deaf and Blind Children, The Fred Hollows Foundation, The Royal Australian and New Zealand College of Ophthalmologists and Vision Australia.
With funding from AusAID's AUD$45 million Avoidable Blindness Initiative, the Global Consortium is adopting a multifaceted approach to the elimination of avoidable blindness, including by training eye nurses and doctors, strengthening eye health infrastructure, supporting the government's blindness prevention committee, developing systems to collect and utilise eye health data, providing services through outreach trips to remote areas, and raising awareness of eye health and available services.
Vision 2020 Australia's Global Consortium brings together a group of Australian organisations with a significant diversity of philosophy, size, mandate, and working methods.
Through the development of common quality standards and approaches to eye health programming, the Global Consortium is making a significant and cost effective contribution to the elimination of avoidable blindness and vision impairment in the Asia Pacific.
A rigorous approach is used to determine which programs will be implemented, and the governance structure ensures the highest levels of accountability.
In Cambodia, Global Consortium members CBM Australia, the International Centre for Eyecare Education (ICEE) and the Fred Hollows Foundation are working closely with AusAID to deliver a range of critical eye health programs. Partnership with local organisations in Phomh Penh and 13 other provinces in Cambodia is another vital element of these programs.
According to Jennifer Gersbeck, CEO of Vision 2020 Australia, the collaborative approach of the Global Consortium is proving to be an effective platform for the delivery of a wide range of eye health programs across Cambodia.
"The Avoidable Blindness Initiative has enabled Vision 2020 Australia's Global Consortium to build and refurbish eye health infrastructure including hospitals and eye clinics, develop specialist eye health and vision care training for primary and secondary eye health professionals and establish a tertiary-level National Institute of Ophthalmology for the ongoing education of specialist surgeons in Cambodia," says Ms Gersbeck.
The Consortium's First Year
The Global Consortium's first Annual Report was recently submitted to AusAID and provides compelling evidence of the impact of eye health interventions and the value of working in partnership.
During the first year of program implementation, the lives of many thousands were transformed. One country in which terrific progress has been made is Cambodia.
Although health indicators in Cambodia have improved over the past decade, public health remains among the worst in Asia, and the work of the Global Consortium is vital to improving public health and breaking the poverty cycle.
38,131 eye health consultations have been carried out, and 2,095 school aged children were screened for refractive error with 489 receiving spectacles.
A 64 bed eye hospital in Takeo in Kandal Province was completed and another eye hospital at Siem Reap is 90 per cent completed.
Outreach screening programs also provide access to eye nurses and doctors for people living in remote villages.
Eye nurses and doctors perform consultations in the remote villages and when necessary refer people to other services. In 2010, 1,509 people were referred to other services and disabled persons organisations.
Significant progress with human resource training has enabled 661 Cambodian health professionals to participate in eye health training last year.
Eye units have been refurbished at Banteay Meanchey, Kampot, Preah Sihanouk, Kampong Thom and Phnom Penh. Additionally, vision centres have been developed at Kampot, Kampong Cham, Pursat, Banteay Meanchey and Battambang, and refraction services have been established at Preah Sihanouk and Phnom Penh.
Dr. Por, Chief of Service at the Referral Hospital's Eye Unit in Cambodia's Kompong Cham Province, believes the Avoidable Blindness Initiative provides a good contribution to his eye unit and the hospital by supplying refractive services to patients through ICEE's Refractive Error Service Development and Capacity Building Cambodia project.
"With funding and training, eye care staff members can now provide eye examinations and write prescriptions for patients who can buy spectacles from private shops," says Dr. Por.
Improving Education Access
Access to education plays a vital role in providing young people with opportunities in life, and is integral to reducing global poverty. Crucially, as many as 90 per cent of vision impaired children in the Asia Pacific are unable to attend school. The Global Consortium is helping address this situation.
With a simple pair of spectacles, which most Australians take for granted, siblings Sonita (six) and Tony (nine), can now see read the blackboard at school, dramatically enhancing the quality of their education.
Before eye health nurses visited their small village in Cambodia's Kandal Province, Sonita and Tony were legally blind.
Sonita and Tony's father took the children to a screening program in a neighbouring village, delivered by the International Centre for Eyecare Education. Within a few hours, the children's eye condition was identified and they were provided with spectacles.
Tony says when he put his glasses on first the first time he was very happy.
"Now I can see letters and read and write. Before, I was not doing well at school, but now I am."
Member agencies of Vision 2020 Australia's Global Consortium in Cambodia are adopting a systemic approach to eye health in schools, with five provincial education departments implementing refractive error programs in schools.
The Global Consortium is coordinating with six Provincial People's Committees and the Provincial Department of Health in the development and implementation of eye health projects. This includes the production of 65,000 eye health education brochures.
Looking Ahead
While the Global Consortium has already transformed the lives of thousands across the Asia Pacific, much work still needs to be done. A recent World Health Organisation report estimated that approximately 200 million people across the Asia Pacific still experience vision impairment.
About half a million children become blind every year, and up to 60 per cent of children in low income countries are likely to die within one year of losing their sight.
"We have the power to eliminate avoidable blindness in the Asia Pacific by 2020," says Ms. Gersbeck.
"This would be a remarkable legacy to leave our closest neighbours. Blindness is both a cause and consequence of poverty, and improving eye care and reducing preventable blindness is a simple and cost effective way to reduce poverty."