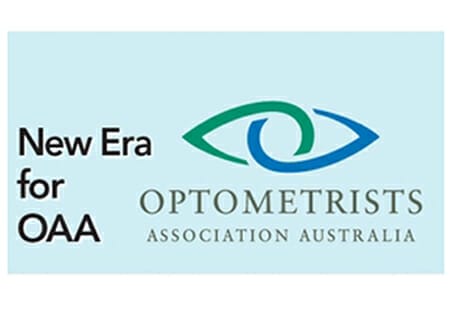 The Optometrists Association of Australia (OAA) has signalled a 'business as usual' attitude after the sudden resignation of its long-time Chief Executive Officer, its President and two members of its National Board.
In a seismic shift for the optical profession, both CEO Joe Chakman, who has led the OAA for an impressive three decades, and President Micheal Knipe resigned their positions with the OAA.
Also leaving the National Board are the New South Wales National Director, Tony Hogan and the Tasmanian National Director, Andrew Hogan.
Mr. Knipe refused to comment on the reasons for his resignation, saying only that Mr. Chakman's contribution to the industry and the association needed to be acknowledged.
Mr. Harris said while there had been changes to the association, the organisation was stable and would continue to work hard for members…
While some sections of the industry see the changes as a coup and have expressed concern about the stability of the profession's peak professional body and the way the change was handled, others view it as a natural generational change that will open up new opportunities for the industry and its members.
Regardless, there is universal acclaim for Mr. Chakman and his impact on optometry over the past 30 years.
Genevieve Quilty, formerly the Deputy CEO, has been appointed as Acting CEO. Past President and National Board Member Andrew Harris has assumed the duties of chairman of the Board. Tony Hogan has
been replaced on the National Board by John Davis, while Tim Powell has been appointed by the Tasmania Division as a National Director.
Immense Contribution
Mr. Harris said while there had been changes to the association, the organisation was stable and would continue to work hard for members.
"Joe has done a fantastic job over a number of years," Mr Harris said
He said Mr. Chakman's impact on the association and optometry generally had been "immense".
"He has played a vital role in shaping the association and has led it and the profession through many changes and crises. Every optometrist owes Joe a debt of gratitude and the association wishes Joe all the best for the future," he said.
Mr. Harris said Micheal Knipe had shown great commitment and care in furthering the work of the OAA and the profession.
New CEOMr. Harris said with the two senior roles of CEO and President changing, "things are obviously going to be different", describing it as an "opportunity to look at everything we do and reassess it with fresh eyes".
"The Board's first priority is to appoint a CEO. With any change of CEO, there will be some change," he said.
Mr. Harris said while Ms. Quilty had stepped in to act as CEO, as the board had new members, steps for filling the position of CEO would and should be discussed and agreed on by that new board.
Ms. Quilty joined the OAA in 2008 as the inaugural National Policy and Advocacy Manager. In May this year she was appointed Deputy CEO and manages the Canberra office of the Association.
In her role as policy manager and Deputy CEO, Genevieve developed OAA policy and submissions and represented the Association to many of its stakeholder groups.
Joe Chakman (and his team):
Some Career Highlights
1. Established Australian Optometry
2. Built up Clinical and Experimental Optometry from small publication to a peer reviewed journal which is listed on Medline
3. Maintained and improved Medicare schedule including new item no.'s (Oct 1994 10906; May 2005 10942; November 2005 10943, 10931, 10932, 10933;)
4. In April 1993 the Keating government budget removed optometry from Medicare (exceptions were for age pensioners and Healthcare Card holders). OAA commenced an active campaign against this decision with the eventual result of Labor caucus overturning the decision in October 1993
5. PBS entry: October 2007 legislation passed to include optometric prescriptions under the PBS (effective Jan 2008).
6. With state organisations was personally involved in negotiating optometrist access to diagnostic drugs in all States and Territories and then key topical ophthalmic medicines that were progressively achieved
7. Devised a comprehensive program for DVA patients for both consultations and the provision of spectacles.
8. In September 1989 Provision was established (originally called Independent Optometrists) to provide additional assistance in marketing and buying to members who required this service.
9. Joe led the profession in the development of National Competency standards: Appointment of research officer to produce first competency standards for the profession August 1992, produced in 1993, 2000 and 2007. August 2001 practice accreditation standards developed.