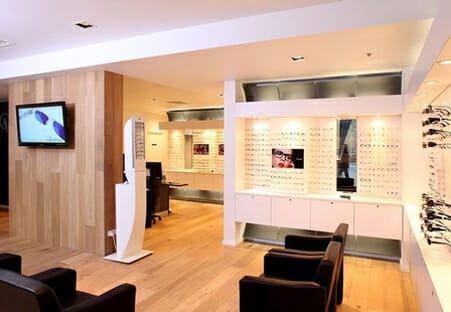 In the competitive world of optical retailing, success is as much about implementing a clever retailing strategy as it is about providing professional eye care services… and a clever retailing strategy is as much about presenting a strong sales pitch as it is about presenting your frames in the very best light.
In its July 2011 report on Optometry and Optical Dispensing in Australia, IBISWorld lists as its number one success factor, 'effective product promotion'. IBISWorld states "sales can be boosted by building brand recognition and a referral base, by a professional store layout and by focusing specific operations and store layouts on particular target markets."
In short, the way you present your eyewear brands and styles – in your windows and in store – can have a significant impact on your business performance.
Success Begins on the Street
There's no doubt that a well lit, constantly changing window display that showcases your leading brands and frames will attract attention and draw customers in through your doors. Conversely, a poorly lit window, cluttered with tired promotional posters, dusty frames stacked high and hand written special offers, will turn them away in their droves.
It's all about creating a more exciting experience for your customers and offering added value…
"Effective lighting plays an important role in dramatically enhancing the performance of your retail environment," said Nathan Robinson, founder of the retail design, build and project management company Box Retail.
"My simple rule is: when you think you've got enough lighting, add some more. You can never have enough brightness over the door or over a product – after all, what's the point of having great frames if people walking down the street don't even notice your store exists."
Once you've drawn your customers over the threshold you need to hold their interest – again, bright lights, clean lines and natural finishes that complement your products rather than detract from them, are paramount. Interesting retail presentations that appeal to your customers' aspirations and offer unique experiences are powerful tools of persuasion.
Take a Long Term View
It's easy to assume that coming up with ever changing point of sale presentations will be hard work, time consuming and expensive, however it doesn't need to be.
Because many optometrists own their retail space or take out long term commercial leases, the opportunity exists to carefully plan an over arching store design that will stand the test of time.
"It's a lot to do with perception," says Mr. Robinson. "You want to make sure that in ten years time, your store still looks modern and up to date, because if it does, then your customers and potential customers will perceive that your product is up to date as well. If your retail environment looks old and dirty, and if your stock is not well lit, then they're likely to assume your stock is old as well."
Mr. Robinson says that although you should design the store to withstand the test of time, once you've got the basics in place, the key is to keep changing things around. "Move retail presentations around weekly to keep things fresh and clean. If you look at clothing retailers, they're constantly cleaning – dusting, vacuuming, mopping, re-dressing manikins – in doing so, they're creating movement in their shop and that attracts attention from regular passers-by," he said.
"If you're not interested in doing this yourself, or you don't have time, appoint a staff member with the creative flair and the desire to do it for you. That way, you should be able to maintain a great looking, effective store presentation, contribute to your staff members' job satisfaction and build your sales."
Promote Your Brands
Maximising awareness of the brands you stock is another highly effective way to grab your customers' attention.
"Brand awareness is particularly important for your younger target audience – if they can't immediately see that you stock a particular brand, they probably won't even stop to check your window," said Mr. Robinson. "So you need to 'talk brand' in your merchandising – but it needs to be done professionally. Take control of your suppliers and ask for merchandising that promotes the brands and styles you know your customers want to see. Insist that all of your suppliers provide you with merchandise of a consistent size and format so that you can present both the eyewear brands and your store professionally. And make sure your suppliers regularly update their merchandising so that you always have something new to display. There is no excuse for buckled and bent displays pushing yesterday's fashion."
Store Layout
Strategic store layout is also essential, because once you've got potential customers through your doors, you need to keep them interested in what you've got to offer. By using colour, design and promotion you can quickly target different market groups and guide them to the product displays that appeal to their senses. Consider, for example, your sport loving customers – a point of sale presentation that features a prominent sports hero will immediately capture their attention – as will props – which could be garnered from local retailers – such as a bag of golf clubs, fishing gear or a surfboard. Constantly rolling footage of super models on a catwalk will attract your more fashion-oriented buyers while a display comprised of a work-bench stacked with tools could provide the perfect attention grabber for customers looking for safety eyewear.
Get Interactive
Take a look at the retailers in your local shopping centre, and you'll find there's nothing special about what they are doing, or how they're doing it – its been boring for far too long. Sadly, in a tightening economy, most are relying on SALE signs plastered across their windows to get people through the doors. Yet this is a dangerous, short-term strategy that leads to prices spiralling in one direction only and consumers convinced that there's no longer any reason to pay the full retail price – for anything.
While we can't easily overcome the economy, and it's pretty much impossible for independents to compete dollar for dollar on the discounts offered by the corporates, there is a way forward.
It's all about creating a more exciting experience for your customers and offering added value – whether it's a product bundle or services to help them make buying decisions they'll be happy with over the long term.
One way to do this is to use digital, interactive displays – the next generation to the traditional lightbox.
"Traditional lightboxes rely on optometrists to source and install their own new promotional posters onto a light filled box. They are at risk of looking unprofessional, and because it's up to the
optometrist to keep the material up to date, the displays often remain in place for too long, so they become tired and boring," said Mr. Robinson.
"The new digital systems are WiFi and 3G empowered. Frame and lens suppliers can provide professionally created promotional campaigns that can be quickly and remotely uploaded to the optometrists' point of sale system. All the optom needs to do is provide instructions – it's as simple as that," he added.
Digital mirrors are another interactive form of technology that makes the shopping experience both more exciting and more informative for the consumer. "When the consumer tries on a pair of frames, they can look into the mirror and push the screen to get a snap shot image of themselves. They can do this with several frames then review all of the images in one go before they make a decision.
"The next step is augmented 3D mirrors – which provide consumers with a realistic look at themselves in frames that the retailer may not even have in stock at the time.
"The system takes a photo of the customer's face, and, as he or she moves around, full 3D images of the head. Then, the customer simply selects a number of frames from a menu and virtually tries them on using their mirror image. With unlimited access to frames and colour combinations, this system has obvious benefits for the both the consumer and the retailer."
In the future, this could mean that optometrists will be able to continue doing business after hours – customers will be able to access the augmented 3D mirror from the street front to try on eyewear 24 hours a day, seven days a week.
Mr. Robinson says that interactive technology like this will help independent optometrists attract and hold on to customers. "Digital technology is exciting, engaging and informative for customers – it provides a whole new shopping experience and can set you apart from the optometrist up the road who in all likelihood is stocking similar frames and eye testing equipment. After all, optical retailing is all about finding and promoting your point of differentiation."