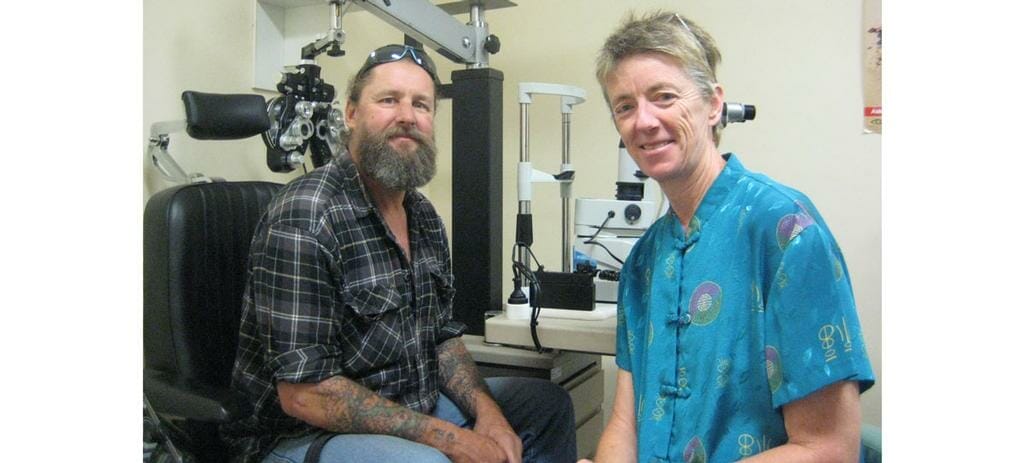 OAA NSW
Andrew McKinnon
Are you change-weary? Most of us might quietly admit that we are, at least to a degree. The past couple of years in particular have seen unprecedented change in the optometry sphere and certainly many of the members who talk to me are feeling more than a little jaded with the pace of change.
But when those feelings overwhelm us, it's important to remember that there are other places around the world where we can see the future and, to be honest, it isn't all doom and gloom.
[/vc_column_text][/vc_column]
there are other places around the world where we can see the future and, to be honest, it isn't all doom and gloom
The closest approximation of what our market might look like is probably the United States. There, the market seems to have basically split in two – there are the very commercially-oriented retailers of eyewear, for whom eye care is a necessary but not always warmly-embraced aspect of their business. Then there are the much more clinically-oriented providers, whose business is built around the highest quality clinical care, with retailing as a supplement to that core.
So there is an alternative to price competition, for those who want to pursue that option. But it requires commitment, planning and determination – and most likely some assistance.
The Association is working with organisations whose goal it is to empower private health practitioners to excel in the market – if you'd like to find out more why not give us a call? You can reach us on (AUS) 02 9712 2199.
OAA Vic
Terri Smith
It has been a busy but productive year for the OAA in Victoria. We have particularly enjoyed rolling out a wide range of new programs for our members and look forward to continuing these into next year.
The first public speaking course group has now finished its course and is ready to address the world! Our four 'young leaders' Jason Carabott, Rogan Fraser, Lauren Kharsas and Bao Nguyen have finished their leadership training with a group of similar minded professionals in dentistry, dietetics physiotherapy, pharmacy, podiatry and speech pathology.
There are already plans to bring together a new multidisciplinary group to share and learn together next year.
We were delighted to bring our first ever webinar free of charge to members. This session, provided by Associative Professor Mark Roth, proved hugely popular. For more than 70 per cent of participants it was their first time on a webinar. We were very happy to introduce our members to this accessible technology to aid their learning.
Over the year we saw more than 300 members attend CPR training at our offices. What a treat to have so many members visiting us.
Our Primary Care Policy Forum got a passionate group of members talking about primary care in optometry. We are planning a further Member Forum next year. Together with our Therapeutics Reference Group, Education Committee and Primary Care Committee, these activities make sure we are hearing about the issues that matter to our members.
SRC was bigger than ever this year with more than 1,250 delegates. We are well underway with planning for SRC 2012, which will take place from 19 to 21 May. Pop the dates in your diary and watch
out for the program, which is about to be launched.
We have enjoyed meeting a new group of final year students this year and have introduced them to potential employers through our Careers Expo. We have recently held our annual 'Getting Registered' session for students to help them through the maze of AHPRA, Medicare and PBS – and of course to welcome them to our Association as they step into the great world of optometry practice. We wish them all well in their first year of practice and look forward to getting to know them all better over time.
We will top off the year's activities with our members' breakfast at the Melbourne Zoo on 1 December. We are hoping to make this a regular member event.
Our office will close for the end of year break from 1.00pm on 24 December and re-open on Tuesday 3 January.
On behalf of the Board and staff I wish everyone a peaceful, safe and fun festive season. We hope to speak, see or email with you soon.
OAA Qld/NT
Cristy Ross
As another year draws to a close, it's a good opportunity to take a look back at the challenges we faced and the achievements we shared as a means of mapping out our plans for the future.
Efforts continue regarding Queensland's state hospital waiting lists, in an endeavour to reduce the number of patients waiting for ophthalmological care.
Optometry practices, together with other health related practices and the wider community continue to mop up after the January floods.
Relationships with other health related associations, including the Australian Diabetes Educators Association Queensland, Diabetes Queensland and the Pharmaceutical Society of Australia (PSA) continue to grow with the idea of encouraging health related professions to work together for the benefit of patients.
Following the success of AVC this year, preparations for yet another wonderful Australian Vision Convention in 2012 are well underway. The dual stream session will again feature in 2012, including dual stream plenary sessions over the three days, from midday Friday 13 April through until midday Sunday 15 April. This year's major sponsor, Essilor Australia, is continuing to support the event. Our silver sponsors will be Alcon Vision Care, Allergan and Carl Zeiss Australia and supporting sponsors on board for next year are Coopervision, mivision, Mondottica and Monkey Software.
During the year, our long serving CEO, Greg Johnson announced his resignation, which saw a large crowd of Queensland Division members and associates including ophthalmologists gather at a farewell dinner on 1 October. The Division thanked Greg for his contribution and achievements over the past 11 years and welcomed the next chapter, following my appointment in mid-September.
Having worked previously with the Association, I consider my return – which allows me the privilege of working with QLD and NT Optometry members – as one of the best decisions I've ever made. Sharing former CEO Greg Johnson's optimism for the Association's bright future, I look forward to working with members to achieve of better eye health for all patients.
As a Division, I am confident we will continue to achieve as we tackle new challenges and embrace opportunities, both now and in the future. Together we can continue to ensure the Optometry profession secures and maintains the recognition it deserves.
On behalf of OAA QLD/NT Division President Kate Johnson and our Board of Directors, I wish happy holiday tidings to our Queensland and Northern Territory members and mivision readers across the country. Best wishes for a peaceful and safe Christmas and New Year period.
OAA WA
Tony Martella
In late November OAAWA celebrated the official opening of a permanent eye clinic at the St Patricks Community Centre. President Darrell Baker, OAAWA Board Directors, Association members and other invited guests were in attendance. Also at the opening were members of the St Patricks Community Centre board, and their clients. It is a great honour to have been involved in the establishment of the Centre over the past 12 months.
As a temporary clinic we were able to provide valuable eye health services to many people who live in shelters for the homeless and on the streets. Now, with a permanent clinic in place, we will be able to provide full scope optometry services to clients of the St Patricks Community Centre on a monthly basis.
Our eye clinic has been established thanks to the enormous generosity of members from the optical profession, including Harry Varelis from Ophthalmic Equipment Supplies, who has supplied all of the optical equipment. Numerous other suppliers have also contributed to establishing the clinic with equipment, spectacle frames and lenses.
Ahead of the opening, we ran our first clinic in the new facilities with Rosemary Austin, a local Fremantle optometrist. Rosemary saw eight patients during the clinic and conducted comprehensive consultation including dilation and fundus examination. Each of the patients she saw was also provided with a free pair prescription glasses if required.
Rosemary said the people she saw at the clinic were extremely grateful and appreciative – one lady kept saying she couldn't thank Rosemary and the clinic staff enough as it had been several years since she had been able to read small print in any detail.
Inaugural Multidisciplinary Health Symposium
On Saturday 22 October, OAAWA participated in the inaugural University of Western Australia Multidisciplinary Health Symposium, which this year, was aimed specifically at the Care of the Diabetic Patient.
The educational event took a multidisciplinary approach to Type 1 and Type 2 diabetes with topics that included risk and prevention, retinopathy, neuropathy, nephropathy, complex care, and the Moorditj Djena program – an Aboriginal podiatry and diabetics education outreach service.
Kim Snowball, Director General of the Department of Health opened the full day program which was attended by 200 members of the health profession, including GPs, dentists, nurses, podiatrists, optometrists and other allied health professionals. Among notable speakers from all health and medicine disciplines was OAA member Stephen Leslie who delivered a presentation entitled: Retinopathy: epidemiology, risk factors, diagnosis and management.
We hope to follow this successful symposium with another in 2012.
As the year draws to a close, I'd like to acknowledge all of the support that OAAWA has enjoyed this year from our corporate partners, other state Associations and our national office. I'd also like to thank our WA members for their involvement and participation in Association events.
Finally, I'd like to wish all readers of mivision a wonderful Christmas and prosperous New Year – I hope you
have enjoyed keeping up with the happenings in Western Australia.
NZAO
The New Zealand Association
of Optometrists
Over 40 per cent of the entire NZAO membership attended the 81st NZAO annual conference in Wellington from 28 to 30 October. With more than 240 optometrists at the event, numbers surpassed those achieved in the past 10 years. Feedback was extremely positive, with members reporting that they had enjoyed both the speakers and information presented.
A number of sponsors made the event possible – platinum sponsor, Alcon NZ Ltd, silver sponsors Abbot Medical Optics, Bausch & Lomb, Carl Zeiss, Ciba Vision, Essilor and Hoya and supporting sponsors; Corneal Lens Corporation, CR Surfacing Laboratories, Transition and Younger Optics. All sponsors provided positive feedback on the conference and said they were very happy to have participated. Some have already booked for the 82nd conference, which will be held at Warakei Resort near Taupo. For information go to: www.nzao.co.nz
Having completed his two-year term as president of the NZAO, president Wilson Sue has stepped down. At the Association's recent Annual General Meeting, members were advised that Jack Crawford will step into the role of NZAO President.