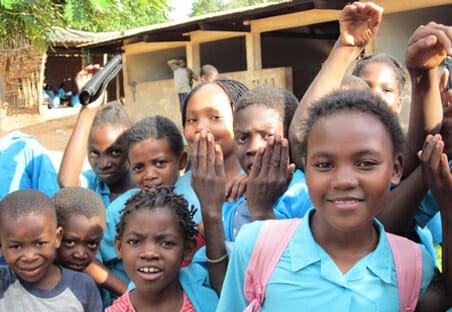 How often do you ask yourself 'what's it all for?' or 'why do we do what we do?' As we commence the wind down for 2011 then look ahead to the New Year, it's worth reminding ourselves of the difference we can collectively make to the lives of people around the world.
Since independence from Portugal in 1975, Mozambique has been battered by civil war, economic mismanagement and famine. The country is ranked 175th out of 177 in the United Nations Human Development Index, the HIV infection rate stands at about 16 per cent – the 10th highest in the world – and over one million children do not attend primary school. More than 50 per cent of the population is living on less than AUD$1 a day, and life expectancy is just 49 years. The Ministry of Health estimates that as many as 720,000 Mozambicans are blind or vision impaired.
While economic performance in recent years has been impressive, and the poverty rate has declined from 69 per cent of the population in 1997 to 55 per cent in 2010, much remains to be done.
International Concerns
There are concerns that current economic development is focused mainly on enhancing productivity of the mostly foreign owned mining interests, rather than benefiting the local economy. Riots in September 2010 and new data on poverty highlighted the weak link between economic performance and the lives of many Mozambicans.
More than 50 per cent of the population is living on less than AUD$1 a day, and life expectancy is just 49 years
Dublin Institute of Technology Lecturer in Optometry Dr. James Loughman explained how a lack of even basic eye care services in the country could be further compounding the problem.
"Blindness and poverty for me are inextricably linked, they're one in the same," he said. "If you don't have proper eye care, if you don't have good quality vision, then you become vulnerable. Blindness is really a barrier to proper human development, which is about the right to education, the right to opportunities, to social and personal development, to employment and ultimately it's about the right to life."
First Optometry School
Since 2009 Dr. Loughman and the Mozambique Eyecare Project (MEP) team, with support from Optometry Giving Sight, have been visiting the country with the ultimate aim of reducing avoidable blindness and vision impairment by 2020.
The Project is an Irish Aid funded initiative, involving partners from Lúrio University in Mozambique and the International Centre for Eyecare Education (ICEE), in collaboration with the Dublin Institute of Technology (DIT) and the University of Ulster.
"The basic concept is to try and address the eye care needs in developing countries which are typically very underserved. The thing about blindness and visual impairment is that the majority of it, at least 80 per cent, is avoidable or at least readily treatable with the appropriate services," said Dr. Loughman.
"UniLúrio is a new University in Mozambique which was keen to develop a health sciences faculty. As part of that they agreed to launch the first optometry program for Mozambique."
Vice Chancellor Professor Jorge Ferrao explained why the University was so eager to get involved in the project.
"In this region, we only have one medical doctor for something like 50,000 people and we don't have any optometrists for 20 million, so against this background, we know how important it is to train some optometrists in Mozambique," he said.
Optical Pioneers
The first 16 students to enroll in the course all had their own reasons for becoming optical pioneers, from having grown up with adult relatives who had not been able to see their families, to simply having a strong desire to help more people appreciate the beauty of their country.
On a recent visit with the students, who are now in their third year, the MEP team was able to share clinical techniques with them and watched as they practised ophthalmoscopy for the first time at a school screening. Seeing the students' amazement as they looked into the back of any eye for the first time made Dr. Loughman feel optimistic about the future of optometry in Mozambique.
"These students will make amazing optometrists, they're keen to learn, motivated, they see the scale of the problem. It's obvious that they think about the problem and that makes me confident they will have a career in optometry which is not just about the basic delivery of eye care services, but along with their fellow students, they will drive and build the profession," he said.
Mozambique's first optometrists will graduate in 2012 and thanks to the efforts of this project there will be 56 optometrists in Mozambique by 2015.
DIT Research Optometrist Aoife Phelan summed up why the team members who have been involved in the project want to keep going back.
"Optometry isn't just about working in one place seeing people every day. We also have a responsibility as eye care professionals to the people who we can't see, to the people who can't see, in developing countries," she said.
Tina Wall is acting Communications Manager at Optometry Giving Sight while Jo Humphries is on maternity leave. Tina has over 15 years communications experience across Europe, Asia and Australia focusing mainly on disease awareness and education for health professionals on behalf of the pharmaceutical industry.