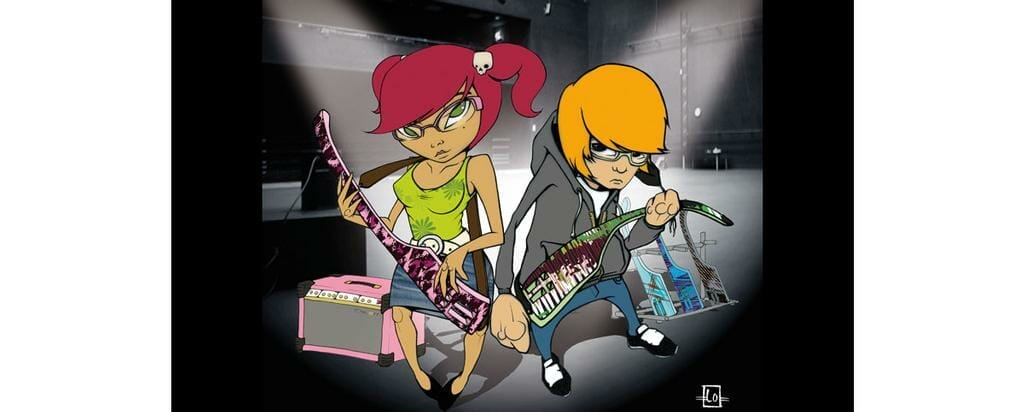 When it comes to personal fashion styling, there's nothing more impressive than the ability to successfully mix and match colours and patterns. While customers have been able to mix and match frames fronts with temples for many years, Dilem has introduced almost 300 new looks for your customers to suit every fashion mood and accessory.
Dilem eyewear, which is owned by the French company Oxibis and distributed in Australia by L'Amy, provides enormous choice for those with a love of fashion and a need for vision assistance.
mivision spoke to Oxibis co-founder and master designer Daniel Arnaud about his work as an eyewear designer and his concept for fashion focused mix-and-match optical frames.
Q. How did you first get into designing eyewear?
I wanted to design a frame that allows wearers to express their individual style
A. I had been practising for several years when, in 1992, I met Jerome Colin, the son of a manufacturer. We'd grown up in the same mountainous area of Jura and we discovered that we shared a passion for eyewear. Over time, we decided to establish a business in Morez, which is where the French eyewear industry first began 200 years ago. We called our business Oxibis.
Q. How did the concept for Dilem come about?
A. Dilem is all about freedom: design-wise I wanted to design a frame that allows wearers to express their individual style. Technically, I was looking to develop an innovative frame that would revolutionise the eyewear world.
The initial aim was not to create a frame with interchangeable temples. However, as the concept progressed from research and design through to testing concepts on the closing block, we finessed a temple that could not only be clipped on but also unclipped. And so our concept was born – a frame that makes it possible to change your appearance to suit your mood, style or activity for the day.
Q. The Oxibis Group has won many international awards and is distributed to countries around the world – you were once the sole designer – how many designers do you have working for you today to keep up with demand and maintain your edge?
A. In 2003, I engaged a team of designers to work with me. The creative process is very much team-based and we all work towards the same objective: to create original glasses that appeal to the greatest number of people.
Q. Where does the inspiration for your style come from?
A. Inspiration comes from fashion, architecture, travel, art, culture, cars, graphics, street art and nature – you name it – it all influences our ideas which are then tempered by the need to design frames that are balanced and will adapt to any facial shape. The ability for customers to interchange frames for a more individual style is always top of mind.
Q. How important are trends to your design process?
A. We put great effort into keeping track of the latest trends and technological innovations. Trends: to help us monitor and anticipate consumer expectations. Innovations: so that we're always up to date with the latest ways to apply decorations to the temples. As a result, over the past five years, we've developed Dilem temples from simple, single colour designs to patterned and sometimes very complex pieces. We now have no fewer than 290 pairs of decorative temples that our customers can choose from.
Q. What innovative materials do your manufacturers use in the creation of Dilem frames?
A. Our interchangeable temples are made from stainless steel or injected using XP2, a technical and ultra-resistant polymer. This is the lightest thermo-plastic on the market and it is exceptionally resistant to heat, impact and weathering as well as chemicals like acids and solvents. The temple decoration is applied using either pad printing or digital printing, depending on the complexity of the design.
Q. How does the design process work?
A. Our designers are just the starting point – they sketch the designs, construct models and monitor the manufacturing process. As the head of the design team, I oversee and manage every stage of this process. It's my responsibility to approve or correct shapes and I influence technical decisions – but the aspect I enjoy the most and am most involved in is the development of colour – I consider colour to be the trademark of our brand.
Q. With three brands and an enormous international market, how do you maintain control over design quality?
A. In 1992 we took the unusual step of entrusting sub-contractors within France to manufacture our products.
I say unusual because at the time, most French spectacle makers were totally in-house. We did this because it enabled us to concentrate more on the design, marketing and distribution of our own brands. It has also enabled us to react quickly to market changes and as a result we are now present in 20 countries that include Australia, Austria, Belgium, Canada, the United States, the Middle East, Japan and Singapore. Despite this network of global customers, Dilem eyewear continues to be manufactured in France.
Q. What has Dilem planned for the future in terms of design?
A. Trends are cyclical and change very quickly. Today we're seeing a real return to acetate frames and tomorrow we'll see the return of metal. We'll continue to develop the brand, as our aim is for it to become an essential benchmark for interchange-ability. To achieve this we'll need to constantly monitor the latest trends. We also have to anticipate future developments – our aim is to surprise our customers and win their loyalty.