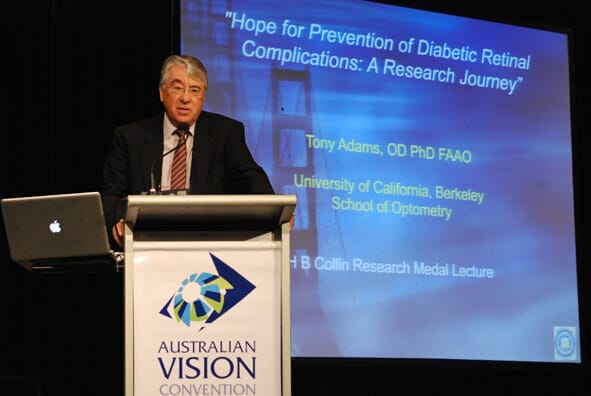 Click here to view all the images of AVC 2012
Exhibitors have reported that the Australian Vision Conference on the Gold Coast from 13 – 15 April attracted quality delegates over quantity. 600 eye care professionals, the majority from Queensland, attended the event – down from around 800 in 2011.
Organisers said the drop in attendance was expected as numbers in 2011 spiked due to changes in Continued Professional Development (CPD) requirements for registration with the Optometry Board of Australia.
Marika MacKenzie, Communications Manager at Queensland Optometry, said while the surveys are yet to be analysed, anecdotal evidence from delegates and exhibitors alike, suggest people were happy with the conference.
Gail Hoole, Managing Director of exhibitor Mondottica, said the quality of leads was high. "AVC is always good," said Ms. Hoole. "It's good to show our ranges directly to the optometrists because most of the time they're so busy conducting eye tests that they don't have time to see all of the collections. We had quite a few optometrists asking us to give them a call after the show."
Mark Altman, Business Development Manager for Ophthalmic Products at Device Technologies said despite the lower numbers, AVC was positive for his business.
"In the last 18 months there has been a significant shift of focus among independents from the retail side of the business to the clinical side. We had a number of conversations with people who specifically want to do that. So while we felt like we didn't have the high numbers of people to our stand, we certainly had good quality conversations – from that perspective it was a good quality meeting – we'll certainly be here again," said Mr. Altman.
Delegates to AVC attended a wide and varied program of lectures across all three days of the convention. Highlights included a presentation by Professor Anthony Adams, who has been described as having "contributed more to the American Academy of Optometry in the last 50 years than anyone else", a presentation by Sydney optometrist Jim Kokkinakis on how to use the internet to position a practice and Brisbane based optom David Foresto's presentation on managing the side effects of ocular therapeutics.
North Queensland Vision takes place from 8-10 June in Cairns.