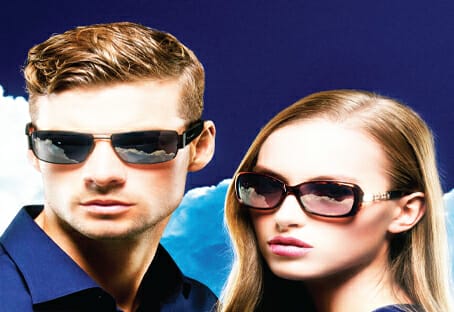 You don't get much more Aussie than Bill Bass. This quintessentially Australian brand is designed in Australia for Australian men and women, and having been around for more than 25 years, it's one of the country's oldest sun and optical brands.
mivision spoke to Bill Bass eyewear designer Glenn Nolan about how he is evolving the style while managing manufacturing and pricing decisions to ensure the Bill Bass brand withstands the test of time.
The recommended retail price of Bill Bass frames hasn't changed in over 10years. That's pretty extraordinary in a country where the Consumer Price Index has averaged 3 per cent each year during the same period (give or take a few hiccups along the way).
According to Bill Bass, the company has been able to maintain its pricing policy by trimming its margins and maintaining quality to achieve high sales volume.
"When we built the Bill Bass brand, our aim was to develop a line of optical and sun eyewear to suit the Australian lifestyle. High up on the list of our priorities was to achieve scriptable eyewear with European quality and styling at affordable prices," said designer Glenn Nolan.
My designs need to be more of an evolution rather than a revolution
"This is still our principal philosophy today – it's all about achieving the best quality and components at the best price for the Australian market."
Design Evolution
As an aesthetically clean, classically styled brand, Bill Bass appeals to a market that is broad and difficult to define. But having started out designing fashion before moving into eyewear 16 years ago, Glenn is completely in touch with what his customers are after.
"Bill Bass is not a high fashion, directional range but rather, much more of a functional, traditional range," said Glenn. "Our customers want a frame that is versatile and can take them anywhere.
"Because they are scriptable, many Bill Bass wearers intend to have their glasses for two or more years and that often dictates their selection – so my designs need to be more of an evolution rather than a revolution… styles that have a timeless design and are not subject to fads rendering them out of date the following season."
He said as a designer, it's flattering to know that a large percentage of customers are not new to the brand – many have owned several Bill Bass optical or sunglass frames. "We often get customers asking for exactly the same frame as they had 20 years ago and now, would you believe it, the same styles are back in fashion! That's an amazing reference to the quality and longevity of the frames."
Ideas and Influences
Glenn said his ideas for design come from everywhere but seeing what's happening through Europe in the world of fashion is key.
"I'm constantly thinking about the next thing, looking for the next design, the next colour, the next new shape. European fashion designers lead the world so the trends and directions being taken up by the big design houses are always strong influencing factors."
"Research", he said, "is essential because, you can never have too much information! I read international fashion magazines and websites, and I visit shows like Mido for inspiration – I look at cutting edge designs then I think about how I can pull those details, colours and shapes back to make them appropriate to the Australian market – to the Bill Bass customer."
When it comes to creating new concepts for Bill Bass, Glenn said, "everything starts with a concept, an idea, a shape, a colour or a texture. I present my brief of sketches and ideas to the team for the direction I see us taking with each new release".
"Technical drawings are then drawn up and refined until I am happy with the design and everything looks right. From here a prototype frame is made by hand which is reviewed and checked and then we make any last changes that are necessary to improve the style or fit. Once the frame has the perfect balance, I have pre-production samples made up in a selection of colour options and combinations to make sure I am happy with how the final colours work with the styling of the frame. This includes different colours for lenses and badges or metal temple trims because having the wrong tone of gold for example can transform a style from great to not so great."
Once the final colour prototypes have been approved, production commences and there's no turning back. From start to finish the process takes around seven months for each style.
Bill Bass' parent company, VMD Eyewear originally produced its frames at their local factory, and while labour costs have now forced the company to go overseas, this hasn't affected the quality.
"We choose leading manufacturers and implement the strictest controls to maintain quality. All of our Bill Bass eyewear is scriptable and typically the optical frames will have a smaller lens while the sunglasses will have a slightly higher base curve. The lenses we use are Japanese – and some of the best available in the world. For the frames, we use European components and Italian style acetates. We carve each frame from large sheets of acetate – Bill Bass are handmade and there is very little automated machinery involved in the manufacturing process. This is quite a feat in this world of mass production!"
Right now, Glenn is working on designs that will be released next year. "I'm working with translucent acetates that have brilliant, complex colours running through them – absolutely beautiful," he said.
Bill Bass is just one of a family of brands owned by VMD Eyewear. Others are the fashion forward labels Dirty Dog, Sceats Eyewear and North Beach Polarised and the licensed brands of Deborah Hutton Eyewear and R.M.Williams Eyewear. VMD exports Dirty Dog worldwide and distributes all of its other brands around Australia, to the United Kingdom and New Zealand.