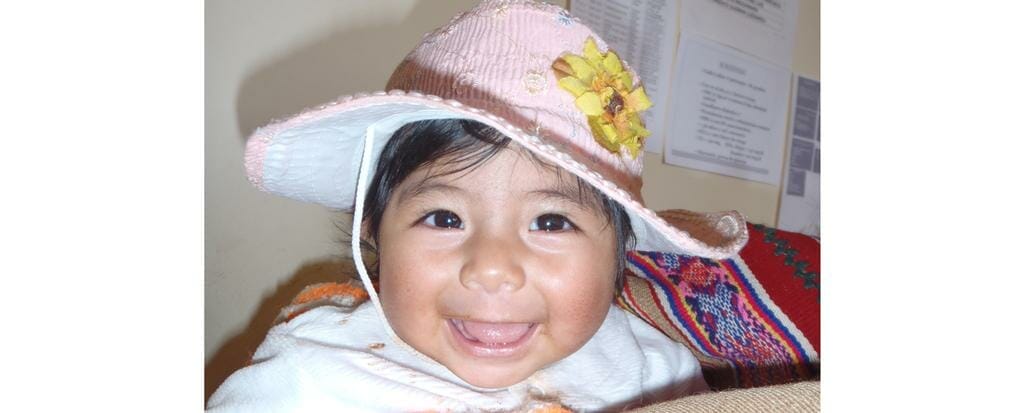 Bred in Peru for their fleece and meat, alpacas are social yet highly-strung animals. They hum, snort, cluck, bray, scream, and yes – spit. Alpacas also have excellent eyesight. Fitting then, that these domesticated camelids are the link that led a team of Aussies on one of the first ever eye care missions to the Peruvian Andes.
During the 1980s and 90s, when Shining Path guerrillas laid siege to the country, barely a day would pass without news of atrocities from Peru. Today, the news is very different and is more likely to focus on mining, the antics of its soccer stars or its rapidly expanding tourism industry.
Many Peruvians – those that live in major cities – enjoy a high standard of living. In the poor rural areas of Peru, the picture is different.
"In Lima, the standard of eye care is similar to ours – if you can afford it. Eye care is non-existent in rural areas. The government ignores the country people," says New South Wales south coast optometrist Craig Cameron.
The goal now is to see this as something that is more self-sufficient…
Mr. Cameron – who has practices in Ulladulla, Bateman's Bay and Nowra – admits it's a big call but he has some experience to back it up, being part of an Aussie team to make what is believed to be the first proper overseas eye care mission to the South American nation.
But the story starts with a love of alpacas…
First Mission
Mr. Cameron was convinced to go to Peru by Nowra orthopaedic surgeon Ian Davison, who has one of Australia's largest alpaca herds.
Alpacas are the oldest domesticated animals in the world, having been farmed in South America for more than 5,000 years. They were treasured by the ancient Inca civilisation, and their fine fleeces were reserved for royalty. The first alpacas were imported into Australia in 1989 and there are now well over 40,000 of them on alpaca farms around the country. They are members of the biological family camelidae and referred to as camelids.
As head of the Australian Alpaca Association, Dr. Davison's interest in the animals had put him in touch with US alpaca breeder and philanthropist Mike Safley, who had started a charitable foundation, Quechua Benefit, based in the Peruvian town of Chivay.
Chivay is a little town cradled between mountain peaks, at the gateway to the Colca Valley. A short distance away is the spectacular Colca Canyon, home of the Andean Condor. It's an area rich in Incan history. Chivay is located in one of the most scenically spectacular places on earth, yet its people are among the world's poorest. Their access to health care is, at best, rudimentary; but for the most part, non-existent.
"When Ian met Mike Safley, Mike suggested that eyes were something that needed attention," Mr. Cameron said. Even though his speciality was bone and joint surgery, within six months, Dr. Davison and the Alpaca Association of Australia had reached out to ophthalmologists and optometrists from the Nowra-Ulladulla area, putting together a team to head to Peru, under the banner of InSight Peru.
Cataracts are a particular problem in the Peruvian Andes, particularly among the elderly population, as the development of cataracts is hastened by exposure to ultraviolent light. UV light is partially filtered by the atmosphere, and, therefore, stronger in the thinner atmosphere of higher altitudes, such as the Andes.
"A year earlier, a small overseas eye mission had been to the area and saw about 12 people. In our first trip, in May 2010, we saw more than 400 patients in the optometry clinic and our ophthalmologist performed about 80 cataract surgeries."
Mr. Cameron said the number of cataract operations was restricted by the "rudimentary" facilities available.
While the team knew the need for cataract surgery would be dire, it was unprepared for the optometric need it encountered. In Mr. Cameron's succinct summary, it was clear that very many people "just needed glasses".
Ongoing Commitment
Fired up by the need they saw on their first mission, InSight Peru has made an ongoing commitment to eye health in Chivay. A second trip to Chivay in November last year saw the addition of paediatricians and GPs to the mix, treating between 800–900 people.
Mr. Cameron said it was pleasing to see a Peruvian ophthalmologist, who had been assigned by the Peruvian Government
to oversee the work of InSight Peru, get involved in surgeries on the second trip. On the first trip, his role had been to observe.
"We sat down with Quechua Benefit at the end of this trip to discuss how we can help in an ongoing way. They have just opened another orphanage and as part of that, they are going to build a clinic and set up some equipment for us.
"These first couple of missions have really been about feeling our way. There are a lot of logistics involved but our aim is eventually to set up partnerships when we go over, so we can do some training of the local people. We need someone there that can do follow up work.
"The goal now is to see this as something that is more self-sufficient."
Mr. Cameron said the Quechua Benefit has pledged ongoing ground support and logistic backing in Peru, which has been one of the main difficulties encountered by InSight Peru.
"The bureaucracy of getting there is unbelievable. On the first trip, the Peruvian Government pulled the pin on our entry into the country 24 hours before we were due to leave because of a paperwork anomaly. Fortunately, the Peruvian Ambassador in Canberra intervened and sorted things out," he said.
Changed Lives
As with any eye care aid program, there are always cases that touch the heart, leaving a lasting impression. For Mr. Cameron, that case was Roberto, a "lovely, lovely elderly man who was housebound with bilateral cataracts".
The team performed cataract surgery on Roberto, restoring his mobility.
"The second day after his surgery, we ran into him in the street and asked him how he was going with the eye drops he'd been given. He proudly told us that he'd finished the drops, which were supposed to last him a week or so, so we had to take him back to the clinic to give him new drops."
"There was also a lady who had cataract surgery and when she came back for a follow up visit, she had seen her grandchildren for the first time in eight years.
"I just thought, 'Oh gosh, all these other people that whinge here (in a first world country) about the smallest thing… it really brings you back to earth.
"Doing this sort of work at the grass roots feels good. The people are so grateful for little things we take for granted," Mr. Cameron said.
"What we can do, means so much to them," Mr. Cameron said.
InSight Peru Volunteers Needed
Optometrist Craig Cameron, who has participated in eye care programs in East Timor as well as Peru, said he understood why Australian optometrists and ophthalmologists volunteered for eye health missions in neighbouring countries, because there is so much need on our country's own doorstep.
There is a great need in Peru for volunteers, financial assistance, in-kind support… and lots of spectacles.
If you have an interest in joining InSight Peru, contact the organisation via its website: www.insightperu.org.