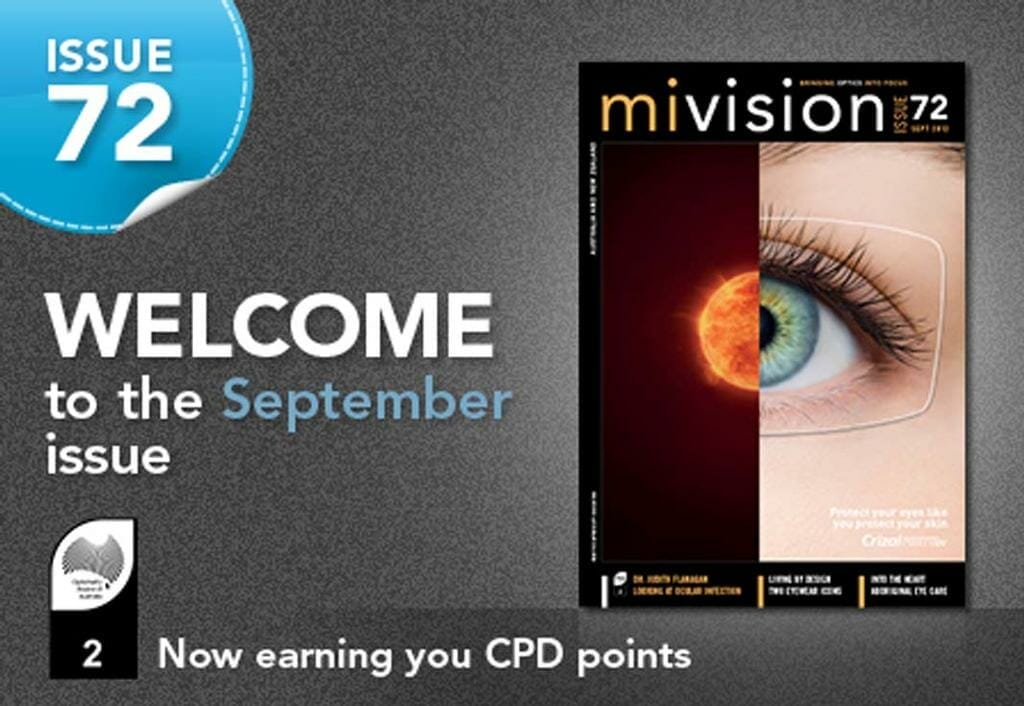 This month I have the enormous privilege of reporting on the work of outreach eye care services to remote Aboriginal communities in the Northern Territory.
The trip fulfilled a long-held ambition to travel to Australia's red heart, to see for myself, the work of these eye care professionals. It is an Australia that most of us urban dwellers – clinging as we do to the coastline – rarely experience. The eye care teams in Central Australia visit more than 12,000 people a year – covering an astounding 1.2 million square kilometres. The generous welcome I received from the communities of Bonya, Harts Range and Alcoota will be something I'll never forget.
The trip was made possible by the Brien Holden Vision Institute Foundation which was formerly the International Centre for Eyecare Education (ICEE). We reveal the background behind the banner change in our article in this month's mivision.
In other articles in this issue, we take a look at Lucentis. Five years ago, this drug radically changed the treatment of age-related macular degeneration (AMD), and has since saved the sight of literally thousands of Australians who would otherwise be blind. That's definitely something worth celebrating.
Our education articles are not to be missed. Nicole Carnt considers daily disposable lenses, outlining the pros, cons and future possibilities. Dr. Judith Flanagan writes on 'Koyaanisqatsi' (yes, the same name as Francis Ford Coppola's brilliant cult film from the 80s). The word means 'life out of balance' in the Native American Hopi language. Dr. Flanagan adopts the term to explain why the bacteria that colonise our gut, mouth and skin may impact on ocular health. Both these articles carry two CPD points each, so make sure you log onto the mivision distance learning centre and complete the MCQs.
Those hungry for fashion have plenty to feast on in this issue. Melanie Kell had a chat with Antipodean designers Paul Taylor and Karen Walker. Karen Walker's fashion empire is well established and she sees frames as a natural extension of her design repertoire. Paul Taylor, who still likes to design with paper and pen, tells how he is returning to his true love… designing offbeat, bold specs that suit so many different faces.
We look at the cool collections being released in interchangeable eyewear –frames which will give your clients the ability to change their look quickly and inexpensively. We also take you to the launch of new and exciting collections by OP's Optical Products and L'Amy, which has unveiled five new brands.
Plus there's more optical news than you can poke a stick at; roundups of some great new products; information about how to tap into the marketing power of Facebook; and Geoff Lawson's idiosyncratic take on life in his regular popular column.
Enjoy this issue.
Mark Cushway
Editor
Contents:
| | |
| --- | --- |
| | minews: All the latest news from mivision Sep 2012. Click here… |
| | mistory: Into the Red Heart There's No Need for "Thanks": For some patients, the outcomes aren't significant, but for others they are life changing, writes Mark Cushway, Read more… |
| | mistory: Inspiring Change: Providing Vision for Everyone, Everywhere: The International Centre for Eyecare Education (ICEE) and Brien Holden Vision Institute have more closely aligned. Read More… |
| | mifeature: Living by Design: Some designers go with the flow, coming up with concepts that sit with the trends and capture the attention of the mainstream. Read More… |
| | mifeature: The Impact of Lucentis: It was really only a handful of few years ago that patients with 'wet' Aged-related Macular Degeneration were offered little more than counselling and support. Read More… |
| | mioptometry: All the latest reports from Australia and New Zealand. Click Here… |
| | miview: Searching for a Simple G'day: There's nothing like a coffee to bring civility to a person and nothing like a G'day to make another person's day, writes Geoff Lawson. Read More… |
| | mieyecare (CPD ARTICLE): Daily Disposable Lenses: Are They The Answer? The success of Ortho K has firmly assured the presence of rigid lenses in the market, but how are daily disposables shaping up? Read More… |
| | mieyecare (CPD ARTICLE):Koyaanisqatsi: A New Look at Ocular Infection: New scientific paradigms suggest that rather than a single cause, it could be the so-called "Koyaanisqatsi" effect, that is, life out of balance. Read More… |
| | miophthalmology: Retinal Detachments in Children Diagnostic Tips for Optometrists: Retinal Detachments in Children Diagnostic Tips for Optometrists. Read More… |
| | |
| | mifashion: Inter changeable Inspirations: people are constantly looking for the newest and coolest designs that attract attention and make them feel good about how they look. Read More… |
| | mifashionnews: All the latest fashion news from 2012. Click here… |
| | mibusiness: The Power of Millions Harnessing Social Media: Mark Zuckerberg conceived 'thefacebook' back in 2004, little did he know that his dream of a social network would become one of the world's most powerful messengers. Read More… |
| | miproducts: All the latest products from September 2012. Click here… |
| | mievent: L'Amy Launch Five New Brands: L'Amy launched new optical and sun collections for Lanvin, Chopard, Givenchy, Ermenegildo Zegna and Furla at an exclusive event hosted at Sydney's Simmer on the Bay. Read More… |
| | thelastword: Going Offline. Read More… |
| | midiary: Check with mivision diary for important updates. Click here… |
| | miclassifieds: Looking for a job? or a practice? Click here… |
| | |
| | |
| | |
| | |
| | |
| | |
[/vc_column_text][/vc_column]