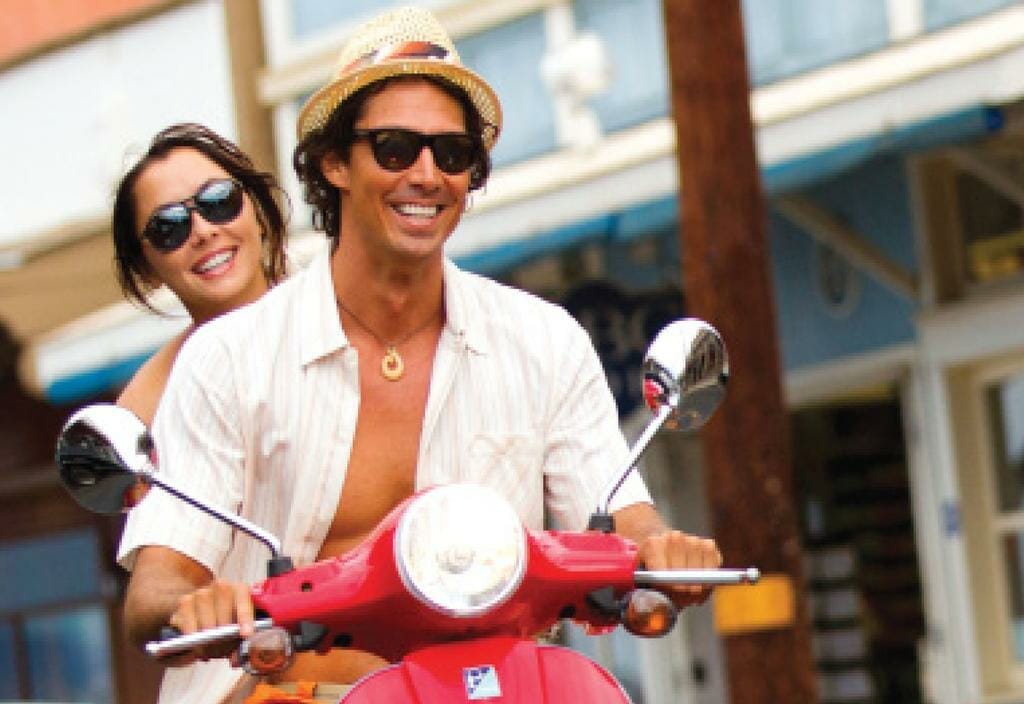 Aloha is the spirit of Hawaii – one word that can be used to say hello, good bye and to express love. At a deeper level, it refers to the knowledge, integrity and compassion required to interact rightfully in the natural world.
When you phone the Maui Jim office you're greeted with an Aloha. It's the salutation on an email and is the cry at the opening of a convention and, according to the people who work at Maui Jim, around the office there's a whole lot of talk about maintaining the Aloha spirit – about achieving harmony and interdependency by working in unison.
"Give of yourself and expect nothing in return," is an approach Mike Dalton, the president of Maui Jim says works in a hard business environment.
"We don't run Maui Jim like other businesses," said Dalton. "There are no reserved parking spaces at HO and you can't tell who the senior management are walking around the building because everyone is dressed in shorts, tees and flip flops. There are no unimportant jobs at Maui Jim. If an order is not processed because of someone in packing, it doesn't matter how good your product is, the customer will still be disappointed."
…he designed eyewear for several Hollywood films including Matrix and Charlie's Angels
It's an attitude that clearly works. What began as a small company selling sunglasses out of beach huts in Maui, Hawaii, back in the early 80s is now a global enterprise. Today Maui Jim has 350 people working from its Head Office in Illinois and another 300 staff worldwide. Sunglasses are distributed to more than 40 countries globally via 14 wholly owned distribution companies… and Maul Jim proudly promotes itself as the fastest growing premium polarised sunglass producer in the world.
The man running the show is CEO Walter Hester. He stumbled across the brand after buying a pair from one of those beach huts. He was so amazed by the technology that he soon became the Hawaiian distributor, and later, in 1992, he bought and commercialised the company.
Changing Gender Split
Traditionally Maui Jim sells to the 35 plus age group with a split in customers of 60 per cent men and 40 per cent women. However, following more of a push on fashion styling, this split is shifting.
New York based designer Richard Walker is chiefly responsible for this shift. He has shaped the Maui Jim look for the past three years, dividing his time between his home state of New York, Japan, Italy and
Hawaii where he works on new ideas and creates prototypes.
Walker could be described as an eyewear obsessive. He has collected frames for many years and amassed thousands of pieces, all of which are filed in oak in his New York home. They've come from flea markets, fairs and collectors all around the world.
Before coming to Maui Jim, he was an eyewear designer with LA Eyeworks and Blinde, where he designed eyewear for several Hollywood films including Matrix and Charlies Angels.
While Walker is very much at the centre of Maui Jim's design and manufacturing process, CEO Walter Hester and product development manager Jennifer Williams are also integral to the development. In fact it's Hester who makes the final selection on every model that goes into production.
Technology Focus
Great design is one thing but Maui Jim is also committed to developing eyewear that protects the eyes.
The company's Corporate RX Training Manager, David Burch claims its proprietary PolarisedPlus 2 technology reduces 99.9 per cent of harmful glare and, with up to nine layers of protection built into each lens, cuts 100 per cent of UVA and UVB rays. Anti-reflective treatment blocks glare from behind to eliminate eye fatigue and a unique bi-gradient mirror technology adds protection from light through the top and bottom of the lens.
Additionally he says, Maui Jim combines three rare earth elements with its glare protecting technology to produce the truest colours of all lenses on the market, along with clarity and contrast.
Fitting proprietary prescription lenses into its frames has become a big part of the business for Maui Jim. And, with the launch of its polarised prescription gradient technology, which was in development for several years, this arm of the business will grow even further. All prescription manufacturing happens in Maui Jim's 7,315 metre 100 per cent freeform lab in Illinois. And, in keeping with the company's aloha spirit, all waste and petroleum materials generated through the manufacturing process, are recycled in an effort to be as green as possible.