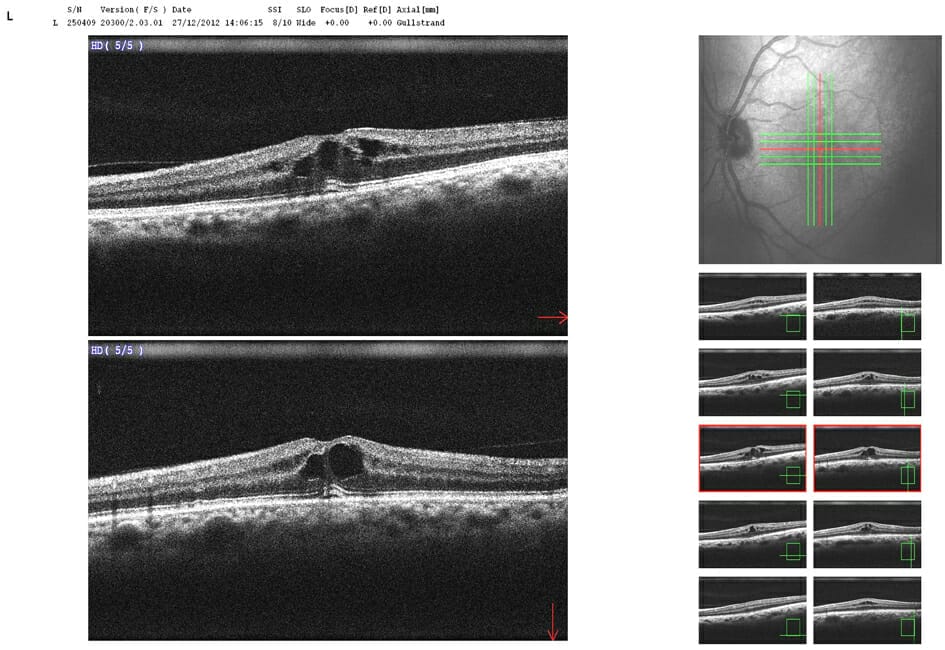 Building Patient Base with Nidek RS-3000 OCT
For a new graduate working in a well established independent optometry practice, OCT imaging was an unexpected pathway to building patient trust – and significantly increasing practice revenue.
The Sydney practice I've been working in has built a large, loyal patient base so I thought I'd quickly have a pretty full appointment book. But while my practice owner was booked out a week in advance, I'd have gaps – patients preferred to see the experienced optometrist in the other room.
The practice's purchase of a Nidek RS-3000 OCT turned out to not only be important for the practice – contributing to a substantial growth in consultation revenue over the first year – but for me personally.
This significant increase can be attributed directly to the OCT
With both the time in my appointment schedule, and expertise in OCT, my practice owner was able to hand over his patients to me for OCT imaging. This enabled his patients – some of whom have been seeing him for more than 30 years – to become familiar with me and trust that I deliver the same level of comprehensive care, leading to return visits and referrals. Having the front-of-staff staff armed with an OCT spiel really assists the practitioner by educating patients about the technology.
Leasing an OCT is easily absorbed by the revenue it brings in. Our practice purchased the Nidek RS-3000 in December 2011. Over the next calendar year, there was only a small increase in the number of 10,900 consultations, but consultation revenue increased substantially.
This significant increase can be attributed directly to the OCT. The Nidek RS-3000 more than covered its own costs and enabled the practice to maintain positive growth in a challenging retail environment.
Clinically, the Nidek RS-3000 OCT allows optometrists to identify the cause of reduced vision, determine which patients can be monitored or treated, and which need to be referred for specialist care.
With a 9 x 9mm Macula Map, it is the only OCT that can pick up Ganglion Cell thinning, outside central the 6mm's. The case of a Type 2 diabetic patient from Queensland, who presented over the Christmas/New Year season, is a good illustration. The patient was concerned his left corneal graft was being rejected. He'd previously been keratoconic and now has bilateral corneal grafts, both of which have rejected previously. He had experienced no pain, redness or any other symptom during his last graft rejection except for a decrease in vision over the last few days. He reported that his left best-corrected VA is normally 6/6 and I found it to have reduced to 6/12-2.
Examination revealed no evidence of graft rejection or any other anterior eye issues. Intra-ocular pressures and pupils were normal and there was no distortion or areas missing on the Amsler grid. Fundus examination with a Volk Superfield lens and ultra-widefield retinal photography revealed some non-central exudates but the macula appeared healthy.
Without the Nidek RS-3000, I would have had to refer the patient at this point, completely disrupting his Christmas/ New Year plans. Fortunately, with the OCT, I was able to identify that he had intra-retinal macula oedema and treated him with Acular eye drops. We then contacted his ophthalmologist and optometrist so that they could review him on his return to Queensland.
The Nidek RS-3000 follow-up facility allows you to choose and register previous scans to baseline and it then directs you, using the retinal blood vessels, to take the follow-up scan in the same place. This is particularly helpful in monitoring glaucoma as it ensures subtle changes in the nerve fibre layer can be detected. It is also useful for helping patients understand other conditions like macular degeneration,
CSR and optic disc drusen.
Chris Pooley graduated as an Optometrist in 2011. He works with Peter Hewett Optometrists in the Sydney suburb of Mosman.
Contact Details
16/1 Hordern Place
Camperdown NSW 2050
Contact: Will Robertson
T 02 9550 6966 or 1800 225 307
F 02 9550 3853
W www.dfv.com.au
E willr@dfv.com.au