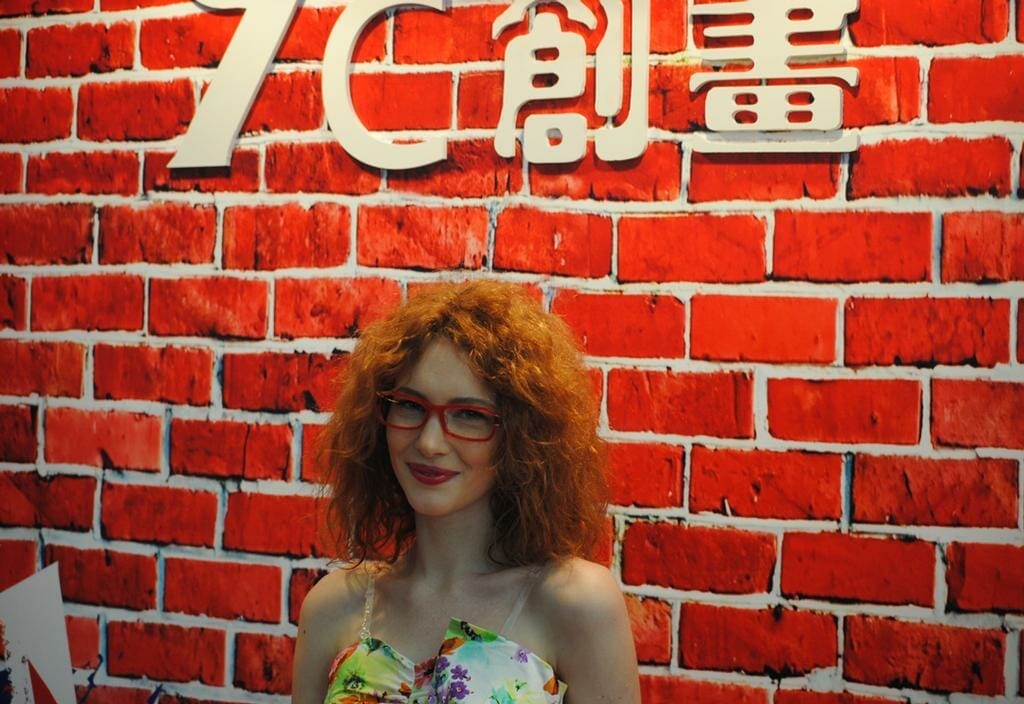 A Review of the 13th Shanghai International Optical Fair
This 'no-frills' show packs a punch when it comes to getting exhibitors on the ground – according to the organisers, it is the "most established and sizeable optical trade fair of Asia" with 800 exhibitors in total, among them 299 international optical companies representing 312 brands.
The event takes up an extraordinary 70,000 square metres at the Shanghai World Exhibition and Conference on the Huangpu River, which winds its way around this elegant city of lights.
While all the usual global high fashion brands including De Rigo, Menrad, Safilo, and Lindberg, who have been well represented in China for many years, there were a few newcomers.
…a small market in China is still a lot compared to anywhere else
Maui Jim was one. This classic Californian brand, launched to the Chinese market at the Beijing Optical Fair late last year, has made an impact on the market in the vast Asian nation in 100 stores. International marketing manager, Martijn van Eerde said Maui Jim is being extremely well received among serious sports people who appreciate the protection a quality lens offers.
"China is going remarkably well. We launched in Beijing last September and over the last couple of months, the volumes and number of doors have been increasing nicely. We are already in 100 stores – that's not bad at all," said Mr. van Eerde.
The company is yet to release its new brand, Zeal, to the younger Chinese market, preferring to establish Maui Jim first and ensure the distribution channels are firmly in place to meet demand. When it does, Zeal is sure to take off.
Beach culture eyewear brands targeted at '20-30 somethings', such as Quicksilver and Roxy had a strong presence at Shanghai with stands accessorised with surfboards and clothing to communicate the brand values. "For sports like BMX, snow-boarding and skiing, customers now prefer to go to an optometrist to get a quality pair of sunglasses – they no longer expect to get them in a sports store. So these brands, like Roxy and Quiksilver, are finding a presence in optometry practices and pitching to a higher price. Adidas is another that you see more and more, sold in practices. Zeal will compete with these brands – our aim is to sell them to the kids of Maui Jim owners – it finishes in price and age where Maui Jim starts up," said Mr. van Eerde.
Asian Designers Come into Their Own
A common discussion thread among the Asian eyewear designers was their focus on designing frames to specifically suit the Asian face shape.
Singapore based mangufacturer, Sworke, is a new brand of safety eyewear for work and sport. The name, as Assistant Manager Ivan Lau pointed out, becomes 'Work' when you remove the first and last letters.
Sworke was established to meet the needs of a very specific market in Singapore – foreign workers from Bangladesh, the Philippines, etc. whose face shape isn't suited to European designed eyewear.
Sworke frames have all the hallmarks of other safety frames on the market – lightly corrugated rubber inserts on the inside of the frame absorb sweat and hold the frame very firmly in place (I tried them myself, shook my head around and they didn't budge). A hinge enables the temple to be shortened to suit the wearer's head size. Mr. Lau said these glasses, which are made in Korea and China, are sent to the US for impact resistance and high velocity testing.
While there are plenty of traditional industrial darker colours in the range, there are also plenty of colours to suit the younger market of workers and sportspeople.
On the other end of the spectrum, Julian Kuk-Kwan from Korea started designing his cutting edge fashion glasses a year ago. Prior to establishing the brand Julio, Mr. Kuk-Kwan worked for a Swiss eyewear company for 12 years.
"Every time I asked the CEO of the company to fix the glasses for the Asian market, I was told that it was too difficult to modify the design. So last year I decided to start my own brand of eyewear for Asian people.
"They're designed to look gorgeous, and they're also designed to be light weight so the optometrist can make them more comfortable once the lenses are fitted.
"I like to focus my designs to fit progressive lenses – in Korea, we have lots of people in their 40-50s and this is the sector of the population I like to work with best."
Julian said he draws inspiration for his frames, all of which feature a round shape, from European brands. "I like my customers to look friendly when they wear my frames," he said adding that next, he is working on sun clips.
Julian has his frames "100 per cent" made in Korea from acetate with titanium temples. There are 10 models and six colours in each. While Korea is "huge – a very strong market", he said that by exhibiting at SIOF, he was keen to also break into the enormous Chinese market.
Europe Sees the Opportunity
The founders of emerging Danish eyewear company Fine Looking Eye – or FLEYE as it is known – could also see the opportunity to build a small but strong presence in China. Anette Estø, an optician by profession (for 35 years) had a stunning collection on display at SIOF that set itself well apart from most of the other eyewear on show thanks to its vibrant and luminous colours, state of the art materials and quirky – yet entirely wearable shapes. They were quite typically Danish actually – clean lines, simple and very contemporary.
"The Danish are very well known for design – I think because we do not have anything to sell except for our intellectual property. So we have to find a point of difference – that's how we survive," said Ms. Estø.
"All of our frames are made from beta titanium, acetate and wood," she told me. "We only work in these materials because they are allergy friendly – they don't contain nickel at all – and that's very important."
FLEYE has been around for 11 years and counts among its customers the Danish Prince Frederick and Australia's 'very own' Princess Mary. Ms. Estø creates the designs along with two others and, like Maui Jim, launched to China at the China International Optics Fair in Beijing last September. "The Chinese market is very interesting – it's huge – which gives us the possibility to grow enormously. We have our own sales office here now and we manufacture in Japan," she said.
The objective for FLEYE is to have distribution through 200 stores in China by the end of year one and it's well on track with 70 stores already stocking the brand. "We're only targeting the bigger cities – already we're in the high-end stores in 18 different provinces in China," she told me.
Like many designers of fashion-forward eyewear, Ms. Estø said she gets her inspiration from all walks of life. "I love colour and I get inspiration from cars, furniture, many different things. When I look at a car for instance, I look at the shapes, the small openings for taking in the air – and then I put those small details on the temples and so on."
She also loves drawing inspiration from the outdoors and consequently has established FLEYE's headquarters in the countryside, in the gorgeous heritage listed building that dates back to 1874.
As well as being design oriented, Ms. Estø's frames are very much centred around the technicalities of lens fittings. "I always have in focus that my frames may be used for bifocals, progressive lenses or a high prescription. To me that's very important – you can make a lot of fashion frames, but if people can't wear them, you have a problem," she said.
Within her collection are frames for kids through to adults. Additionally, she said, she has adapted a collection especially to meet the needs of her Asian market.
Ms. Estø told me that Australia is FLEYE's next target for distribution. In the meantime, she said, "China is the country of possibilities".
Established and Going Strong
Berlin's Mykita was once again in fine form at SIOF and the company's President, Nils Neckel, was showing off a new collection his company has designed in collaboration with designer Damir Doma. Crafted from fine stainless steel with contrasting acetate in bold yet slightly translucent colours, these retro panto frames with a contemporary twist, for optical and sunglasses, were another European stand out.
Mr. Neckel said the Asian market continues to offer new business opportunities for Mykita as the population increasingly demands more individual styling coupled with technical production features, like Mykita's patented screwless, solder free hinge system.
Going for Cheap Monday
Another Scandinavian eyewear brand making headway in China is Cheap Monday. Best known in Australia for edgy clothing and accessories, the eyewear is just as much fun. Cheap Monday has its clothing and accessories designed in Sweden, while eyewear is designed in Norway but manufactured in China.
The brand is distributed in Asia by Trinity Eyewear, which also distributes the American brand, Elizabeth and James. Again, this brand is designed in China and like Cheap Monday, Elizabeth and James frames have printed on the temple 'Made in PRC'. According to Kenny Tsang, the distributor, this is a small but significant marketing detail.
"We could say 'Made in China' but it sounds too cheap. If you say PRC it sounds more glamorous, more exotic – people ask 'where is PRC?'," said Mr. Tsang.
His colleague, Mercy Ma said to launch the frames, they've targeted high fashion stores with these collections that to the main part, feature strong colours and bold, squared off edges.
Ms. Ma said they appeal to a small market of young people in China with an increasingly independent fashion style.
"Young people are crazy about changing their brand everyday – about having different a look. Our brands, with their different styles, are a new adventure for this market.
She said for this niche market, buying a high profile brand – like Gucci or Prada is less important than buying style.
"The majority of people are still going for those big brands. But our market is young people with money – probably from their parents – and they don't want to wear the Gucci brand their Mum wears."
She said a small slice of the Chinese market is what they're aiming for although her colleague Tony had a little more ambition.
"You've got to remember, the Chinese market is the most important market in the world – it's expanding a lot," said Mr. Tsang. "Over time we will get bigger."
Regardless, he said, "a small market in China is still a lot compared to anywhere else".