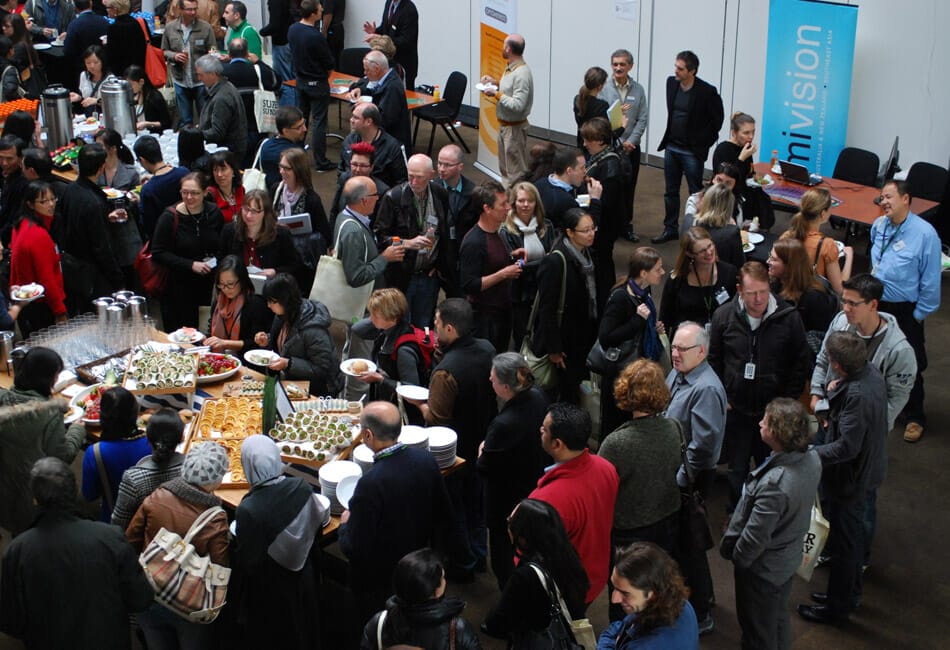 The 'who's who' of eye care was on hand to present the latest in research, as it relates to optometrists, at Super Sunday on 23 June.
Professors Algis Vingrys and Gerard Sutton, Associate Professor Daryl Guest, Michael Yapp and Emmanuel Calligeros were among the high profile speakers who presented on topics including recurrent corneal erosion syndrome, approaches to glaucoma treatment, refractive surgery and vision solutions for our ageing population. But it was Dr. Simon Chen who stole the show, attracting an extraordinary 400 people to hear him speak on threatening retinal disease.
Andrew McKinnon, CEO of OAA's NSW division, said the conference built on its successes of 2012 with two lecture streams running concurrently throughout the day, and lectures separated by punctual ten minute breaks.
In the intimate atmosphere of the Technology Park – an historic building that was once home to Sydney's main locomotive workshop – attendees networked between lectures and took the opportunity to explore the latest technologies for eye care on display by exhibitors.
"The day went really well – we had made some small adjustments based on feedback from 2012 – and so it was smoother and less rushed, while still giving delegates a good number of CPD points for the day," said Mr. McKinnon.
A Convenient Way to Learn
With a five month old baby at home, optometrist Mimi Wong from Alan Wong Optical in the Sydney suburb of Cabramatta said Super Sunday presented the perfect opportunity to maximise her CPD points without needing to be away from her practice or family for too long. She said she enjoyed the format of the day with its ten-minute breaks between each lecture and found the content highly accessible.
"The organisers chose some very good speakers who have a lot of experience presenting at conferences. The optometrists and the ophthalmologists understood where we are at in terms of working in a multidisciplinary environment. So the take home messages were very clear.
"Dr. Simon Chen for example, presented nine case studies during his lecture, each with nine key messages, which were very easy to understand and put into practice."