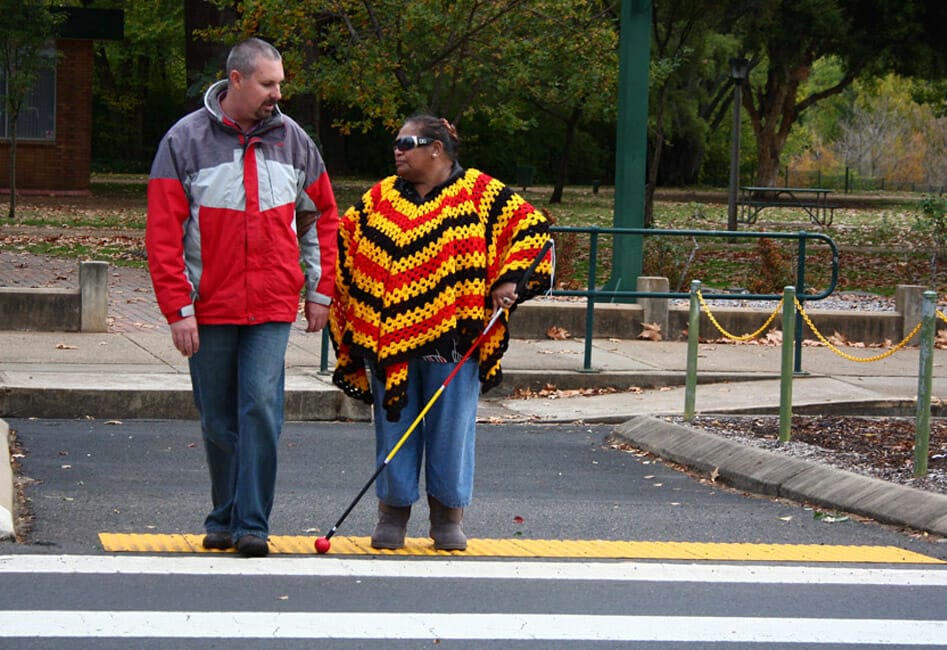 Guide Dogs NSW/ACT will launch an education campaign that specifically targets Aboriginal people who are blind or vision impaired during NAIDOC week, 7-14 July.
The campaign is the initiative of Aboriginal Elder Aunty Mary Hooker (pictured), a Bundjalung woman from Taree now living in Mudgee, who is vision impaired and wants to ensure other Aboriginals don't wait like she did to seek assistance from Guide Dogs NSW/ACT.
Aunty Mary said the campaign's focus was to present information about Guide Dogs NSW/ACT's services in a simplified manner that was language and culturally accessible for Aboriginal communities, with all materials to be designed using Aboriginal colours.
"Until I discovered Guide Dogs NSW/ACT, I felt isolated and couldn't identify with any services that were culturally appropriate and sensitive to Aboriginal people," says Aunty Mary, who is legally blind due to diabetic retinopathy – a condition that causes damage to the retinal tissue and can lead to blindness if left untreated.
"In fact I didn't approach Guide Dogs NSW/ACT at first because I thought they would give me a guide dog. But I heard an ad on TV saying that they also train people in how to use canes. So I rang them; they came out to me and gave me cane training.
"I was able to get my cane in Aboriginal colours so people can identify me as Aboriginal. I want Aboriginals and all cultures to know about Guide Dogs NSW/ACT – if it wasn't for them I wouldn't be able to be where I am at the moment at college continuing my studies. They helped me to develop the skills I needed to get out of the house, catch a bus and get around independently in the community. Not only was it help for me, it was also help for my family."
With blindness rates in Aboriginal adults over six times the rate in mainstream Australia1 and vision loss in general on the rise due to the ageing population,2 Guide Dogs NSW/ACT hopes its new campaign will see more Aboriginals with vision loss seeking its training programs in how to move around safely and independently.
"We're hoping to break new ground with this campaign and Wellington is the perfect location to create our resources as it's in the heart of Central West NSW, which is home to many Aboriginal communities," said Jennifer Moon, Community Education Coordinator for Guide Dogs NSW/ACT.
"Our services are not widely known in Aboriginal communities, so we're hoping that this new information kit will be very useful for both Aboriginal Health Workers, people with vision impairment and families and carers supporting people with vision impairment."
Guide Dogs NSW/ACT is the leading provider of training for people with impaired vision on how to safely move through different environments. Training may include teaching people how to use aids such as long canes, guide dogs and electronic devices, like talking GPS, as well as skills such as safe road-crossing techniques and use of public transport.
The organisation has 10 offices across NSW and ACT, including in Central West NSW.
To learn more about Guide Dogs NSW/ACT services visit www.guidedogs.com.au or call (AUS) 02 9412 9300.
References:
1. National Indigenous Eye Health Survey, 2009, published by the Indigenous Eye Health Unit, Melbourne School of Population Health, The University of Melbourne in collaboration with the Centre for Eye Research Australia and the Vision CRC.
2. Clear Focus Report: The Economic Impact of Vision Loss in Australia in 2009. The report was prepared by Access Economics and published in June 2010 by Vision2020.