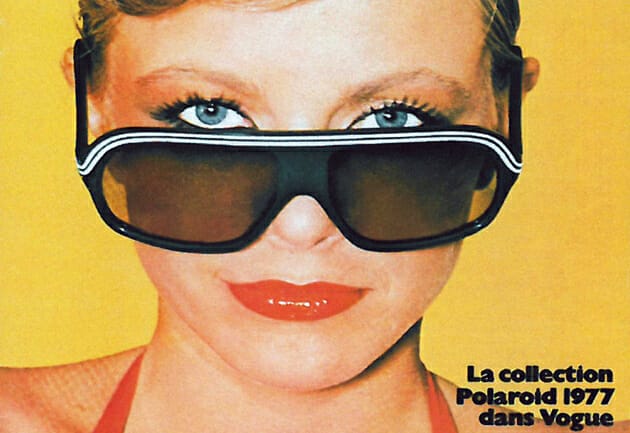 It was back in 1929 when Edwin Land, an undergraduate at Harvard University, invented and patented a synthetic filter to polarise light, a breakthrough invention that is still the basis of all polarised eyewear, photo lenses and screens manufactured today. Off the back of this, in 1937 he established the Polaroid Corporation and sold the company's first pair of sunglasses.
Then, in 1939, the New York World's Fair Polaroid Corporation showcased the first 3D movie glasses, polarised lens technology and sunglasses.
In the 70s, Polaroid Eyewear introduced Polamatic styles and polarised gradient lenses began to emerge and then in the 80s, Polaroid, in conjunction with tennis legend Boris Becker launched aviator styles with interchangeable lenses.
Technology has come a long way since Polaroid launched the first polarised sunglasses back in 1929. Yet today the company, which is now part of the Safilo Group, remains at the forefront of innovation.
The company has products across several categories and price ranges, from polarised sunglasses for adults through to children's sunglasses, clip-ons, sun covers, premium 3D glasses and optical frames.
This year, to celebrate its 75th Anniversary, Polaroid Eyewear has re-invented itself yet again to launch a new sunglasses collection called Polaroid Plus.
This innovative collection combines state of the art polarisation technology with strong, minimalist styling that reflects Polaroid's original look.
The Polaroid Plus Collection is also unique in the way it communicates technical information to the customer: all details are written inside the left temple in an original yet minimalistic and consumer friendly format. It will be available in Australia early next year (2014).
All Polaroid products currently distributed by Safilo in Australia are fitted with innovative UltraSight Plus lenses, the evolution of the company's polarised lens, which the company says, offer glare-free vision, reduced eye fatigue and 100 per cent UV protection.
These new lenses are achieved with an innovative process called Thermofusion Plus Technology, which is used to form lenses and protect the polariser at the core of the lens. Thermofusion Technology creates lenses that are optically correct thanks to the absence of glue and block glare with great efficiency. They also provide better scratch-resistance, impact resistance and ensure 100 per cent UV 400 protection.
For information contact Safilo: (AUS) 02 9540 0500