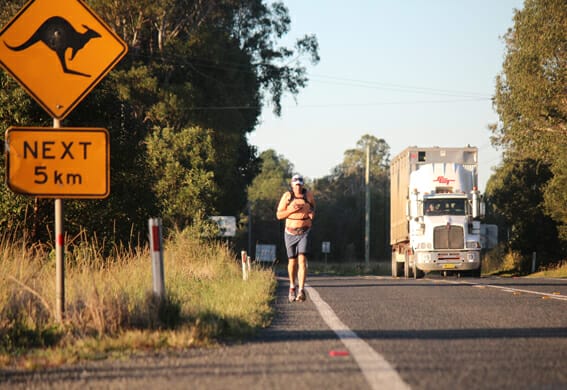 Mind games, and thoughts of the suffering of those who are needlessly blind in Cambodia, helped Damian King push past the excruciating pain that wracked his whole body to complete his 1,000km 'Jog out of Fog' from Brisbane to Sydney.
Damian King's broad smile hid some conflicting emotions, as he crossed the finish line in Sydney's Botanical Gardens in August, just 18 days after setting out from Brisbane on foot to raise money for eye health charity Cambodia Vision.
"There's no other word for it but relief, when I went over that line. I thought 'that's done and dusted'. I felt strong but, at the same time, I felt a bit of emptiness. For six and a half months, Jog out of Fog has been absolutely everything, now it is over," Mr. King told mivision.
The catalogue of injuries sustained by Mr. King as he ran the equivalent of a marathon and a half every day for 18 days is substantial. Three toenails are gone. There's a massive blister that has taken over most of his right foot. He has infections in sores on both feet. A strained muscle, caused by the movement of his arms as he ran, cuts "like a knife" in his chest.
I knew I was almost home, but I was still so far because I was in so much pain
But Mr. King has raised more than AU$50,000 and significantly increased the profile of charity eye health organisation Cambodia Vision, and so, for him, it has been worth the pain.
"It was the compound effect of running every day," Mr. King explains. "When I started, the first morning session was three hours. By the end, the first session was only an hour."
"I was determined to finish it no matter what. No matter what sort of pain I was in. I was playing a lot of mind games – setting myself goals inside of goals.
"I would also think about how temporary the pain was. I kept thinking about how much pain people in Cambodia endure (as a result of preventable blindness). I kept thinking that it was not that bad, in comparison to what they have to put up with all the time."
Mr. King felt compelled to do something to help Cambodia Vision after hearing about the work of the organisation from his lifelong friend, Will Robertson of Designs for Vision.
"I have no education in eye health, but finance is an issue… I wanted to put Cambodia Vision on the map and assist them to raise funds," Mr. King said.
Support Crew
Mr. King said the hardest part of the journey was the jog from Newcastle
to Sydney.
"I knew I was almost home, but I was still so far because I was in so much pain.
"I was saying to my support crew that '40 was the new 60'. By that stage, running 40 kilometres felt like running 60 kilometres."
It was around Newcastle that Mr. King's legs started to collapse.
"My chest felt like a knife was going into it (from a strained muscle), my feet were just swollen and every step felt like I was running on rocks – sharp rocks – in bare feet."
Mr. King said at that stage, he feared he would not make the distance, but was able to push through with the help of his support crew.
"I'm convinced you could ride a bike solo all the way… but running, you just can't do it without a support crew. They are the 'be all and end all'.
He said the crew had the enormously difficult task of coordinating his schedule, and making sure he had the appropriate fluids, nutrition and medical attention
at each stop.
"They treated my feet like gods. They put my feet in ice every night to reduce the swelling.
"It was tough, really hard, on them. There was a lot of stress on them, keeping me going."
So much so, that when after his race, he jokingly suggested another charity run, "they all looked at each other and said 'you are on your own'," Mr. King laughed.
Role Model
Mr. King said the money raised would be used on medical supplies for Cambodia Vision.
A spokeswoman for Cambodia Vision, Thida Yang, said Mr. King's effort was truly inspiring, describing him as a tremendous role model.
"Damian is amazing, he came out and introduced himself at our last function in Sydney in March and committed himself in the ultra-marathon from Brisbane to Sydney because he was inspired by all the stories and experience of his childhood friend William Robertson who went with us last year.
"He risked his own health, took leave from work and got all his family and friends involved in working around the clock to ensure smooth landing in Sydney! He is an incredible human being to say the least.
"Cambodia Vision and the people of Cambodia will forever be grateful to what he does to help us to assist the blind. I wish there were more Damian's in the world!"
Ms. Yang said the Cambodia Vision team was "all very concerned about his health at the finish line but he proved us all wrong.
"He was looking great and we were all very pleased he made it!"
Next Mission
Ms. Yang said the Cambodia vision team would be sending a mission to Kampong Speu Province this month between 19-27 October.
"The team is expanding and we have approximately 50 people from Australia, predominantly from NSW but volunteers from Queensland, Victoria and Adelaide will also be joining us."
She said the team expects to operate on approximately 400 cataract patients, and distribute both reading and sunglasses. Ms. Yang said Cambodia Vision had teamed up with some volunteer specialists from Taiwan, who would also provide hearing aids to adults and children.
But, will Mr. King be joining them? It's something he has given a lot of thought.
"I must have been asked that about 30 times now. I don't think so. I don't need to. I know the urgency. My aim was to raise money and give these people a chance."
Donations can still be made to Jog out of Fog. To contribute, visit: https://www.facebook.com/jogoutoffog