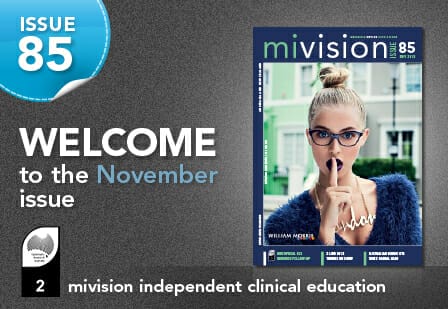 We live in amazing days where technological innovation is surging ahead.
Case in point is the bionic eye that's been implanted in three patients in Melbourne by Bionic Vision Institute, and the Argus II from the United States. Both provide limited – but highly prized – vision to those who have lost sight at some stage in their life and require the optic nerve to be in tact. Now a new bionic eye under development at Monash is almost ready to be clinically trialled – and it doesn't even require an eyeball. In our lead story this month we take a look at the subtle, and not so subtle differences between the bionic eyes under development.
Apps are another area of technology being jet-propelled into the future. It wasn't so long ago that the primary use for an app was for playing games but now they're used for work, rest and play. Today they can help us manage our finances, direct us around the world, and can even be used for basic vision tests. In this issue's news we look at an app developed by OPSM for home vision screening and an app developed in the UK for performing fundus photography.
Medications are another area of our profession driving change. In this issue, we review a new preservative free glaucoma treatment and ask the big question, could drops traditionally prescribed to treat glaucoma actually be contributing to the progression of the disease?
Technology, medications… it's exciting news but nothing can be achieved without people and so we report on the Global Ageing and Vision Advocacy Summit, which took place in Barcelona. Here, 28 experts from 12 countries gathered to learn from each other and collectively agree on how to best advocate for the
eye health of the world's older citizens.
On the topic of learning, in this issue of mivision our continued education article is on multifocal contact lenses. Educator Jenny Saunders presents observations on how optometrists can reduce the drop out associated with these lenses by keeping things practical.
Contact lens based refractive intervention may become a practice builder in the long run, according to a long-term randomised controlled clinical trial which shows orthokeratology slows the progression of childhood myopia. And speaking of practice building, in this issue our business article looks at 'the lipstick economic index' – the theory that while consumers will slow their spending during tough economic times, they'll never stop buying – in fact they'll tend to splurge on 'feel good' products. We speak with industry experts about the impact retail therapy can have on the optical industry.
Finally, this month I found myself in the romantic city of Paris for Silmo (and as it happened, my wedding anniversary). What an incredibly exciting time – so much glamour, colour and style… and that was just on the way to the event. I've reviewed Silmo for you here, with a particular focus on our wonderful Australian eyewear designers, who, I'm proud to say are right up there with the best in the world.
Enjoy.
Mark Cushway,
Editor