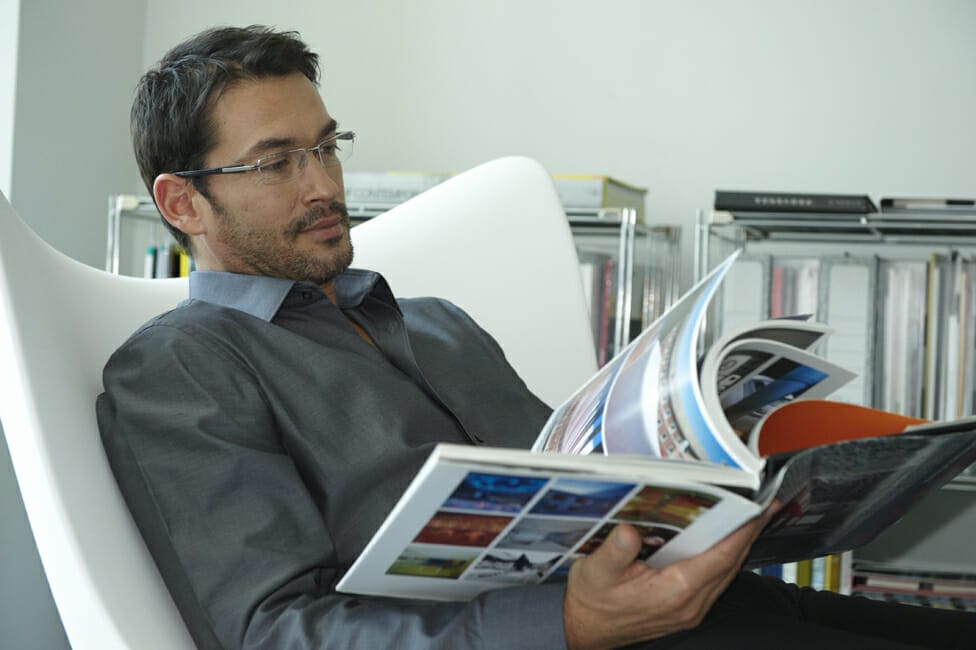 Men and women begin to notice symptoms of presbyopia around the same time – but men take almost twice as long to act on it, a nationwide study has found.
The study, by Essilor Australia, showed that on average, it takes Australian men two years to make an appointment with an optometrist after first noticing the signs of presbyopia. Women seek help in almost half that time.
Around the age of 44 both men and women begin to notice the symptoms of their ageing eyes – including headaches, eyestrain and difficulty reading things like the newspaper or medication labels.
Essilor Australia has started a nationwide media campaign, to alert presbyopes of the need to visit their optometrist soon after first noticing the symptoms of presbyopia.
The independent study of more than 1,000 adults across Australia also investigated the perceived limitations of progressive lenses, unveiling a gap between the actual comfort experienced by progressive lens wearers and the comfort perceived by non-progressive wearers.
"On a scale of 1–6, we found that progressive wearers rate comfort at five. However, there appears to be a misconception about progressive lens comfort with non-wearers, they perceive comfort to be only 3.7," said Robert Springer, Marketing Manager, Essilor Australia and New Zealand.
"The research also revealed that 80 per cent of progressive lens wearers chose to purchase progressives because it was recommended as the best solution by their optometrist or dispenser… there is a big opportunity to discuss the benefits of progressive lenses for new presbyopes and non-progressive lens wearers."
The research found the most common situations that cause discomfort for at least one in five progressive lens wearers include reading for long periods of time, using a computer, going down stairs, reading a mobile phone, driving and passing people or objects in movement. The traditional compromise between swim effect and field of vision with progressives contribute to these discomforts.
The Essilor campaign will focus on its Varilux S series, claiming it is the first progressive lens to offer both stability in motion and expansive vision, and will encourage consumers to visit their independent optometrist to discuss the lens series.
Essilor has media releases on the research available for adaptation by Australian eyecare professionals for use in local media. For information contact marketing@essilor.com.au