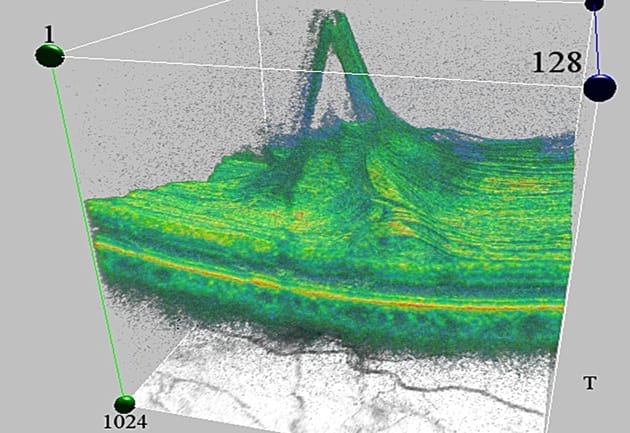 The report on new developments in surgical retina in this month's issue of mivision covers three exciting advances, which will be hitting Australian shores in the near future.
iOCT Presents Significant Benefits in Surgery
Intraoperative optical coherence tomography (iOCT) may become "one of the next paradigm shifts in ophthalmic surgery" according to early data from a US study.
Initiated in 2011, the Pioneer study – a prospective multi-surgeon, single centre study – is examining the use of iOCT and perioperative OCT across ophthalmic surgery. While the study authors caution that it is still early days, and further research is required, they concluded that iOCT may provide valuable surgical feedback and assist with surgical decision making
OCT has become the standard of care in clinics where the technology is used to diagnose and manage patients with vitreoretinal disease. According to Dr. Justus P. Ehlers and Dr. Sunil Srivastava, preliminary studies have suggested iOCT may also be useful in surgery to provide information that includes the immediate impact of surgical manoeuvres, alterations to intraoperative anatomical configurations, and the influence of OCT on surgical decision-making.
Microincision vitrectomy systems have evolved rapidly in recent years with the introduction of 25 and 23-gauge instrumentation
According to an article published in Retinal Physician, the Pioneer study was initiated by the US Cleveland Clinic to determine the surgical conditions and procedures that could benefit from iOCT. Eleven ophthalmic surgeons (six vitreoretinal and five anterior-segment surgeons) were enlisted in the study, which utilised a microscope-mounted portable SD-OCT system for intraoperative imaging. Drs. Ehlers and Srivastava wrote, "the mounted system facilitates rapid scan acquisition with excellent reproducibility for intrasurgical comparative analysis, while minimising surgical disruption".
Having specified relevant optimal scan patterns and acquisition protocols, the participating surgeons were asked to perform iOCT scans at specified points in the surgical procedure and to complete surveys. Feedback was collected on both disease specific observations and perioperative data.
Vitreoretinal Imaging
After one year, 251 eyes were enrolled in the Pioneer study, of which 127 eyes were in the vitreoretinal arm. In 94 per cent of the cases, the surgeons were able to obtain successful imaging.
The most common vitreoretinal surgeries performed were for epiretinal membrane peel (ERM peel), retinal detachment, macular hole, proliferative diabetic retinopathy and vitreomacular traction syndrome.
The images were qualitatively and quantitatively assessed for micro-architectural alterations, and according to the study authors, the results were significant.
The study authors noted that in ERM, macular hole and VMT surgery, "a common intrasurgical architectural change that has emerged is subclinical outer retinal alterations following membrane peeling".
In macular hole surgery, they noted geometric changes in the hole configuration following internal limiting membrane peeling with iOCT. The researchers went on to use a novel macular hole segmentation algorithm, volumetric and three-dimensional reconstruction in these macular hole cases. Early analysis suggested that following ILM peeling, a significant increase occurred in macular hole volume and base diameter. The impact of these architectural changes is now under analysis.
Perioperative Findings
The Pioneer study measured the effectiveness of using an iOCT to identify anatomic configurations in gas filled eyes, and to gain a better understanding of the scanning procedure necessary to best monitor the healing process post-surgery. As an example of their findings, preliminary results in macular hole patients found that long scan lengths in pseudophakic eyes appeared to have the most success in obtaining a usable image.
Having used iOCT in the perioperative period, the surgeons noted, "that many architectural changes occur quite rapidly following surgical repair".
More Development Required
The authors concluded iOCT could have a valuable impact on the surgeon's understanding of the surgical pathology and in the achievement of surgical objectives.
Additionally, they noted that although microscope mounted OCTs were used for the study, this technology is not currently commercially available. Current devices only enable scanning prior to or post surgery. Real-time visualisation for manoeuvres would offer more valuable information, they said, because halting surgery to scan and review procedures would add to a patient's time on the operating table. Furthermore, instruments used in surgery affect scanning because of their light scattering properties.
The authors concluded further product development is required before surgeons will be able to more effectively use iOCT during surgical procedures
Comment: What will they think of next?
Optical coherence tomography (OCT) is a modern day miracle. Since its development in 1991, the increasingly ubiquitous availability of clinical OCT scanners has revolutionised the field of Ophthalmology and retinal diseases in particular.
It all started with early time-domain OCT systems, which produced previously unimaginably detailed images of the retina, acquired in real-time, in a non-invasive fashion. This provided a plethora of new insights into the pathogenesis and management of most common retinal conditions including macular degeneration, diabetic retinopathy and macular holes. New conditions were described which could only be diagnosed with OCT, such as vitreomacular traction syndrome (Figure 1).
With the introduction of spectral domain OCT, image quality, resolution and acquisition speed were taken to the next level. More recently, new modifications and techniques of OCT including enhanced depth imaging OCT, 3D-OCT, swept source OCT, and slit-lamp mounted OCT have enabled a wider range of clinical applications with ever increasing image resolutions and scanning depths facilitating comprehensive imaging of the vitreous and choroid.
One of the latest developments in the field is intra-operative OCT. This combines an OCT scanner with an operating microscope, enabling vitreoretinal surgeons to image the retina during vitrectomy surgery in real time, providing immediate feedback to the surgeon about the effects of surgical manoeuvres. A surgeon is able to determine if an epiretinal membrane has been completely removed from the retinal surface, potentially reducing the risk of post-operative recurrence. New insights gained during intraoperative OCT may potentially lead to new or refined techniques to treat conditions such as vitreomacular traction, diabetic retinopathy and macular holes amongst others.
27-Gauge Microincision Vitrectomy Systems Safer
Research into microincision vitrectomy systems (MIVS) has found it is safer to use 27-gauge instrumentation, combined with high cutting rates.
The findings, published in Retina Today, were compiled by Dr. Stanislao Rizzo from Azienda Ospedaliero Universitaria Pisana in Pisa, Italy; and Dr. Francesco Barca from the University of Amsterdam, the Netherlands.
The authors wrote that the combination of high cutting rates and smaller gauge instrumentation increased fluidics stability and potentially minimised vitreous turbulence by allowing only small bits of vitreous to enter the port.
They said high cutting rates also reduced traction on the retinal surface by lessening the chance of uncut vitreous fibres going through the cutter ports.
Smaller wounds created by 27-gauge instrumentation were more likely to self-seal and prevent hypotony, and less likely to result to vitreous prolapse which can lead to endophthalmitis. "Reduced vitreoretinal traction and hypotony and prevention of endophthalmitis are some of the reasons that the concept of 27-gauge pars plana vitrectomy (PPV) is appealing," they wrote.
Microincision vitrectomy systems have evolved rapidly in recent years with the introduction of 25 and 23-gauge instrumentation. In 2010 Dr. Yusuke Oshima, an associate professor of ophthalmology at the Osaka University Graduate School of Medicine, improved the potential of MIVS further with the development of 27-gauge instrumentation with a diameter of 0.4mm.
In an article published in Retinal Physician, Dr. Oshima stated that concerns held by some in the early years of MIVS have been dispelled following innovations and improvements seen in the 27-g system.
"Stiffer instruments and wide-angle viewing systems have eliminated frustration with tool fragility. A more powerful light source, combined with a chandelier system has improved the endoilluminating brightness through a small gauge optic fibre. The new generation of vitrectomy machines have dramatically improved the cutting efficiency of small-gauge vitrectomy probes," he wrote in the article.
Dr. Oshima is a consultant to Topcon Medical Laser Systems and Synergetics; and an international board member of Alcon Laboratories. Alcon has developed the Constellation Vision System, which features ultrahigh-speed vitrectomy and the 27+ probe.
Superior Results
In Retinal Physician, Dr. Oshima reported on the first generation 27-gauge system, which was trialled in 2008. For the purposes of pilot studies, the system was only used in selected cases, mainly macular disease and simple vitreous haemorrhage. Dr. Oshima wrote that both the anatomical and visual results were promising, "remarkably there was no need to transition to a larger gauge, no suturing was required, and no hypotony was observed in any of the study cases".
More recently the 27-gauge system has been used to treat primary retinal detachment and moderately severe diabetic cases.
Dr. Oshima said, "the most distinctive characteristic of the 27-g system that makes it superior to the larger gauge MIVS systems is the simplicity of creating rigid, self-sealing wounds. The surgeon can begin 27-g vitrectomy immediately after creating sclerotomies at the pars plana by one-step vertical insertion. Complex techniques or two-step entry methods, are no longer required".
"Additionally, the system may save operating time because it simplifies opening and closing procedures; and because the 27-g cutter is multifunctional which reduces the need to swap instruments, even during more complex cases."
Dr. Oshima said the 27-g system is "one step closer" to achieving the goal for transconjunctival surgery, which is to "achieve perfect, self-sealing wounds, with stable postoperative IOP from the first day after surgery, with tiny changes in the ocular surface… as well as favourable anatomic success and early visual rehabilitation".
He wrote that the feasibility and safety of the 27-g system has been "demonstrated and confirmed" in selected cases.
"The new generation machines, featuring dual-pneumatic driven technology, allow for ultrahigh cutting rates with duty cycle control. The 27-g systems, with this new technology in the near future, will achieve much higher performance," stated Dr. Oshima.
Comment: Does Size Really Matter?
As in other areas of technology, there is a trend towards ever increasing miniaturisation in the field of vitreoretinal surgery. The first vitrectomy cutters introduced in 1971 were 17 gauge (1.5mm diameter). Twenty gauge (0.9mm diameter) vitrectomy eventually became the standard format, which produced excellent clinical results for the treatment of vitreoretinal conditions including retinal detachment (Figure 2) and epiretinal membrane.
However, sutures were needed to close the scleral and conjunctival wounds associated with vitrectomy surgery. Sutures cause post-operative discomfort and a foreign body sensation experienced by patients. Twenty-five gauge (0.5mm diameter) surgery was introduced in 2002 and subsequently 23 gauge (0.6mm diameter) surgery, which enabled minimally invasive sutureless vitrectomy to be performed, leading to rapid and painless post-operative healing. The latest advance is 27 gauge (0.4mm diameter) vitrectomy probes which offers the potential for even less invasive vitreoretinal surgery, with less disruption of the ocular surface. a lower rate of post-operative hypotony and reduced need for sutures. However, the law of diminishing returns may apply, as smaller gauge instruments are associated with longer surgery times and a steeper learning curve for surgeons because the 27 gauge instruments are more delicate and flexible than larger gauge instruments.
New Treatment for Vitreomacular Traction and Macular Hole
Vitreomacular traction and macular hole have successfully been treated with intravitreal injection of ocriplasmin in two multicentre, randomised, double-blind phase 3 clinical trials.
The results from the studies were reported in The New England Journal of Medicine; in an original article entitled 'Enzymatic Vitreolysis with Ocriplasmin for Vitreomacular Traction and Macular Holes'.
Vitreomacular traction can lead to macular distortion and oedema and to the formation of macular holes. It has also been suggested that vitreomacular adhesion may play a role in the progression of diabetic retinopathy and age related macular degeneration.
According to the study authors, vitreomacular traction and macular hole currently can only be treated by vitrectomy, a surgical procedure which carries with it risks of infection, retinal detachment, haemorrhage and cataract. They report that vitrectomy is usually withheld until the patient suffers significant vision loss.
The trials compared the results of a single intravitreal injection of ocriplasmin (125ug) with a placebo injection in patients with symptomatic vitreomacular adhesion.
The primary end point was the percentage of eyes with nonsurgical resolution of vitreomacular adhesion at day 28. This was determined by OCT evaluation. The main secondary endpoint was the percentage of eyes with total posterior vitreous detachment at day 28, determined by standardised B-scan ultrasounds.
The studies involved 652 patients, all with similar demographic and disease characteristics. Four-hundred-sixty-four patients were randomly assigned to receive an intravitreal ocriplasmin injection. The placebo was given to the remaining 188 patients. A higher percentage of women were in the ocriplasmin group than in the placebo group (67.7 per cent vs. 61.2 per cent) and there were more people with pseudophakia (37.1 per cent vs. 28.2 per cent).
According to the study authors, "at the primary endpoint, the proportion of patients with non-surgical resolution of vitreomacular adhesion on OCT at day 28 was significantly higher with ocriplasmin than with the placebo in both of the studies". Indeed, they stated "the difference between the ocriplasmin and placebo groups was significant for all prespecified end points in the combined analyses".
Combined data showed resolution of vitreomacular adhesion at day 28 was 10.1 per cent in the placebo group vs. 26.5 per cent in the ocriplasmin group.
Total posterior vitreous detachment on day 28 was 3.7 per cent for placebo group vs. 13.4 per cent for the ocriplasmin group.
Of the placebo patients, 10.6 per cent experienced closure of the macular hole at day 28 vs. 40.6 per cent of ocriplasmin patients.
The study authors noted that adverse events in the treated eyes occurred in 68.4 per cent of the ocriplasmin group and 53.5 per cent in the placebo group. The adverse events were mostly transient and mild in nature.
The authors concluded that the data "supports the finding that intravitreal injection of ocriplasmin leads to resolution of vitreomacular traction, induction of posterior vitreous detachment, and closure of a macular hole in some cases".
They reported that vitrectomy was lowest among patients who received ocriplasmin compared to those who received the placebo.
Despite more patients in the ocriplasmin group than the placebo group reporting improved quality of life and increased visual acuity (defined as three or more lines of letters), the authors said "the gains were modest", perhaps because the participants recruited for the study had relatively good visual acuity, making improvement in vision by three lines difficult to achieve. The authors said, "this possibility points to a limitation of the study: the visual acuity of the patients, with the exception of those with macular holes, was better than that of patients for whom vitrectomy would typically be recommended for the treatment of vitreomacular traction and macular holes".
Comment: Will vitreoretinal surgeons be out of a job?
Jetrea (ocriplasmin) is a new intravitreal drug, which has been available in the USA since January 2013 and is increasingly being used by US retinal surgeons. It is an enzyme, which dissolves the biological glue that binds the vitreous to the retina, in effect creating a posterior vitreous detachment (PVD), often called
a pharmacological vitrectomy.
Jetrea is indicated for the treatment of vitreomacular traction (VMT) and macular holes (Figure 3), both of which are conditions that are typically treated with vitrectomy surgery. Jetrea is expected to become commercially available in Australia in early 2014.
The results of a large randomised clinical trial demonstrated that Jetrea was effective in treating vitreomacular traction and closing small macular holes without the need for more invasive vitrectomy surgery. Does this mean that fewer vitrectomy operations will be needed and that vitreoretinal surgeons will be out of a job?
Probably not, as close inspection of the published trial results indicates that Jetrea was only effective in relieving vitreoretinal traction in 26.5 per cent of patients with symptomatic VMT compared to 10.1 per cent of patients that were treated with a placebo injection. At present, the pricing of Jetrea and whether or not it will be available on the Pharmaceutical Benefits Schedule (PBS) is unknown. The cost of the drug in the US is approximately US$4,000, which if similarly priced in Australia may be a significant barrier to its use, particularly considering the relatively modest efficacy of the drug demonstrated in clinical trials.

Dr. Simon Chen FRANZCO is a retinal specialist and surgeon at Vision Eye Institute, Sydney. He has expertise in intravitreal anti-VEGF therapy and vitreoretinal surgery.