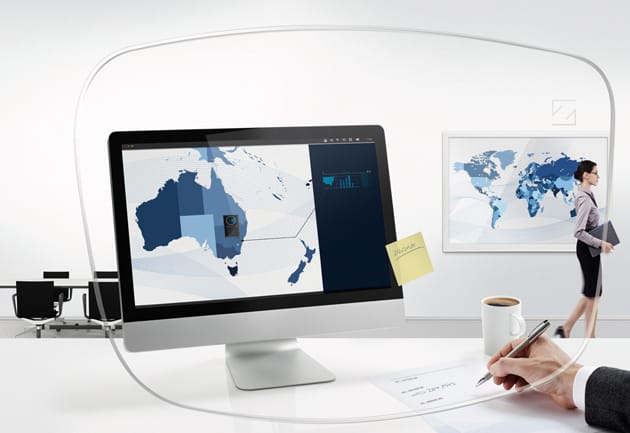 When it comes to professional eyewear, there are plenty of lens and frame options to help people look and feel on top of their game for getting back to work this year.
When I was first prescribed spectacles, my only concern was the frame. With so many incredible options to choose from I felt like a kid in a lolly shop. Only lollies are cheap, and having flipped over a few price tags, I realised frames are not necessarily so. It suddenly dawned on me: the frame I chose would be the frame I'd live with, and the frame that projected my image to my colleagues, competitors and clients, every working day of the week for the next year or two to come.
My optometrist helped me choose the frame to suit my work, my face and my personality and then they turned my focus to lenses.
Lenses… it hadn't even occurred to me that I'd have a choice. My optom recommended 'Ergo Room' lenses by Rodenstock. The reason, he said, was I only really needed them for the office – for using the computer, research and proof reading, and perhaps for a little more clarity in the mid-range.
It's fun picking a frame for the day, according to the way I feel, my wardrobe and the people I'll be meeting
at work.
From the day I slipped that first pair of spectacles on, I loved them. I didn't experience any of the dizziness, aberrations, or headaches that I'd been warned to expect from other first-time spectacle wearers.
And all of a sudden I could cope with a full day in front of the screen – searching for misplaced fullstops, commas and typos – without my eyes burning.
Despite initially thinking I'd have just one frame to wear, today of course I have several. Some brand new, others I've had for a while now and thanks to my initial purchasing decisions, I still love wearing them.
There's the large, creative frame in tortoiseshell, the academic looking frame in titanium, the bright and breezy blue that drifts into pink, and the more fashion-focused deep brown option.
It's fun picking a frame for the day, according to the way I feel, my wardrobe and the people I'll be meeting at work. And there are always more frames coming in to tempt me.
The Latest Styles
Perhaps as a reflection of the slowly recovering global economy, the current eyewear styles gracing offices are trending towards simpler, more refined frame styles.
In many cases, branding on the external temples has disappeared, with eyewear designers favouring instead to incorporate their logo more subtly inside the frame. I particularly like frames that have a unique design, colour or texture on the inside – giving the impression that the designer has paid attention to the product as a whole – to how it will look both on and off the face.
Titanium frames, are another favourite among the professional market. First discovered in 1791 by the amateur geologist Reverend William Gregor from Cornwall, England, titanium is strong, flexible and incredibly lightweight. Frames made from titanium are beautifully comfortable, especially for people who wear their glasses all day. The latest frame from Dunhill is crafted from Titanium. With its detailed embossing on the temple, this frame has success and sophistication written all over it.
For the more adventurous, artistic professional types, there are plenty of frames in bold colours, with patterning, combined materials and sharper, more angled shapes to create interest. The more out there frames can even help build business relationships by starting conversations.
Australian eyewear designer AM Eyewear recently released its first range of optical frames and for the more adventurous – and even the not so adventurous – these are perfect. Within the collection are 13 shapes in a variety of acetates and metals. The company's founder, Simon Ponnusamy uses 6mm acetate for all the temples, but he mills it down to keep the points of stress strong and lightweight. I particularly like the crazed finish of the transparent frames he's come up with.
The US brand's Thom Browne eyewear is made in Japan. Particularly sharp is the men's Windsor frame with a tortoise acetate front and black iron temples. These frames really show case the Thom Browne design aesthetic with their titanium nose pads, which feature a four-stripe detail and tri-stripe temple tips.
Lindberg's N.O.W. frame is another Windsor style that stands out from the crowd, despite featuring an ultra slim front, matched with slender, unobtrusive titanium temples. It's the minimalist approach to design that makes these such a pleaser.
Back in Australia, Jono Hennessy never fails to excite. The latest collection is all about sharp lines and bold colour – the translucent red and purple are standouts and for the less colour oriented, there is a striking classic black and a delicious frosted beige.
Then there's Paul Taylor, whose latest collection is also brimming with colour – no surprises there! The 50s inspired pearlised frame is particularly elegant. Its cats eye shape makes a statement, which is softened for the office by subtle colour – solid at the top and fading to totally transparent in the lower half of the frame. For the men, PT has a solid navy blue frame that at first glance almost appears black. It's not until the light catches this squared off frame that you get a hint of the depth and sparkle of colour within the acetate.
Of course, some professional types working in more conservative roles don't want to wear their uber cool frames to the office – worried that they may create the wrong impression. Others only need glasses for the office and simply don't want to spend their hard earned cash on a spectacular frame that will be left in the top drawer at the end of the working day. That makes it important to stock a great selection of simple frames that make a professional statement without costing the earth. Both Opticare and Bonastar offer simple yet elegant frame and lens packages to suit budget oriented customers and help independent practices compete with the chain stores.
Office Lenses
There are plenty of options when it comes to lenses and of course the choice will depend on the vision needs of individual patients. Reading lenses provide clear vision of objects that are close up, while progressive lenses provide the wearer with a narrow intermediate vision.
And then there are office lenses, which I love. Now widely available, these lenses provide an ideal solution for near and intermediate vision, making them idea for presbyopes working in office environments.
Blue light blocking lenses are also gaining ground thanks to growing awareness of the dangers of high energy blue light waves which, on the upside, help us manage our circadian rhythms but also cause long term damage to the retina. Blue light waves are emitted from the sun, so they've always been around. However LED lights used to illuminate domestic and commercial environments as well as televisions, smart phones and computers also emit them. With so much of our lives revolving around the use of technology these days, optometrists are becoming increasingly concerned about the need to protect patients from the blue light dangers.
This year the competition among lens laboratories is set to intensify with the decision by Rodenstock to begin producing lenses for the Australian market from its laboratory in Thailand. According to Ulli Hentschel, until now Rodenstock lenses have had to be finished in Germany which made for a long turnaround when compared with the big global lens labs and the local labs as well. Being able to compete on a level playing field means optometrists will have more options to present to customers.
Professional Lenses:
More products featured this month:
Cubik
Cubik's office executive lens is most suited to presbyopes and can be ground and finished to meet individual needs then fitted into the Cubik frames and supplied with a case and lens, at a highly competitive price.
There are three lens options: the computer lens, which is ideal for reading and computer use with full near Rx in the lower portion of the lens, an intermediate at OC eye point Rx of about 70cm and a further distance portion of up to 2m at the top of the lens. The room lens provides for reading and computer use, while also enabling the wearer to see a little further in the top portion of the lens. The shopping lens gives the full near Rx in the lower portion, an intermediate Rx at about 70cm to 100cm and almost full distance vision at the top of the lens. It's very much like a normal progressive lens.
JuzVision also supplies a 'new ED freeform enhanced design regressive'.
Contact JuzVision: (AUS) 0428 236 251 or visit www.juzvision.com
Zeiss
The new Officelens by Zeiss is the latest development in customised freeform occupational lenses,featuring Maximum Intermediate Distance (M.I.D) Technology, which enables you to specify the maximum viewing distance of the intermediate zone. Designed specifically for office and computer use, the Officelens by Zeiss offers exceptionally large fields of view in the intermediate and near zones, providing patients with a relaxed visual solution throughout their work day. The Zeiss Officelens portfolio is available in two different levels.
Contact your Zeiss Business Development Representative
Rodenstock Ergo
Rodenstock's Ergo portfolio of lenses are individually designed for different work environment, and take advantage of ergonomic design principles.
In comparison with a traditional progressive lens, Ergo Room lenses offer much wider vision zones at intermediate distances. Even at distances of up to five metres, vision is fatigue-free – perfect for computer users with an extended vision area. For those using larger screen monitors, with a main vision zone of around 120cm, try the Ergo PC. And for fatigue-free reading and working at arm's length: the Ergo Book. For those with very specific needs, the Ergo Freesign allows you to completely customise the design, based on the exact working distances of the patient.
Contact Rodensock: (AUS) 02 9748 0988
Opticare
Anti-reflective coatings are essential in a professional environment, particularly for people who work in front of a computer screen. Opticare's office designed lenses are coated with Skeye Multicoat to reduce glare and eyestrain in the office.
Contact Opticare: 1800 251 852 or visit our www.opticare.com.au