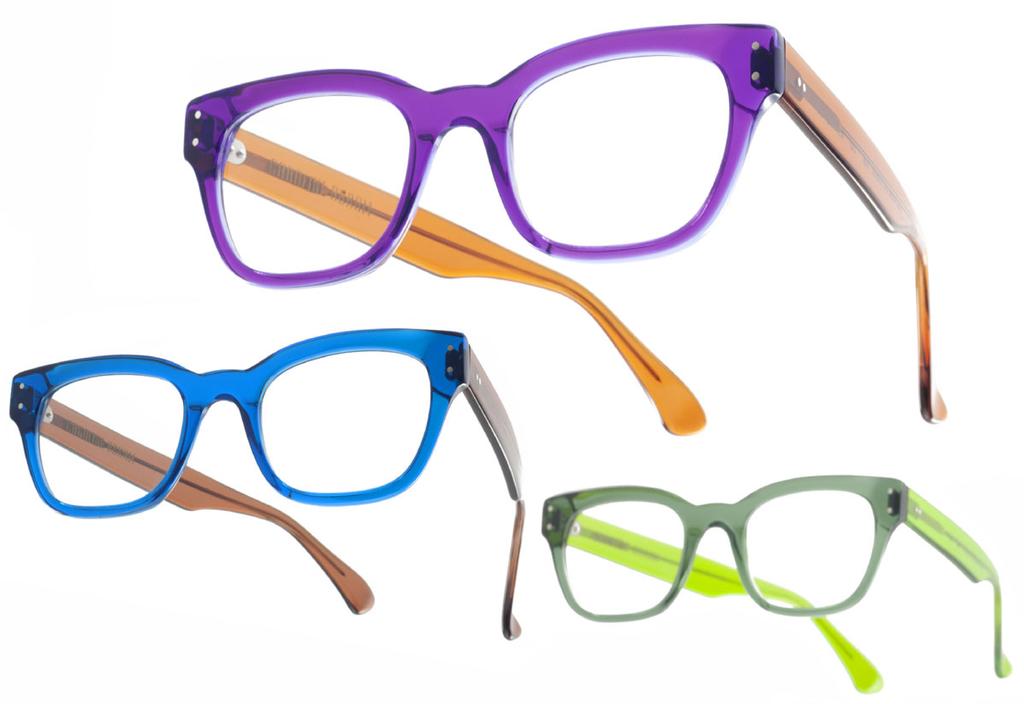 What do you get when you combine the colours of Senegal and India, the sophistication of France and the fun of Miami? Of course, it can only be the stunning eyewear designed by the gorgeous Caroline Abram… I caught up with Caroline in Paris late last year to find out about the story of her life, which has so significantly influenced her design.
"I was born into the eye industry – my mother was the creator of d'Opta – the Paris boutique, which was among the first to promote independent eyewear designers. My father was an eye surgeon. I studied optometry and became an optician in Paris," Caroline Abram told me.
Aside from her parents' involvement in eye care and eyewear, Caroline's influences are diverse. Her heritage is a blend of Caribbean, French, Polish and Indian. She grew up in Senegal, West Africa where she fell in love with the people and the culture. She lives in Paris but spends considerable time in the U.S. city of Florida.
Creativity and Colour
This uniquely diverse personal history has inspired an award-winning career, not in eye health, but rather in the design of eyewear and accessories. Today, Caroline is internationally renowned.
…men have to be sweet and friendly and strong…
"My love, my pleasure…my everything is about making – anything I can put together, I love ceramics, to work on wood – even putting together Ikea!
"So at the end of my studies (as an optician) I was looking for a way to create something and I decided to make eyewear accessories."
Caroline launched her first company, Filao, 19 years ago and chose to have her accessories crafted by women in Senegal – hand beaded and glass chains, cases and other eyewear accessories. "I built my little company and for a long time all I did was make hand-made accessories. I became very famous for the elegant accessories I made for lunettes (readers).
"Then I decided to start designing my own frames. But I was looking (at the eyewear) in stores and I didn't want mine to look like anyone else's designs. I didn't want to be influenced by what was there. So I created my own collection – only optics, no sunglasses – I added my own touch.
"That was six years ago and the only shape I was making was a cat's eye. At that time everyone I showed it to – every optician – said their customers didn't want a cat's eye and I told them, 'then you don't know your customers'. I said 'buy them, put them in the window and maybe you will attract some people – someone will want to buy them'. And that's what happened – six years ago no one had cat's eyes and now they are in all the collections."
Caroline's cats eyes came in large and small versions and always in bold colours, a reflection perhaps of her love for the talented women of Senegal who she has said are "always mixing colours – yellow, blue, red… anything they put together works".
While the cat's eye is still a prominent style within her repertoire, Caroline quickly expanded her range to include frames in various shapes for both men and women of all ages. She says the women's frames are "all about femininity – they're very glamorous, even if there are angles, everything is round, strong and sweet to suit the face of a woman which can be capricious, nice and strong".
She says her frames "help to show something inside… maybe you are too shy to show this part of your personality but you can wear a frame and show something of yourself. That's the idea of the collection".
Similarly, her men's frames are designed to express the wearer's personality, because she says, "men have to be sweet and friendly and strong".
All about the Lift
The common thread evident in every frame Caroline designs today is what she refers to as "the lift" which she uses to create "happy lines".
"At the beginning when I only designed cat's eyes, I used a small height and straight lines, always with a little lift.
"We love to lift everything – so if it's a square shaped frame, it's a square with a little lift, or if it's round, it's a round frame with a little lift – I'm always looking to create happy lines that distract you away from the lines on the face a woman doesn't want noticed – like the line underneath the nose or the eyebrows that go down – the frame can really help to give the face a lift."
She said subtle touches in the frame can also accommodate different face shapes – whether the face is large or small, or whether the nose is small or long for instance.
Princes and Princesses
As she continues to expand her eyewear design business, Caroline is phasing out the use of the brand name Filao, instead favouring Caroline Abram Eyewear. She recently created a new range – Tête à Lunettes – entirely for children and has opened a store in Paris dedicated to this market.
"It's very interesting when you have a store that is only for kids because the customers recognise you as a specialist for kids.
"Kids' eyewear requires more attention. They have a low nose and full cheeks. The frame mustn't touch the cheeks or cut across the eyes. Also, the world around them is high, so they must always look up, even to look at their parents. That means their frame must go very high, it mustn't cut the eyelids and mustn't fall down the nose."
She said the psychology of working with parents is fascinating because, "when the parents know their baby – their prince or princess – has to wear a frame, they want to die".
Caroline Abram Eyewear is distributed by Frames Etcetera (AUS) 1800708 771.