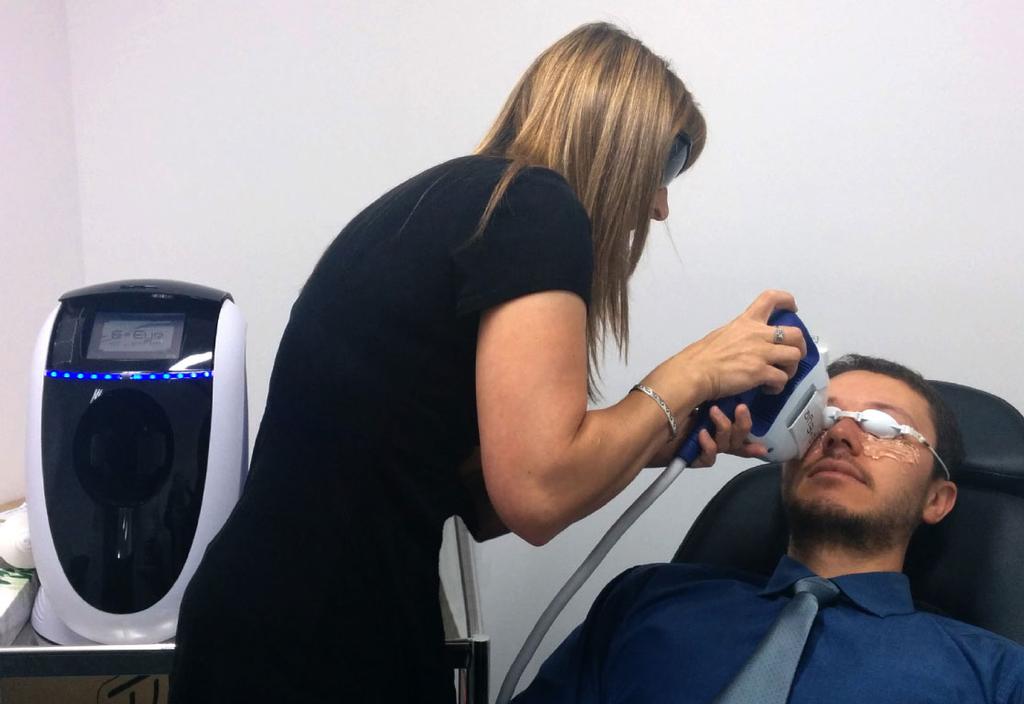 A clinical trial at Auckland University is evaluating the effect of Intense Pulsed Light (IPL) on tear film and ocular surface characteristics and on subjective comfort of people with dry eye syndrome.
The trial is using the E>Eye IPL device recently launched in Australia and New Zealand by France Medical and designed by E-Swin to offer a long-term solution to people suffering from Dry Eye Syndrome. Two separate clinical studies conducted in France using the E>Eye IPL have shown promising results.
Associate Professor Jennifer Craig, Department of Ophthalmology at the University of Auckland, is conducting her prospective, randomised, double-masked study on participants with symptomatic meibomian gland dysfunction. Only one eye will be treated and outcome measures will be collected at various points throughout the six week period for comparison between the eyes and over time.
She said the clinical trial is important because, "while there is strong anecdotal evidence, there are currently no peer-reviewed articles describing the benefits of IPL for dry eye published in the scientific literature.
"This is no reflection on the two trials being undertaken in France or elsewhere, except that their results are not yet published. Randomised controlled trials that have undergone rigorous peer-review during the publication process, are considered the strongest in terms of scientific evidence (upon which clinicians base best clinical practice).
"By conducting a randomised, placebo-controlled trial, we hope to provide independent evidence to demonstrate the effect of IPL on the tear film and ocular surface in participants with Meibomian Gland Dysfunction (MGD)," Associate Professor Craig told mivision.
History in Skin Care
IPL technology was initially developed in the 1990s to treat skin conditions. Over decades, its field of application has been extended to other treatments including permanent hair removal, skin pigmentation and collagen stimulation in skin clinics.
The use of IPL to treat dry eye syndrome was accidentally discovered in 2002 in USA when IPL technology was used to treat rosacea. After their treatment, many patients claimed their eyes felt much better. Since then, IPL treatments have developed for use in the treatment of MGB for people suffering from dry eye.
The E>Eye generates a polychromatic pulsed light by producing perfectly calibrated and homogenously sequenced light pulses. In the case of dry eye, the energy/light wavelength/pulse width are calibrated to stimulate the meibomian glands in order for them to return to their normal activity. The treatment takes just a few minutes.
A New Tool for Dry Eye
The first optometrist who purchased the E>Eye in Australia is Sydney practitioner and owner of the Eye Practice, Dr. Jim Kokkinakis. Jim has practised as an optometrist for almost 30 years and also lectures at the School of Optometry UNSW. He is a regular speaker at national and international congresses within his specialty areas including dry eye syndrome.
Mr. Kokkinakis said the arrival of the IPL "adds another tool to our extensive armamentarium of dry eye treatments, which our patients are eagerly looking for".
"I decided to install the E>Eye, to supplement dry eye management options in November 2013. To date approximately 10 procedures have been performed with positive subjective feedback."
France Medical claims that in the first clinical study conducted in France, 45 per cent of patients originally classified as level two (Oxford classification) have, after instillation of fluorescine, been improved by one or two levels. Eighty-one per cent of patients from level one have improved by one level.
A preliminary open label trial conducted by Associate Professor Craig in Auckland also showed encouraging results. With her clinical trial underway, Assoc. Prof. Craig said, "We are looking forward to completing the controlled study and analysing the data, as I believe IPL is an exciting technology with the potential to offer relief for some dry eye patients."