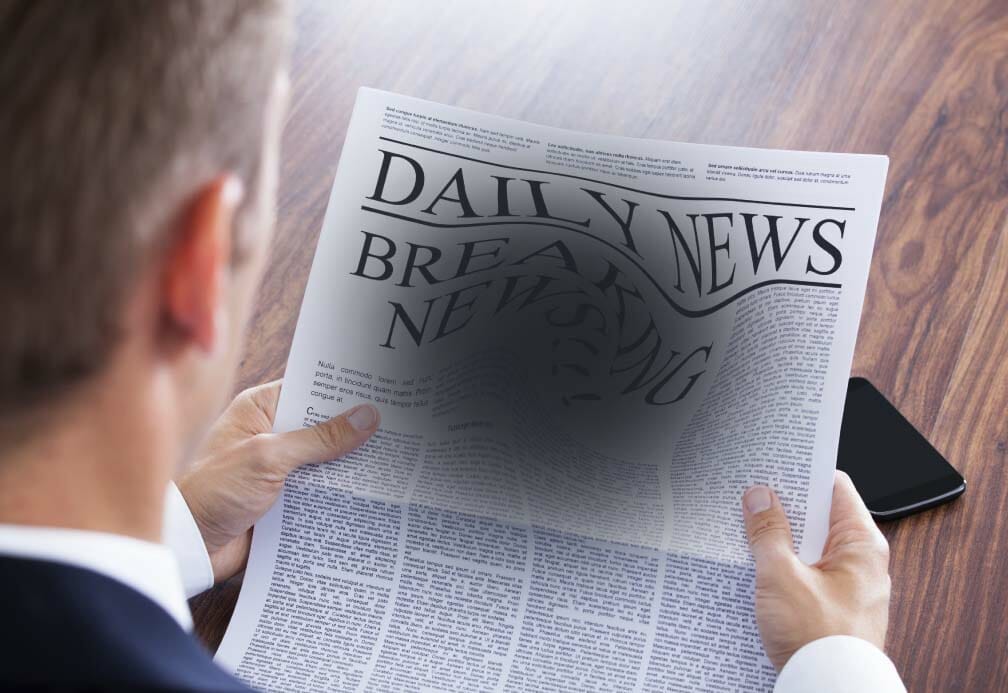 Macular degeneration has become part of the vernacular in families around Australia. Such is its prevalence that you can talk to anyone about the disease and most will tell you their mother / grandmother / aunt/ uncle… someone close to them is living with it. The disease is complex and life-changing, and it takes collaboration between the optometrists and ophthalmologists to help people with the disease manage the path forward.
"Patients ask me every day, 'have you checked my macula? – this wouldn't have happened 10 years ago," third generation optometrist Peter Hewett told mivision. "The follow up question is 'what is macular degeneration?' – so they know it's potentially a problem but they have no idea of what it is."
As a primary eyecare provider, Mr. Hewett is at the front line of detecting and managing age-related macular degeneration.
"We often see people with drusen or pigmentary changes who just need monitoring. Occasionally we see patients at the stage when they need urgent referral. We have strong relationships with ophthalmologists to facilitate this," he said.
Patients ask me every day, 'have you checked my macula… The follow up question is 'what is macular degeneration?
Associate Professor Alex Hunyor said optometrists are important in the management of macular degeneration in the community because of the "sheer magnitude" of the problem.
"Optometrists are increasingly well educated and informed about the signs and symptoms they should be looking for and they have technology at their disposal which can be helpful in diagnosis."
He cautioned that technology can also lead to over diagnosis. "That's something we all need to continue to manage. I do see the occasional patient who has been alarmed and terrified having been diagnosed with macular degeneration when they may just have a few drusen for instance. With continuing education programs, the problem of over diagnosis is improving."
Mr. Hewett agrees it's best to err on the side of caution when anaylsing OCT scans and says the biggest advantage they provide is the ability to monitor change. "The OCT enables us to pick up some of the signs of macular disease earlier and monitor changes – so by using the OCT on a regular basis we can detect whether the sign we're observing is an active process or whether it has been there for a long time. It is important to understand the limitations of an OCT when analysing the macula," he said.
Patient Education
Technology also plays a valuable role in patient education, which Mr. Hewett says is integral to his work with patients who show signs and symptoms of macular degeneration.
"That question: 'what is macular degeneration?' enables me to open up an entire conversation. I use digital macular imaging and the model eye to show patients what and where the macula is – often they don't realise the macula is a physical thing. Then I show them a healthy macula and one that is diseased with wet or dry macular degeneration. That leads on to further discussion about the risk factors – family history for instance. I've seen families coming through with AMD, often they're aware that a family member before them had lost their sight but they're not sure why – they don't realise the hereditary nature of macular degeneration.
"We also discuss the things they can do to avoid macular degeneration, even if they don't have signs. I often explain to people that we're all living so much longer – we don't want their eyes to pack up before they do –if you are going to live into your 90s you want to maintain good vision.
"We discuss general health, smoking, diet and the importance of regular eye examinations. My job is to ensure patients realise, optometry is not just about a pair of glasses or contact lenses – it's about maintaining good vision for the rest of your life."
Monitoring Vision
Continuity of care, regular eye exams and monitoring change is most important for people who display early signs of macular degeneration. Mr. Hewett says he hands out plenty of Amsler grids to enable patients to monitor their vision from home and he sets up routine checks in the practice.
A/Prof. Hunyor said the Amsler grid is the most readily available, easy tool for testing vision change that we have. "There are a lot of technology based attempts to do this and eventually there will be very good ones that are easily available on smartphones but given the demographic we are working with, right now the Amsler grid is the best option to encourage regular routine testing."
He cautioned, "some patients can use it extremely effectively and it's a very good warning system; other people, especially elderly people find it difficult to use. I always make sure my patients have a grid, but if they say they don't find it that helpful – they prefer to look at the straight lines of their bathroom tiles for signs of vision change for instance, that's fine. The key is that they are conducting a monocular test – and that they're using an object that gives them some perception of distortion.
"Patients should also be aware that changes in their central vision are not necessarily things they notice on the grid – some people will describe a smudge in their vision or problems with reading," said Dr. Hunyor.
"The key is they need to understand the importance of getting to an eye care professional urgently if they notice a change – they need to understand what to do if something goes wrong."
Sharing the Care
A/Prof. Hunyor said optometrists like Mr. Hewett take a considerable weight of work from ophthalmologists by educating patients and monitoring their condition. "I'll often leave it to the discretion of the optometrist as to whether the patient needs to be seen again – for instance, a patient with a few drusen – but not even enough to require supplements – may not need to come back to see me for a couple of years. But I always stress that if the patient or optometrist is concerned about recent changes, such as distortion, we will see the person within two days at the most and aim to begin treatment within a few days of the consultation."
A/Prof. Hunyor says the ability to treat patients with wet macular degeneration has been a significant shift over the past decade but there is still plenty to be done. "In that time we've gone from having a couple of slightly successful treatments – PDT and laser – to being able to do something in most cases of the most destructive, damaging form of MD. Injections have turned things around. Now dry macular degeneration is more the focus – this is the form we can't do something about and it is the most prevalent in the community," said Dr. Hunyor.
To treat wet macular degeneration, over eighty per cent of retinal specialists use the treat and extend regime for injection therapy. "We begin with three treatments at four-weekly intervals, and once the patient has achieved maximum vision, we extend out the time between injections – so for example, a patient may come back at seven weeks and everything is fine, and then at eight weeks signs will appear on the OCT scan – we may detect slight recurrence of activity in the blood vessels. That tells me that eight weeks is a little bit long, so we work out that the interval for that patient is seven weeks.
A/Prof. Hunyor said the level of positive change in vision differs from patient to patient and so a long-term approach to treatment is necessary. "A significant number of patients don't get maximum response from injection therapy at one year… but we always have to remember the natural history of macular degeneration is for a person to lose a lot of vision.
"Ideally we want the patient to be in that 30 to 35 per cent of patients who get an improvement in their vision, but even the remaining 60 to 65 per cent of patients who have stabilised are still winning. So at one year into treatment, I'm not into saying we're not winning and we need to do something else. A lot of people still have some activity but their vision has stabilised and the activity has lessened so in most cases there is no need to change the therapy."
Patient Support
A patient's relationship with their optometrist doesn't lessen once they begin treatment with an ophthalmologist. If anything, the role intensifies. "Optometrists still need to be there to look after the patient's eye care needs, to provide advice on services and for counseling," said Mr. Hewett.
"I have patients who have been on treatment month after month and they come to me and say 'I'm a bit over this, do I need to need to keep going?' It's a great comfort for these people to be able to talk to someone who knows them and understands where they've come from with their vision, who can reassure them they're not going to be totally blind. I talk to them about how they're going to manage now that they can't drive, about the services available in the community to keep them independent – like shopping buses, the technologies that can help them, and the services like Macular Disease Foundation Australia and Vision Australia. If they want to talk to me, or their family wants to come in and talk to me, I'm here.
"As optometrists, there's so much we can do to help."
Amsler Grid
The Amsler grid inserted in this issue of mivision has been specially prepared for eye care professionals and can be used in practice to demonstrate to patients how quick and easy it is to conduct a simple eye test at home every day. Instructions for use are printed on the Amsler grid. You – and your patients – can order Amsler grids from Macular Disease Foundation Australia. Phone (AUS) 1800 111 709.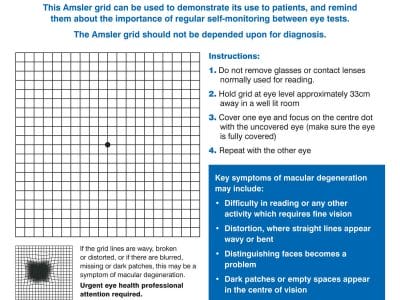 (Click to view larger image of Amsler Grid)
The Overwhelming Diagnosis
Val and Roly Sellars
For Val Sellars macular degeneration came as a complete shock. "I had my eyes tested in 2001 and was told my sight was fine – in fact, that it had improved," she said.
"A few months later I noticed a loop appearing on the safety sticker on the glass doors of my wardrobe. I'd blink and the loop would disappear."
That summer Mrs. Sellars found the glare from the sun was more noticeable than in previous years… and then the words in the newspaper she was reading began to whirl with distortion.
"It was a busy time – my husband and I had sold our house and moved to Adelaide, and so it took me a while to get to the optometrist," she said. Coincidentally, Mrs. Sellars and her husband had moved into the suburb of Hindmarsh, Australia's number one suburb when it comes to the prevalence of macular degeneration.
It didn't take long for the optom to send Val on to a local specialist. "The ophthalmologist was the one who told me. He said 'you've got wet macular degeneration in your right eye – the biggest cause of blindness in the western world. He didn't say much else and as I'd never heard of macular degeneration, I was left feeling quite overwhelmed."
Mrs. Sellars received two hot laser treatments in her right eye, which failed to stabilise her vision. "At a follow up visit, the ophthalmologist suggested Visudyne as an alternative but at the time, this treatment was AUD$2,000 and it was not covered by Medicare. I decided I'd be fine with the sight in my left eye – it wasn't explained to me that vision in that eye would probably go quickly as well."
Little Black Spot
For some patients with macular degeneration, the signs of deterioration are not clear. For Mrs. Sellars, the signs are obvious.
In 2002, when using her Amsler grid to self-test her vision at home, Mrs. Sellars noticed a little black spot appear in her left eye and, having been left with only peripheral vision in her right eye, she was quick to visit a new ophthalmologist who commenced her treatment with Visudyne. Over the subsequent nine years, and until Lucentis became available, Mrs. Sellars received seven treatments of Visudyne to stabilise her vision.
Last March, Mrs. Sellars received her fifteenth injection of Lucentis, which continues to maintain the vision she has in her left eye.
First Injections Daunting
For Mrs. Sellars, the first injection of Lucentis, in 2012, was daunting. "I was frightened to death until I had the first injection. But now, after all this time, I'm quite relaxed. After local anaesthetic drops, I feel a little prick, and I see the fluid going into my eye. So long as I'm careful not to get an infection I'm fine.
"I'm grateful (for the injections) because they have helped me to hold on to the sight I have. Now I have dry macular degeneration underlying the wet, so I know my sight will deteriorate – but because it will happen slowly, I'm sure I'll be able to cope."
In the meantime, Mrs. Sellars said she takes supplements in the hope that it will slow the progression of the disease, and is determined to enjoy the remaining vision she has.
"I'm still able to cook, I enjoy Tai Chi and I'm lucky I have a husband who can take me to my appointments – many of the people in the support group I coordinate are on their own and they have to rely on other services to get them around."