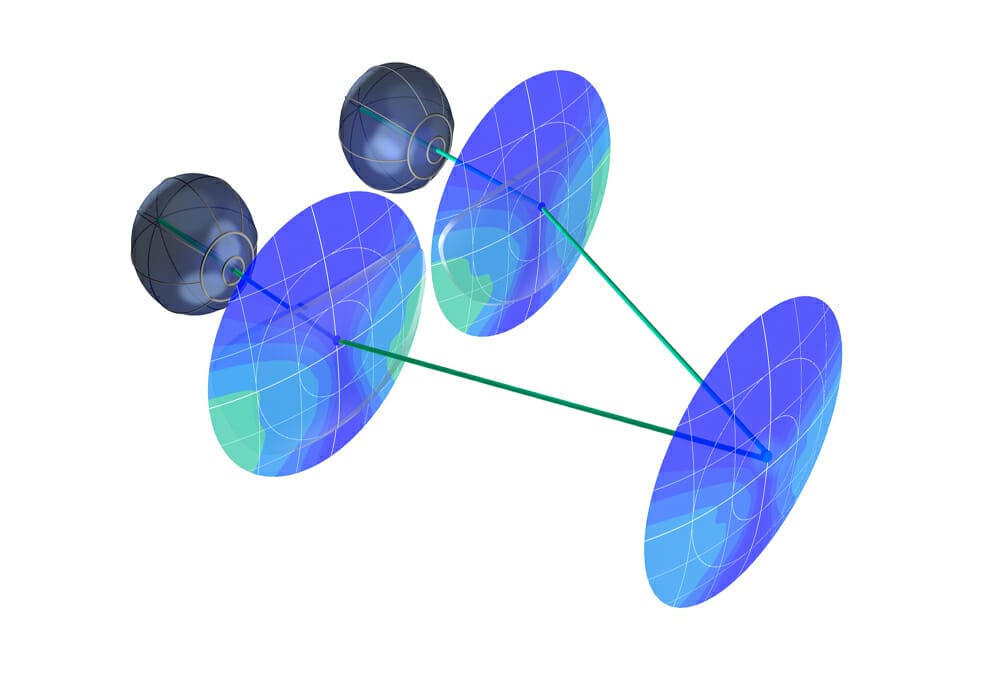 In the quest to develop the perfect progressive addition lens (PALs), lens designers at Hoya have turned their attention to enhancing asphericity distribution across the whole lens and to creating a lens evaluation process that takes into account the wearers' binocular vision.[/vc_column_text][/vc_column]
Since the introduction of progressive lenses, extensive research and development has gone into trying to create the perfect progressive addition lens (PALs). With obvious advantages for correcting presbyopia when compared to other non-surgical options such as bifocals, single vision reading glasses and contact lenses, PALs are fast becoming the visual aid of choice for presbyopes around the world.1
Leading lens manufacturers have come a long way in the design of PALs and as a consequence, practitioners are often spoilt for choice. Over time, we have come to realise there is no 'one size fits all' solution. Being clinically and optically trained, practitioners form the link between patient and lens technology which often involves complex optics and manufacturing knowledge. Our job as practitioners is to look for the true benefits behind each lens.
Many factors affect the performance of a PAL, some fall within the control of the lens designers and manufacturers, others are more wearer dependent.
By eliminating binocular rivalry in the design, Hoyalux iD MyStyle V+ encourages binocular fusion between the eyes, reduces asthenopia and increases fitting success significantly…
Manufacturer Dependent Factors
Base Design of a Lens
One of the most heavily weighted design features of modern day progressive lenses is their asphericity. Broadly speaking, PALs were made possible due to the molding of various curvatures into a single piece of lens. Every PAL is aspheric yet the differentiation between a great progressive design and a mediocre one lies in the way asphericity sits within the lens.
In their quest for the perfect lens, PAL designers must choose between producing a hard or soft design. Both have their merits. Hard designs provide a larger distance zone while soft designs are easier to adapt to with a gentler change in power from distance to addition prescription.
Recently manufacturers have conceived a multi-design series, which endeavours to'humanise' PAL design. The process of 'humanising' the lens – or tailoring it to a wearer's lifestyle, is traditionally done through trial and error and sometimes with the conduct of wearer tests. The problem is that humans are anything but objective and so wearer tests are not 100 per cent reliable. Nevertheless, PAL designs continue to be 'humanised' in the quest to provide a better visual experience.
Manufacturing Methods
Traditionally, PALs have been produced using tooling and polishing machines that move in two directions. Modern methods of manufacturing have led to various marketing oriented technical production terms, which essentially refer to the use of tooling machines that employ a point cutter rather than a traditional cutting wheel.
Point cutting allows the intended lens design to be more accurately reproduced on a lens blank. The art to creating a successful lens using point cutting lies in the lens design itself.
Lens Performance Evaluation
Once presented with the design concept of a PAL, the latest manufacturing techniques and the fitting success rates, most practitioners see the value in recommending PALs to their patients. It can also be useful to ask the manufacturer about the methods of lens evaluation.
Wearer Dependent Factors
Position of Wear
The theory of effective power and position of wear is a well-established principal that guides lens designers today, and as a consequence, leading manufacturers are now taking wearer position into consideration when designing premium PALs. It stands to reason that true differentiation comes in the form of how precise a lens manufacturer is when measuring the position of wear.
Wearer Lifestyle
Forty is the new 30 and many contact lens wearers today are no longer leading lives 'expected' of their age. It's not so unusual to hear of a 70 year old bungee jumping or heading off for a week of skiing. It makes sense then that a 'one design fits all' PALs is no longer applicable in the premium PAL range, and that this dynamism within the general population fuels the drive to develop more personalised lenses.
Wearer Prescription
Historically, wearer prescription has been the most definite constant in a person's visual history. Tempering with prescription can lead to poor vision and disappointment in the wearer's PAL experience. Manufacturers are aware – and wary – of this and realise that wearer prescription presents a challenge in PAL design with certain prescriptions lowering wearer success. At this point, PAL products that address this problem remain largely unavailable.
The Evolving Solution: Hoyalux iD MyStyle V+
Hoya is aware that it has not created the perfect PAL yet but the company believes it is getting closer every day.
Having produced Hoyalux iD MyStyle, a highly personalised PAL, the focus has turned to PAL asphericity distribution across the whole lens. The result is a lens which is no longer defined as a soft/hard/multi series design, but instead a highly personalised lens named Hoyalux iD MyStyle V+.
Hoya uses a simulation method to create new PALs designs that the company believes gives an accurate, consistent evaluation which is superior to human wearer trials. In fact, it is a method of choice for researchers, studying optical lens designs.2 To further 'humanise' the PAL design, the wearer's preferred position of wear is measured and incorporated into the resultant ordered lens.
Hoya iDentifier software collects details of the patients' lifestyles such as the ratio of time spent indoors versus outdoors, the use of digital devices and the type of devices used (smartphone, tablets, laptop etc) to determine a different work distance and posture.
Each iD MyStyle V+ lens is produced using Hoya's patented iD FreeForm manufacturing technology, a point cutting technique, which faithfully translates the lens design into an actual lens.
A World First: Binocular Harmonisation Technology
The magnitude of ametropia (wearer prescription) is unalterable and poses a barrier to achieve successful PAL wear. Anisometropes form one particular group of wearers that are of special concern because they have the potential to bring PAL fitting success down to only 80 per cent.3,4 More disturbing is the fact that up to 73 per cent of wearers have different prescriptions for each eye. This brings PAL wearer success to an even lower level.5
Binocular Harmonization Technology (BHT) uses Hoya's expertise on lens aspherisation to balance the effective powers in the lenses throughout the corridor region, bringing about balanced, clear vision that is comfortable in a state of binocularity. By eliminating binocular rivalry in the design, Hoyalux iD MyStyle V+ encourages binocular fusion between the eyes, reduces asthenopia and increases fitting success significantly, even in wearers with anisometropia. Hoya claims this is the first of its kind in PAL design history.
Keeping Focus in a Dynamic World
Hoya's new lens evaluation methodology takes into account that a wearer never looks through one lens at a time. Previously, Hoya used patented evaluation criteria which includes the Hoya clearness index, static, skew and dynamic deformation index. These indices evaluated lens performance and wearer's perception monocularly.
The new Binocular Eye Model (BEM) evaluates the performance of the lens as a pair with an enhanced evaluation methodology that considers binocular clearness, accommodation demand difference, binocular vertical prismatic difference, binocular magnification difference and binocular convergence. Performance indications such as these have been shown to be crucial in alleviating asthenopia.6
For practitioners and patients alike, the options for progressive addition lenses have never been better.
Vivien Chiang Dip Optom (Merit), BSc Optom (Hons) is an optometrist and the Regional Professional Manager at HOYA Vision Care Asia Headquarters.
References
1. Sheedy, J., Hardy, R. F., & Hayes, J. R. (2006). Progressive addition lenses-measurements and ratings. Optometry, 77(1), 23-39. doi:10.1016/j.optm.2005.10.019.
2. Qin, L., Qian, L., & Yu, J. (2013). Simulation method for evaluating progressive addition lenses. Applied Optics, 52(18), 4273-4278.
3. Barrett, B. T., Bradley, A., & Candy, R. (2013).The relationship between anisometropia and amblyopia. Progress in Retinal and Eye Research, 36, 120-158.
4. Mohammadi, E, Hashemi, H., Khabazkhoob, M., Emamian, M. H., Shariati, M., & Fotouhi, A. (2013). The prevalence of anisometropia and its associated factors in an adult population from Shahroud, Iran. Clinical and Experimental Optometry, 96, 455–459.
5. Hoya data: European progressive lens orders 2007-2013.
6. Wee, S., Moon, N., Lee, W., & Jeon, S. (2012). Ophthalmological factors influencing visual asthenopia as a result of viewing 3D displays. The British Journal of Ophthalmology, 96(11), 1391-1394. doi:10.1136/bjophthalmol-2012 301690.