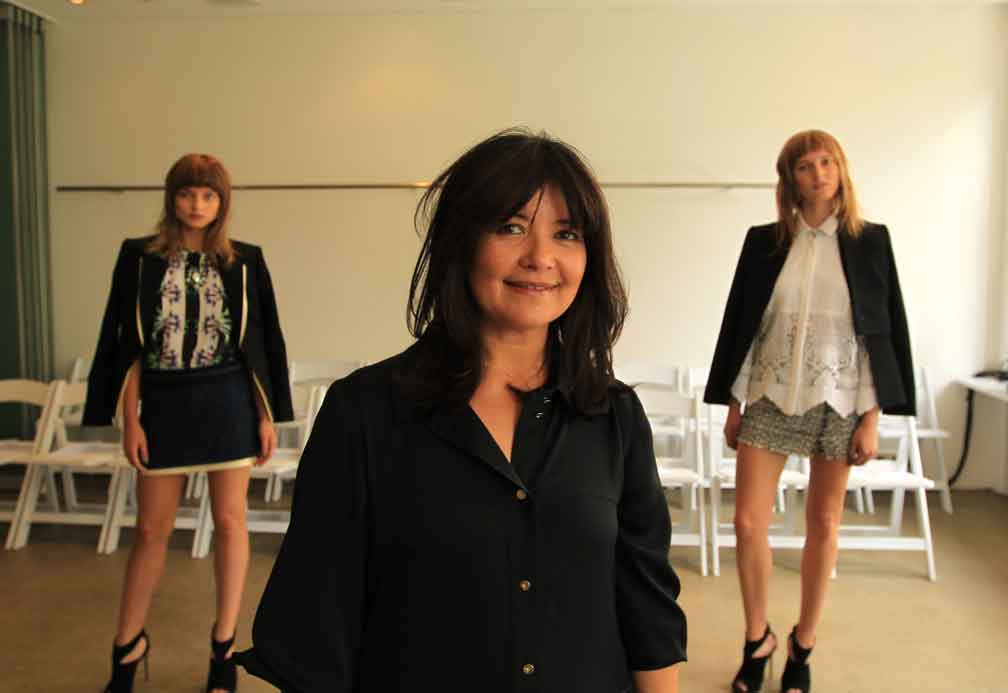 The first suit I ever bought, at the start of my career in the mid-80s, was designed by Lisa Ho. On a beginner's wage it was unaffordable and so I put it on lay-by. When I eventually took it home from the boutique, I treated it with kid gloves. Over the years, I wore that timeless linen suit, in a dusty shade of olive green, to its death. If I could, I'd still be wearing it.
Like many of Australia's fashion designers, Lisa started her career at a weekend market in Sydney. Fresh out of college in 1982, she quickly gained a reputation for highly desirable, feminine designs.
From her Sydney base, Lisa created fashion forward collections that ranged from refined daywear to resort wear, bridal and cocktail pieces.
Her designs have been sought by a slew of celebrities for red carpet appearances. These famous fans include Elle Macpherson, Ivanka Trump, Delta Goodrem, Jennifer Lopez, Olivia Newton-John, Teresa Palmer, Lara Bingle and Sara Groen. They've worn her exquisite gowns for events including the Logies, AFI Awards, IF Awards and countless television appearances.
Lisa Ho eyewear will compete directly with the likes of Alex Perry and Collette Dinnigan eyewear…
Such is her celebrated place in Australian fashion that at the Sydney 2000 Olympic Games a segment in the opening ceremony was dedicated to Lisa Ho.
Fresh Approach to Design
A designer, business driver and mother of three, Lisa Ho understands the needs of modern women, from their working lives through to their most glamorous occasions. And she's not one to slavishly follow trends.
In 2014 she signed with the Myer Department store to produce an affordable fashion forward collection under the label 'L by Lisa Ho'. Then she signed with Face Optics to produce an eyewear collection to address the same ideals.
Best known for her extravagant and elegant designs, Lisa Ho's approach to eyewear is more casual in design, though absolutely elegant.
Dean Harrigan is the designer and technical developer at Face Optics who has worked in partnership with Ms. Ho to commercialise the collection. He believes spectacles and sunglasses endorsed by Lisa Ho, coupled with an affordable price point, will allow independents to fight head to head with other eyewear brands endorsed and promoted by Australian fashion designers and sold through the major chain stores.
Mr. Harrigan understands the nuances of producing fashion forward eyewear. Among the brands he has launched for prominent Australian and New Zealand designers are the successful Jac and Jack and Kate Sylvester eyewear brands.

"The global eyewear market has changed enormously over the past five years," said Harrigan. "We're facing a new worldwide trend with customers seeking high end brands at affordable prices."
"As a result, leading fashion labels are creating diffusion labels to capture a more affordable market. 'L by Lisa Ho' is an example of this in the clothing space. Sylvester by Kate Sylvester is another.
Face Optics is the first Australian company to address this in the eyewear market – we're doing what the corporates are doing, we're providing an affordable frame endorsed by an extremely reputable fashion designer – there's no other eyewear brand like it in the market.
"I believe Lisa Ho eyewear will compete directly with the likes of Alex Perry and Collette Dinnigan eyewear," said Mr. Harrigan.
He said quality is paramount to the brand's production values. "I work directly with Japanese-trained factories and by direct sourcing, my company is able to develop a high quality collection using the very best components and European and Japanese acetate. Our first Lisa Ho collection is currently under production in Korea, where the reputation for eyewear manufacturing is strong," he said.
Advanced Technology
This first collection will integrate new treatments and unique printing techniques to reflect the colours and prints incorporated in Lisa Ho's clothing range which will launch this Spring.

Additionally, a "revolutionary" one-piece titanium spring hinge will be incorporated into designs later in the year. "In order to compete, the collection must not only be fashion forward, it must also be more technically advanced. This will allow independent optometrists to gain confidence that they are offering a superior frame," said Mr. Harrigan.
Sunglasses Strong
Over the past five years, Mr. Harrigan says, "the sun has set on high-end sunglass sales thanks to the ever growing presence of the internet in people's shopping regime". But this hasn't held him back him from ensuring sunglasses make up a prominent proportion of the Lisa Ho eyewear range.
Mr. Harrigan said a strict businessplan has been set in place to help independent optometry win back their fair share of what has been a lucrative segment. "The Lisa Ho collection will focus on increasing sunglass sales with a commercially priced collection, which should also result in driving new fashion savvy customers into store," he said.
That business plan excludes online retailers from access to Lisa Ho sunglasses and maintains a retail price point at under AU$200. It also includes advertising and editorial campaigns, together with fashion inspired point of sale that Mr. Harrigan said will drive customer loyalty.
This new business strategy looks like it could prove a powerful winner for independent optometry and one of our favoured icons of Australian fashion.
Lisa Ho eyewear is distributed by Face Optics. Contact: (AUS) 02 9362 9990.