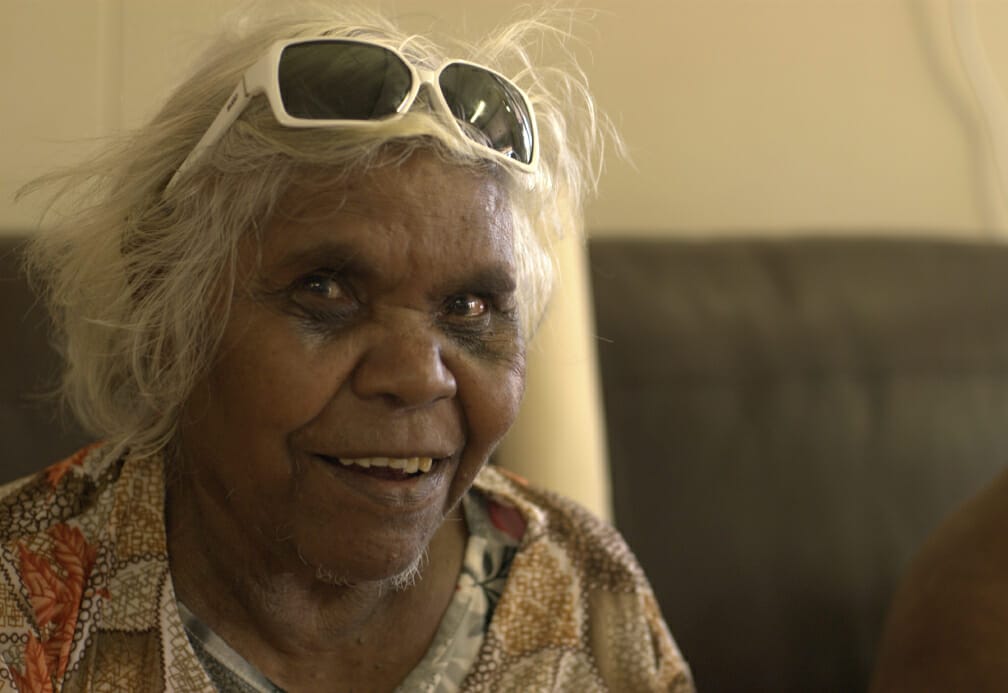 The sale of optical frames featuring the artwork of Indigenous painter Langliki will contribute financially to the provision of eye health in remote Australia.
Gabi Hollows, founding director of The Fred Hollows Foundation, said the initiative, developed by Specsavers, is a first for the Foundation. "Langliki is a beautiful woman who comes from Ernabella in Central Australia, which was one of the first areas we took the national trachoma eye program to in the 1970s. At that time she was probably a mother with a couple of kids hanging off her skirts – now she's in her early 80s," said Ms. Hollows.
"Having had her cataract surgeries in 2008 she has been able to leave her aged care home and get back to her family and her artwork. She gave permission to Specsavers to use one of her paintings on a frame and when she saw the result – her painting reproduced inside the frame – she was absolutely beaming."
A donation of AUD$25 will be made to the Foundation for each limited edition frame sold. "This campaign is unusual but it's going to do a bit of magic – anyone who walks around with a Langaliki frame knows that their purchase is helping the Foundation," said Ms. Hollows.
Aiding Indigenous Eye health
Ms. Hollows said the funds raised will contribute to the Foundation's work in Australia's remote communities.
"In Australia we're working in local communities with some really great eye doctors: Professor Hugh Taylor, Bill Glasson, Mark Loane, Angus Turner and Joanna Barton are some. But there aren't enough eye doctors and eye surgeons around, so our role at Fred Hollows is to button up with all the other providers of eye health: Brien Holden Institute, Vision 20:20, Right for Sight, Optometry Giving Sight.
"All these programs have got to work together to get people as much access as possible to the eye care they need," Ms. Hollows said.
She said building sustainable health systems is also on the agenda. "We're training eye doctors in Vietnam, Laos and Cambodia. Here in Australia there are now 130 Indigenous doctors in the country who are part of the Indigenous Doctors Program. It's a pretty good number and hopefully a few of those people are very interested in eyes. But it takes time."
A Holistic Approach
Ms. Hollows said working with Indigenous communities requires a holistic approach that takes in hygiene, health and housing. "Fred was an ophthalmologist but he firmly believed there was no point in looking at eyes without checking the ears for instance – his rule was 'don't do things half-heartedly, do the whole thing'. And that's what we're doing – we want every part of the body covered.
"Indigenous eye health has come a long way since Fred started his clinics in the 70s and every day it gets a little bit better – but we've got to keep tapping away at it all the time because just as you get it sorted out, you have to get started again. We're always working with new parents, new children, new teachers, new health workers. It's the cycle of life," she said.
The Langliki glasses are sold as part of Specsavers' two pairs for AU$199 offer.