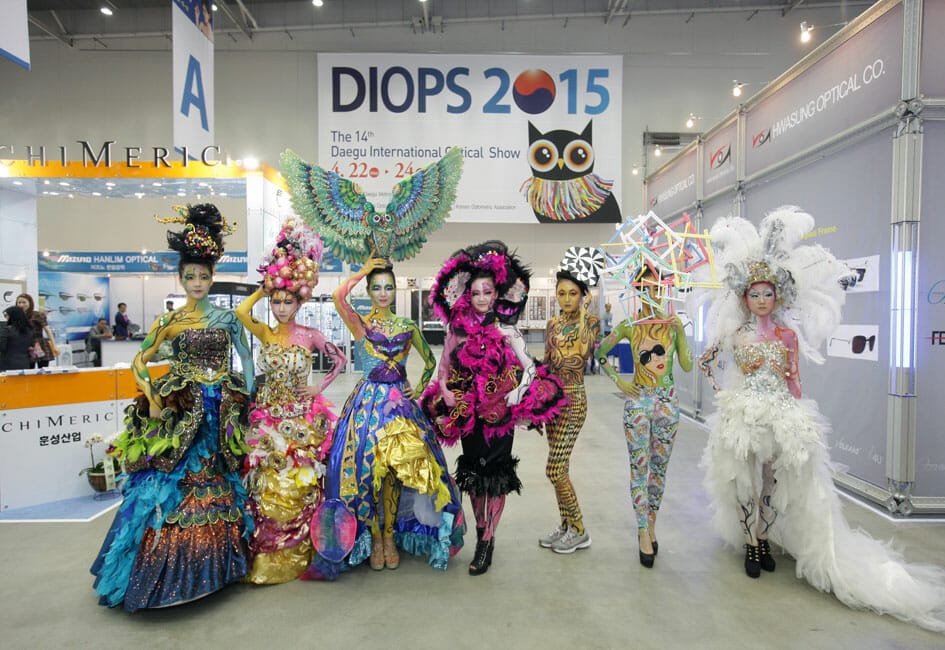 Daegu is 240km from South Korea's capital of Seoul and the heart of this country's eyewear industry.Not surprising then that during April, over 30,000 people, including 1,500 international buyers, flocked to the EXCO – Daegu's impressively designed and immaculately maintained exhibition centre – to immerse themselves in the 13th Daegu International Optical Show (DIOPS).
DIOPS is the event which represents the Korean eyewear industry. Held from 16 to 18 April this year's show aimed to open Korea's eyewear industry to international trade. And it did.
"DIOPS has been growing each year because the world is interested in our eyewear design as well as manufacture," said Jimmy Son, the CEO of the Korea Optical Industry Support Centre – a co-operative association managed in a 50:50 partnership by the local and federal governments.
Mr. Son told me that Korea's trade of eyeglasses (optical, sun and 'other') has grown by 83 per cent in the past 10 years to US$466 million in 2012, and it's all thanks to the efforts of the Korea Optical Industry Support Centre which has ensured the country's optical industry has not been "swamped" by the manufacturing strength of China.
DIOPS has been growing each year because the world is interested in our eyewear design as well as manufacture
DIOPS was first conceived 13 years ago when Korea's Optical Association was headed by Ji Moon Chang. "Thirteen years ago I got a bad feeling because China's factories started to warm up. I thought… we have to change… I suggested to the city government that we make an international optical show in this area (Daegu) to bring in buyers from all around the world," said Mr. Moon Chang.
"At that time production was dominated by metal frames which were more difficult to make than plastic (frames) – they required skilled workers – so for some time, we had the benefit over China for producing better frames.
"The problem was wages were increasing in Korea compared to China. China was very cheap at that time. So China bought machinery from Korea, Japan and Italy and started manufacturing in metal."
Mr. Moon Chang said increasingly sophisticated machinery delivered greater automation, and reduced the need for Korea's more skilled workers.
"Unfortunately for Korea, fortunately for China's factories, automatic machinery controlled the processes – timing, temperature etc and Chinese manufacturers (gained) world-wide dominance. Now almost 90 per cent of optical frames, sunglasses, cases everything is made in China – even high end brands," said Mr. Moon Chang.
Healthy Growing Industry
Even so, there is a healthy optical industry in Korea with Mr. Moon Chang's own company 'Seesun' among others, designing and producing Korean optical and sun collections.
"We want to build Korean brands of eyewear and after 15 years (of manufacturing) at Seesun, we now distribute in China Taiwan, Singapore, Thailand, some European countries and the middle and central east," said Mr. Moon Chang.
From what I could gather, many of the Korean eyewear designers start off as eyewear distributors before creating their own local brands.
Creative Director Min, of Korea's bcd started as a wholesaler fifteen years ago and launched his own brand nine years later, with a strong metal vintage focus. Last year he launched another new brand, Tatteossian; frames created in collaboration with painters and sculptors from Daegu. Bcd also distributes Christian Roth, Cheap Monday and Elizabeth and James.
Similarly Cgoon has built a business distributing established brands Kuboraum, Lunettes Kollektion, Traction and LGR to Hong Kong, China, Japan, Italy and New York.
"We have been designing eyewear for one year – this is our first collection," said Cgoon's Chae Kyu-Bok.
While it's not unusual for European eyewear designers to have their frames manufactured in Korea, it is virtually unheard of to find a Korean designer manufacturing in Europe… however during my time at DIOPS, I came across a company that has decided to do exactly this, and in doing so, found success.
International sales manager Jiny Seo told me the company she works for – Muzik – launched its first locally designed, internationally manufactured, collection late last year. "Modern Optique in Oyonnax France has 35 years' experience in manufacturing and Jean-Louise Comte (the company's creator) was really enthusiastic about working with us," said Ms. Seo, adding that the decision to manufacture in France had generated considerable publicity for her company.
"We built our company last year in May and built our brand in November. We have grown very rapidly in the Korean market – we have become a Korean celebrity," she told me.
Muzik will launch to the world at Silmo this September where Ms. Seo said she'll be "looking for distribution partners and clients worldwide".
The quirks of technology were also on show at DIOPS with companies like Blick displaying frames that feature easy to use interchangeable lenses. Director Kim Su Kon was proud to show me Blick's latest innovation which enables the wearer to watch a 3D movie then switch out the lenses for everyday reading or even to protect the eyes from blue-light emitted from computer screens. Mr. Su Kon also showed me an impressive collection of sports eyewear, goggles, Rx-able swimming goggles and more.
Korean Eyewear Opportunities
Korea's Optical Industry Support Centre CEO believes whether you're a designer looking to sell into Korea or a buyer or optometrist looking to import interesting new collections, Korea is packed with possibility.
"Exports of optical glasses from Korea have grown year on year since 2010 and in 2012 this market was worth nearly US$140million to the economy. The country's largest customer is Japan followed by USA and then China," Mr. Son told me.
It has to be said, exports of sunglasses from Korea is relatively tiny and continuously fluctuating on a downward trend ($14.5m in 2005 : more than $6m in 2012) with the major importer being the United States followed by Canada, Italy, Hong Kong, Japan, UK and China. For international designers of eyewear, the Korean market shows promise – the value of sunglasses imported into Korea has more than doubled since 2005 (from approx. $61m to $147m in 2012). Interestingly, the value of optical frames imported into Korea has fluctuated and grown only slightly (from approx. $47.5m to $62.5m) in the same period.
Would You Go?
There's no doubt that Daegu's International Optical Show is an impressive, well organised trade show that's designed to present the very best of Korea's eyewear industry to the world… it's well worth adding this event to your Asian business itinerary. And once you've finished at DIOPS, there's plenty to explore just an hour's flight away in Seoul.
The 14th Daegu International Optical Show takes place from 22–24 April 2015. For further information go to: www.diops.co.kr