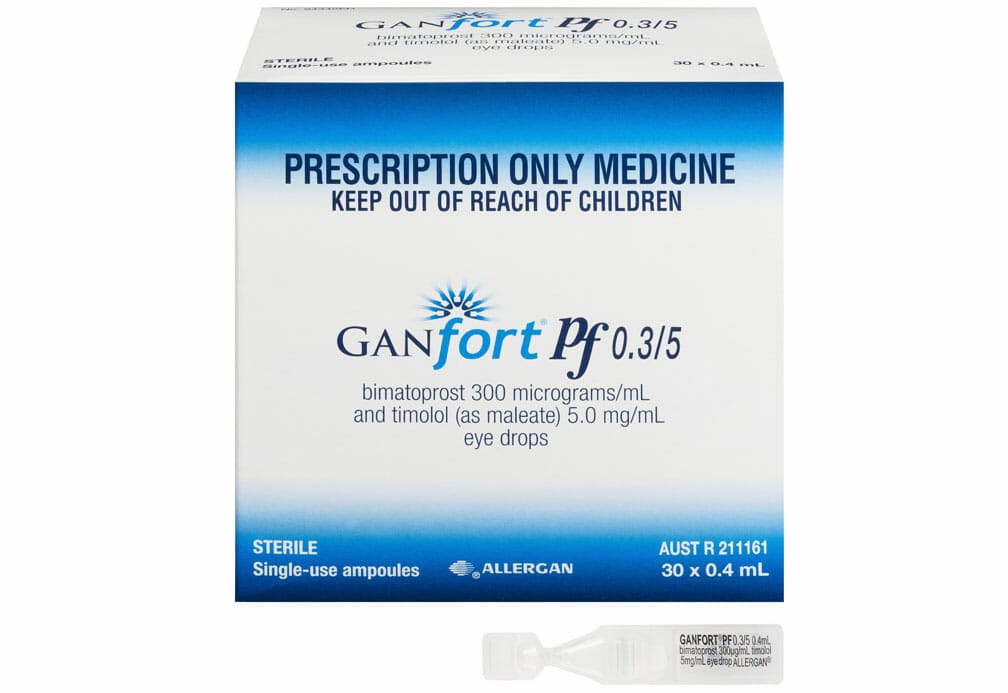 Ganfort PF 0.3/5 Eye Drops for Glaucoma and Ocular Hypertension When patients require further IOP control Ganfort PF 0.3/5 Eye Drops offers:
1. The tough efficacy of bimatoprost and timolol.1
2. The gentle assurance of being preservative free.1
Ganfort PF 0.3/5 consists of two active substances: bimatoprost and timolol maleate. These two components decrease elevated intraocular pressure (IOP) by complementary mechanisms of action. The combined effect results in additional IOP reduction compared to either compound administered alone.1
Glaucoma is a lifetime condition and using glaucoma medications increases the preservative exposure to the eye over the long term.2 Glaucoma patients may also have a greater incidence of Ocular Surface Disease (OSD). In a study of 101 patients OSD was reported with a prevalence of 59 per cent.3 Preservative free treatments can lower the risk of OSD which can otherwise adversely impact a patient's quality of life.4
For information contact your Allergan account manager.
References
1. Ganfort PF 0.3/5 eye drops approved product information.
2. Baudouin C. et al. Progress in Retinal and Eye Research 2010;29(4):312-334.
3. Leung E. et al. J Glaucoma 2008;17(5):350- 355.
4. Skalicky S. et al. Am J Ophthalmol 2012;153(1):1-9.
[/vc_column_text][/vc_column]