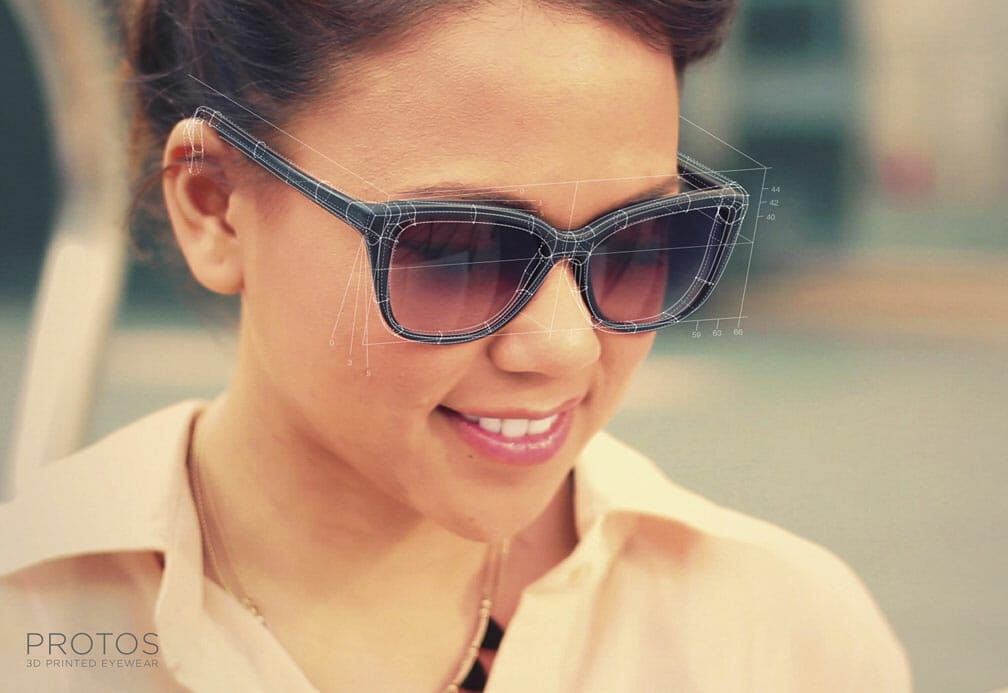 The day is coming (and some will say it's already here) when you will be able to print a frame to the exact facial specifications and design preferences of the customer standing in front of you… or you'll be able to sell a frame pattern to that same person who will take it home and print it for themselves.How does your practice prepare for a future of DIY eyewear?
3D printed eyewear is already here. In the United States, Protos Eyewear is currently delivering 3D printed eyewear to investors who got behind the company in a successful crowdfunding campaign that concluded in late 2013. The campaign raised US$25,000 – enough to get the company off the ground.
In the Netherlands, an optometrist is printing frames for customers – emblazoned with said customer's name – using a small home purpose 3D printer, from the back of his practice.
In Sydney, the online eyewear retailer Sneaking Duck launched its first collection in late April – and was recognised for its efforts by being nominated as a finalist in the innovation category for the 2014 Online Retail Industry Awards.
I think it's not far away that a consumer will be able to order a frame shape and colour, have their head scanned and a 3D printer will be able to produce an individual frame which fits perfectly…
The optical industry and in particular, suppliers, are watching this space closely.
"3D printing is potentially the way forward," said Peter Smith director of Colab eyewear. Peter Smith's opinion is worth listening to. In his 30 year career in eyewear he has successfully launched the brand Colab; been an ODMA board member and helped steer the sales of some of the biggest eyewear companies in Australia including Safilo and Sunshades. He can see the writing on the wall. "I've heard of an eyewear factory in China with 500 3D printers actually doing production runs, although I haven't seen it."
"I think it's not far away that a consumer will be able to order a frame shape and colour, have their head scanned and a 3D printer will be able to produce an individual frame which fits perfectly and the lenses as well… We are watching this very closely." Similarly, Finola Carey, CEO of the Optical Distributors and Manufacturers Association (ODMA) said she was keen to monitor the evolution of 3D printing technology.
Iconic Australian eyewear designer Paul Taylor said he hasn't explored the 3D printing option because he is committed to "manufacturing eyewear from superior quality acetate. 3D printed glasses are made of nylon (and therefore not as durable)… Never say never though, technology may improve and we might get involved," he said.
Professor Gordon Wallace, Director of the Australian Intelligent Polymer Research Institute at University of Wollongong, who will speak on 3D eyewear at the Australian College of Optometry national conference in October, believes 3D printed eyewear has solid market potential.
He said already 3D printed frames can be produced from robust materials including metal, although to succeed manufacturers will need "a new business model that will compete on economic terms with the current emphasis on driving down cost". Additionally, he said, quality lenses are not far away because technical issues in printing high quality optical grade materials are "not insurmountable".
So if the future is around the corner, what is the product like now? Awful Start to a New Future
"It's an amazing concept," says optical dispenser Mark Bowes from Eyecare Plus in the Eastgardens shopping centre in Sydney's south-east. "But these are pretty awful," he adds examining one of the first models to come from Sneaking Duck.
Sneaking Duck doesn't claim to have achieved the look or feel you'd expect from traditionally manufactured eyewear, but the company says it's the beginning of a new future.
"Right now the 3D glasses we're manufacturing feel like a lightweight pair of glasses, said Mark Capps, CEO and co-founder of Sneaking Duck. "The texture is a little rough to start with, that's because the frame has been built up in layers from tiny granules of resin – but this rough surface smooths off within a few weeks. "Anyway," he says, "it's not a bad feeling – they feel like felt rather than a polished acetate frame."
He said the glasses generally fit well because customers specify the temple length upon ordering, and because they're made from nylon, they hold their shape.
According to Mr. Bowes, the problem with the nylon these glasses are made from is they can't be heated, which makes them difficult to adjust comfortably to a person's head. Additionally, despite their lightweight the rigid nose piece rests uncomfortably on the bridge of your nose.
Optical dispenser and CEO of Australian Dispensing Opticians Association Victoria Murray O'Brien said 3D printed frames will never take the place of traditionally manufactured specs and sunglasses.
"It's an interesting concept but as with all frame 'innovations' there are many unanswered questions… It's just another method alongside the established methods and I can't see it taking over completely. Over the years I've seen some weird and wonderful innovations come and go but the standard frame materials just keep on coming out on top.
"Back in the 1980s, Optyl began to threaten acetate, but in the end acetate won because it is perfectly suited to the task. When it comes to plastic, cellulose acetate just keeps coming back and gets better each time. It's the same with metals. Monel, stainless steel and titanium are hard to beat," said Mr. O'Brien.
"As for threatening the business of dispensers and optoms in the next three
to five years? Why would it and how could it? Am I missing something? We do more than provide a product, we also provide important services that can't be replaced over the internet. The net has been around a long time now and we're still well and truly here."
But Mr. Capps says, "this is the very first step of a longer journey that will lead to a point where any eyewear customer gets the absolute ideal glasses for their face, in terms of colour, shape and size".
Expensive but Getting Cheaper
Sneaking Duck currently has its 3D eyewear printed on a Selective Laser Sintering (SLS) printer in the United States. The overseas manufacturing process means each frame takes about six weeks from receipt of order to customer delivery and this turnaround time is something the company is looking at improving.
At AU$250,000 a unit, it's easy to understand why they haven't yet invested in bringing the SLS technology home – you'd need the machine to be running at full capacity 24/7 to pay its way.
According to Dale Nicholls, Business Development Manager at 3D Printing Systems in Auckland, there are only a few SLS printers in Australia but this will all change as prices come down. "3D printing has been around for about 30 years but until now it's been too expensive for most companies. In the last five years the arrival of 3D desktop printers has brought the costs down enormously."
He said the $700 printer being used in the Netherlands to manufacturer eyewear extrudes plastic "like a hot glue gun" whereas the SLS lays down a bed of powder, which is then melted by laser technology. "It's a much more durable result, and much more flexible," he said, adding that depending on their use, products printed from an SLS printer can be expected to last many years.
Mr. Nicholls said the use of 3D print manufacturing for commercial products is not as infantile as you think. "There are a lot of underground elements using it – people making use of their printers but not telling people that they are… one of our customers prints out fittings for boats."
When it comes to the desktop printers, however, he said most people are using them to create prototypes and once they've finessed the design, they have the final product created from SLS technology.
He believes in the medium term, this is probably the way we'll go with eyewear as well. People will eventually download patterns for the frame they want, experiment with colour, shape and size using their own 3D printer then send them off or drop into a dedicated 3D printing bureau to have the final product made to order.
Mr. Nicholls says once you've bought the unit, the cost to print a frame from a 3D printer currently sits at around a few dollars per unit, using a ABS Plastic. "This is the same material as Lego."
3D printing also minimises wastage as Mr. Capps points out. "You don't have to make hundreds or even thousands of each frame knowing you might sell only half of them – you don't have to make anything except the prototypes in advance – then the glasses are printed from the electronic file sent to the manufacturer."
Peter Smith from Colab said he looked at opportunities to work with 3D printing two years ago but at that time the costs were prohibitive. Additionally, he said major stumbling blocks were the time it takes to produce frames and the raw materials available.
"I'm sure it would be easy to make a cheap injection type frame but at this stage I haven't seen any high quality 3D printed eyewear," said Mr. Smith.
Luxottica has also been exploring the potential for 3D printing of eyewear, however having invested substantially in traditional injected molded frames, the company is not yet ready to make the plunge. And according to Dr. Peter Herse, Academic Director of Luxottica's Insitute of Learning and a former Senior Lecturer at the School of Optometry University of NSW, the quality is not quite there yet.
"The frames I've seen so far are either rigid and brittle or very soft and wobbly, depending on the plastic used. The frames themselves feel very grainy because of the tiny beads used to layer them, and because of there is no glue in the resin, you can't polish them. When the technology advances so that smaller beads are used, I imagine the surface finish will be smoother – at the moment it's not acceptable."
Mr. Herse said Luxottica was exploring the idea of dipping or spraying the frames in a plastic film to create a better surface finish and allow more options for colour.
There is no doubt quality is an issue to be overcome. At Protos Eyewear, founder Richard Ruddie acknowledges 3D printed eyewear "is still gimmicky" because it's in its infancy. "Most people who know of 3D printed products do not perceive them as high quality and durable… Being one of the first companies to make consumer grade 3D printed products puts us in that position to help educate and teach consumers that 3D printing is heading towards great quality products and away from the gimmicky stage that it has been stuck in."
He said the material his company has come up with is "truly amazing" in its flexibility. "We have clients who wear US$500 Oliver Peoples frames and we hand them our frames and ask them to bend our frames. Then we ask them to bend their Oliver Peoples frames. Having frames that don't break or snap is one big benefit as well as the lightweight of the frames. They are so light that the lenses weigh more.
While shapes and styles are very easy to achieve, Mr. Ruddie said colour variation is "a little bit trickier than being able to just dye a frame or use a different material… When it comes to printing with different materials a lot of variables come into play. We did a lot of research and testing with materials and blends to come up with an efficient blend that works. So when it comes to changing the colour and material that is more difficult. The shapes and styles, however, are much more transformable and that is why our custom fitting model works so well – 3D printing allows us to change the shape and styles very easily in comparison to a cast model product."
It took three years for Sneaking Duck to get to the stage where it was satisfied it could deliver frames at a commercially viable price and quality.
The company collaborated with industrial designer Andrew Simpson from Vert Design. "Andrew ran through a fair few prototypes before finalising the material and design… Eyewear needs to be robust,
it needs to fit well to the face and the material needs to accept and hold the lens firmly – that's a lot of ask.
The fit of the lens was something optical dispenser Mark Bowes had concerns with when he examined one of Sneaking Duck's frames. "The lens pops out easily enough, there seems to be enough elasticity… but the groove (to take the lens) is very wide at 3mm. It is as deep as the groove on a normal frame but rather than having a peaked edge to take a beveled lens, the base of the groove is flat. Getting an exact trace might be an issue," he said. "The material can't be heated so everything has to be manufactured precisely so the lens fits in securely."
Mr. Bowes also questioned the quality of the hinge, which he said looks to have been put into an over-sized slot place post-manufacturing. "Essentially, Sneaking Duck's frame is a disposable item," he concluded, "which can not be adjusted or repaired. If you've got a problem, your only recourse is to get back in touch with the company."
Regardless of these obstacles, he acknowledges the potential for 3D printed eyewear to find its place in the market.
"Right now 3D printed eyewear is for the early adopters – the hipsters from the likes of Newtown and St Kilda. But in the long term, it's something that every online retailer will want to be involved in – if they're not, they'll be missing out. 3D printing personalises the experience of choosing eyewear – it gets customers engaged in the process as they get to create their own style, shape and colour. There will always be people who prefer to buy from stock they can see and try on in a shop, but similarly there will be those who like to express their individuality in this way."
Certainly that's the aim at Sneaking Duck, where Mark Capps says the intention has always been to enable customers to get glasses "that are perfect for them".
He said the response received to the initial limited collection of four frames has been "tremendous… people are super keen to understand how it works".
"Most people haven't seen a real product produced from a 3D printer – they've seen gimmicks like figurines, but not an actual product with a purpose."
Speaking of the limited range within the 3D collection he said, "you can't start at the end so we've deliberately gone out with four frames and a selection of colours we know works best. We have a fifth style and we're looking at adding two more colours in the near future… We're also experimenting with customising the width of the frame," he said.
Regardless of their experience with 3D printing or their expertise in eyewear manufacture, everyone I spoke to about the potential for 3D printed eyewear was excited and intrigued by the prospect… and everyone had their reservations as well.
"3D printing is a logical progression in technology," said Peter Herse. "Look back at the development of print technology. The mechanical process of printing 3D is very similar to the process that colour laser printers use today – they lay down colour, which is heated and set. 3D is the next step… Producing 3D (printed) eyewear is a way you can present online offers that are individualised and technically interesting – but we need long-term testing to ensure we can successfully launch these products to the market."
"Is there potential? Certainly," said Mark Bowes. "The concept is quite amazing, but there needs to be an upgrade of the base material so the frames can be adjusted… if this is starting at the bottom we can expect the technology will just keep improving… it's something that could take on, there is a market."
Mr. Capps has realistic hopes for the technology his company has embraced.
"3D (printing) is the way of the future… but it's still a way away before 3D (printed) glasses are the majority share of the market," he said. "I'm absolutely certain it will become more commonplace. Costs are only going to come down and the possibilities are only going to improve."
Find Out More About 3D Printing
Professor Gordon Wallace, Director of the Australian Intelligent Polymer Research Institute at University of Wollongong will speak on 3D printing technology at the Australian College of Optometry National Conference, which runs from Saturday 18 October to Sunday 19 October at the Melbourne Cricket Ground.
To review the full conference program visit www.aco.org.au