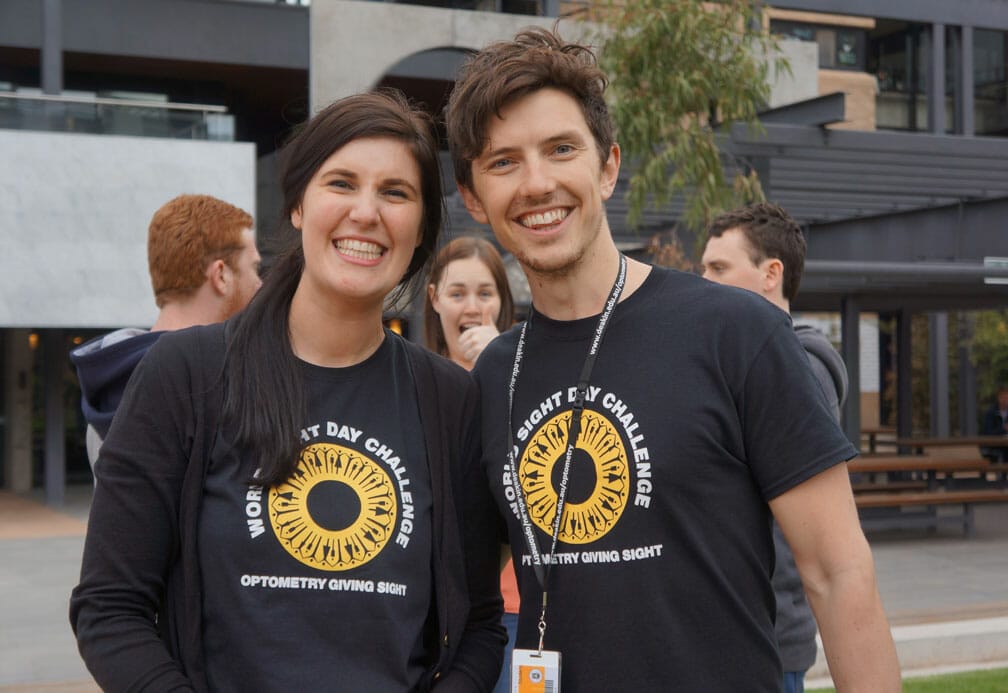 The annual World Sight Day Challenge is just around the corner – what will you be doing on 9 October to raise much needed funds that will deliver the gift of vision to those in need?
Optometry Giving Sight, the organisers of the World Sight Day Challenge (WSDC), are lifting the bar and calling on the global optometry community to raise AU$1 million on 9 October.
Last year, World Sight Day saw organisations around the world promote events such as the WSDC to draw attention to avoidable blindness and rehabilitation. This year, the message is 'No more Avoidable Blindness'.
World Sight Day – an initiative of Vision 2020: The Right to Sight (a joint undertaking of the World Health Organization and International Agency for the Prevention of Blindness) – highlights the importance of good vision for all people and the limiting affects that uncorrected vision impairment can have on lives.
There are plenty of ways to raise funds for the World Sight Day Challenge and across the country they're all sure to be exploited – from cake stalls and games of Twister through to donating eye exam fees and even hosting cocktail parties – as practices compete to be the most successful fund-raiser in Australia.
Last year, Sure Optical in Gosford NSW was the highest achieving practice, with an event that raised over AU$3,700 for World Sight Day. Essilor Australia matched the donation bringing the combined total to $7,452. This October Sure Optical's principal Amanda Rungis will once again join forces with a local bar owner – her fiancée, Gordon – to deliver what has become an annual 'Highballs for Eyeballs' event that her staff, friends, colleagues and suppliers all enjoy supporting.
Optometry students are typically enthusiastic, and slightly mad-cap, supporters of the World Sight Day Challenge.
In 2013 the University of New South Wales raised almost $4,000 by holding a number of barbecues, bake sales and raffles. They also put a creative flair to their campaign, reconstructing the WSDC logo using people.The students at Deakin University also got into the spirit, holding a colourful carnival day featuring sumo wrestling suits, giant twister and other games raising $1,268. The University of Melbourne Optometry Student Society raised $2,643 from a comedy night and bake sale.
"It's great to see the future optometrists in Australia are not only committed to helping people through their profession, but also to raising awareness for public health issues related to optometry," said Ron Baroni, country manager of Optometry Giving Sight which promotes the World Sight Day Challenge in Australia. "Every year we are amazed by the dedication that students put in to raising money during the Challenge."
Eyecare Plus CEO Michael Jacobs said the World Sight Day Challenge is an obvious choice for optometrists to support in a crowded charity calendar.
"There are almost as many charities knocking on our doors today as there are people and most of us don't have the luxury of being able to support all of them… For the optometry community, the choice is relatively easy – support Optometry Giving Sight, a charity which raises funds from the optometry profession and delivers the gift of vision to those in need."
Last year, many Eyecare Plus practices took part in the Challenge including Eyecare Plus Taree, which gave two of its staff the opportunity to volunteer at an Optometry Giving Sight funded project in India. Optometrist Peter McKay and optical dispenser Trudi Everingham spent a fortnight helping train local optometrists and optical students at LV Prasad Eye Institute in India. Having experienced Optometry Giving Sight's funding at work, the pair returned with an even stronger commitment to the World Sight Day Challenge.
"It was amazing to see the way the funds are used. Not only is it used for spectacles, but also to train students in optometry and to perform basic procedures such as cataract surgery for those who can't afford it," Ms. Everingham said.
"We have a donation tin out front (of the practice), and when I tell patients that their adjustment was free and ask them to make a donation, I can actually tell them where it's going: to help those who need it most."
ProVision CEO Steven Johnson encourages all participants in the World Sight Day Challenge to use it as an opportunity to "bring greater awareness to the wider community… We recommend to members that they tell their clients about what they do – not to big note – but to generate better understanding," he said.
Tony Hanks said his 11 practices continue to support the Challenge because "solving refractive blindness is what we do every day… With so many people in the world who have no eye care options, we all have a responsibility to help."
Sharing the Passion
Melissa Turner, Practice Manager at one of The Hanks Group Port Macquarie practices, said patients often find it difficult to comprehend how little it actually takes to correct someone's sight."People don't realise until they read the pamphlets just how little you need to donate to make a difference," she said.
At Ms. Turner's practice, consultation fees collected on last year's World Sight Day were donated to the cause. Staff decorated the practice and wore World Sight Day Challenge t-shirts, while patients were invited to donate $5 for a 'brick' to build a vision centre and enter a jelly-bean guessing competition."It's good that patients see we're passionate about something and that we make it a bit of fun for everyone," she said.
World Sight Day allows the optical community to celebrate successes of outreach programs…
Fundraising Tactics
Another team that provides wholehearted support to Optometry Giving Sight's cause – not only on World Sight Day but year-round – is Lisa Bakker and her practice Eyes@Narrangba, in Queensland.
Ms. Bakker's passion for the cause is evident; she has volunteered overseas and is an Optometry Giving Sight National Committee member. Her team consistently places as top fundraisers. They have employed a wide range of tactics to generate a buzz in order to solicit donations, from a lolly guessing competition (for the kids), to erecting large colourful displays and sporting their World Sight Day Challenge gear, to simply informing their patients about the cause. To cap it off, Bakker and the team also donate all eye exams on World Sight Day.
Optical companies such as Essilor and General Optical also participate in the World Sight Day Challenge each year and involve their staff in fundraising events. Both companies match their staff fundraising dollar for dollar.
Jonny Lewis, Managing Director of General Optical and a member of the Optometry Giving Sight National Committee, has said that fundraising for Optometry Giving Sight has become part of the culture of General Optical. He believes it has the benefit of uniting his staff… and gives a great excuse for a party.
Sign Up and Celebrate the Successes
World Sight Day allows the optical community to celebrate successes of outreach programs. Participating practices can take pride in the fact that there are now optometrists and eye care providers operating in many countries that didn't have access to eye care opportunities 10 years ago. At the same time, the Challenge serves to reiterate that there are still 600 million people living with impaired vision or blindness due to uncorrected refractive error and that there is much work to be done to reduce that number. Sign up to the World Sight Day Challenge today and give others the opportunity to do what optical practitioners do every day: change lives with an eye exam and a pair of glasses. www.givingsight.org/get-involved/world-sight-day-challenge.
Tamara Card works for Optometry Giving Sight in the area of Fundraising and Communications.
Optometry Giving Sight has been working since 2003 to mobilise resources from the global optometric community, to help eliminate refractive error blindness and low vision.Optometry Giving Sight, an initiative of the World Council of Optometry, the Brien Holden Vision Institute Foundation and the International Agency for the Prevention of Blindness, now has operations in about 10 countries.