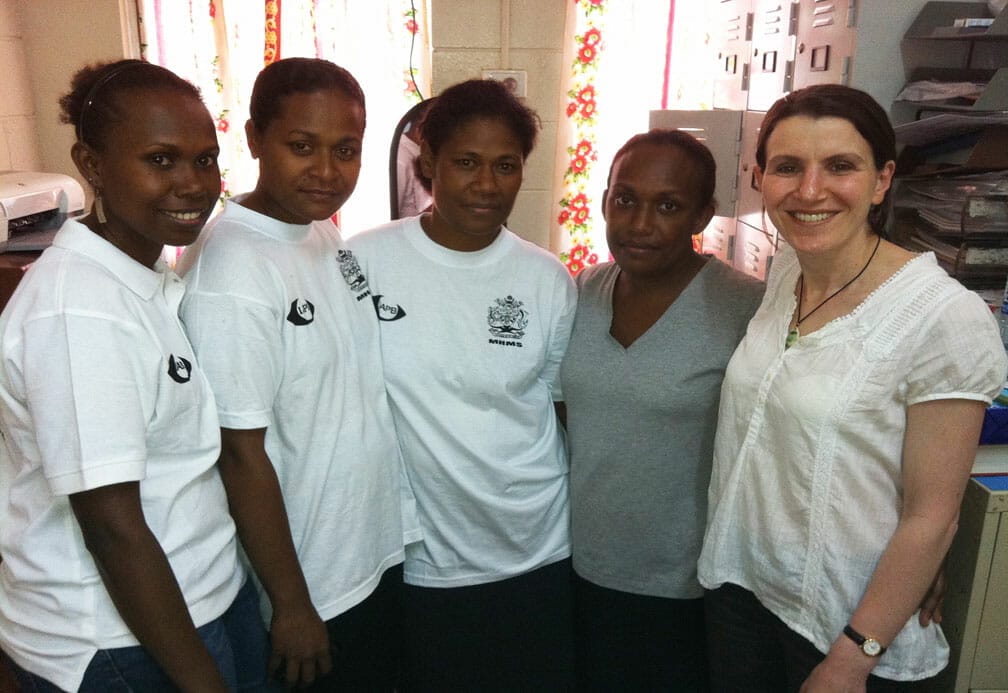 The lifecycle of an ophthalmologist starts late and can end relatively early. By the time of achieving fellowship, ophthalmologists are usually in their early 30s, and have spent most of their life studying. Most of their friends are already well entrenched in their chosen professions; many have started a family. Thirty years on, those ophthals are likely to throw down the scalpel, concerned their hands are too shaky, or the technology has progressed too far to ensure patients receive the optimal outcome from their work. On the eve of the 2014 RANZCO Congress, mivision spoke to three young ophthalmologists (those who've been in practice for less than 10 years) to find out how they're managing to keep all of life's balls in the air.
For most mums, juggling any career with a young family is a challenge. Add to that surgery, teaching, attending conferences, administration, chairing committees and supervising vocational registrars, and the whole package becomes quite daunting.
Oculoplastic specialist Rebecca Stack from Canterbury in New Zealand says she wouldn't be without any of it – though she admits her career and remuneration could have been different.
"The desire to have children influenced my decision to pursue a career in ophthalmology. I felt the sessional work with an outpatient focus and on-call commitments fitted better with a family than some other surgical specialties," she said. "The large medical element offered an opportunity to have more patient contact and longer term relationships with patients than most other surgical specialties, which also appealed to me. The fine motor skills, attention to detail and lots of technology also appealed," she said.
If you like the detective story – if you enjoy working out the past to help predict the future, if you are very particular and precise, ophthalmology will work well.
Melbourne cataract surgeon Xavier Fagan says the opportunity to build long-term relationships with patients was an attraction for him as well. "It took me seven years to get a good idea of what I wanted to be and what I wanted to do – I had no idea," he said. It was working with ophthalmologists at the Royal Melbourne Hospital, which encouraged Xavier to pursue his career as an eye specialist.
"I realised just how delicate the structure of the eye is and how much people value their sight, and I thought maybe I could help out. I went for a job, got it, really enjoyed it, and here I am."
"We get to know our patients really well because they have diseases like macular degeneration, diabetes, glaucoma – and so they keep coming back. You have to enjoy caring for them over the years."
However, he said, it's not a job for everyone. "If you like the detective story – if you enjoy working out the past to help predict the future, if you are very particular and precise, ophthalmology will work well."
For Christine Younan, Fellow of the Royal Australian and New Zealand College of Ophthalmologists (RANZCO) and Chair of the RANZCO Younger Fellows Advisory Group, ophthalmology was the perfect career option. "Ophthalmology is a fortunate specialty because there is so much we can do to genuinely help patients… compared to, for instance doctors in rheumatology or neurology clinics who can only do so much for their patients despite being highly skilled. Also, ophthalmology is a really lovely mix of being a physician and a surgeon – compared to a lot of other subspecialties where you have to decide to be solely one or the other."
The life of an ophthalmologist is typically chaotic with different clinics to attend most days of the week.
A cataract surgeon, and retina and uveitis sub-specialist, Xavier's week comprises of time at the Royal Victorian Eye and Ear Hospital and at Austin Hospital as well as Ringwood Eye Specialists, Northern Eye Consultants and Doncaster Eye Centre.
"I used to ride my bike to work every day," said Xavier. "That doesn't happen anymore – I'm travelling too far and in different directions each day… it's hard enough to keep track of my schedule to make sure I don't turn up at the wrong place," he laughed, adding that cycling (along with learning to cook) has been relegated to his limited spare time.
Similarly, Christine, a uveitis and medical retina specialist enjoys her work as she moves between the Gordon Eye Surgery and Retina Associates in Chatswood, where she practises; Westmead Hospital where she is a staff specialist; and Sydney University where she is a Clinical Lecturer. At RANZCO she is the Chair of the Younger Fellows Committee, which represents ophthalmologists who have practised for up to 10 years. A keen soccer player, Christine ensures she sets aside time to play for the first division open women's team in North Sydney ("we've won the league for the past two years"). She also takes the opportunity to travel and she regularly heads out to concerts, the theatre, and the opera.
Rebecca chooses to work part time, which enables her one and a half days a week to focus on her two daughters, Hannah, who is five-years-old and three-year-old Grace. Even so, she manages to work in both the public and private systems, as a consultant at Southern Eye Specialists in Canterbury and teaching junior ophthalmologists at Christchurch Hospital. Additionally, Rebecca serves on the Qualification and Education Committee of RANZCO and is chairwoman of Christchurch Eye, a collaboration of local ophthalmologists set up to develop a purpose built day surgical ophthalmic unit.
As a mother of young children, Rebecca admits to feeling stretched for time and constantly afflicted by guilt associated with never feeling like you are doing enough for each aspect of your life.
It's the common refrain of working mothers: "At work you are missing out on the kids' activities; at home with the kids you are not doing that extra clinic, attending a conference or running a teaching session. I have to make sure I'm organised, I don't waste time and I try to concentrate totally on whatever it is I'm doing at the time."
Even with this disciplined approach to her work, Rebecca said she couldn't do without her amazing nanny and her husband who, as a farmer, has the flexibility she doesn't have to help with the children.
"I find the additional commitments like administrative requirements, teaching and conferences are the problem as they take away from the time I want to be with my children. Where I work the expectation is that these duties are shared not given out pro-rata so I have as many to do as the full-time staff!"
To maximise time with her family, Rebecca chooses to work fewer private sessions than most of her colleagues and limits herself to attending one conference each year. "That does affect my income, my experiences and my career development," she says, "but I wouldn't be without my children."
The practice of ophthalmology has changed. Whereas just a decade or two ago, many ophthalmologists trained as generalists then went on to establish their own solo practice, today Fellows quickly develop an area of special interest and are most likely to begin their practice, as Rebecca, Xavier and Christine have done, working in both the public system and a private clinic.
"There are benefits from working in both the public and private health systems,"says Xavier. "In the public system, you get to help the most needy, exchange ideas with colleagues and see the most advanced pathologies. "In the private system, you get to build patient relationships, they get to know and trust you and you can get things done for them, which is really satisfying. I value the balance between the two systems," he added.
Christine said the opportunity to collaborate is one of the greatest professional benefits that modern ophthalmology offers. "Because of the vast amount of information available in each area of ophthalmology, and the speed at which things are changing, many ophthalmologists choose to focus on a particular area of special interest. It would be quite difficult, as an individual, to be completely up to date in every aspect of ophthalmology. Working in clinics with ophthalmologists who have different areas of special interest enables us to draw from each other so we can offer patients the benefit of the most advanced knowledge."
Xavier agrees. "I've chosen uveitis and medical retina to drill down on and I'll offer my knowledge to other people, but I'm very much in need of others to help with their areas of expertise – to give me the specific details that give patients the best outcomes."
Advancing technology also gives good reason to draw on the knowledge of others. "It's not just the clinical skills, it's not just looking into an eye and making a diagnosis, it's using all sorts of imaging and other testing and being able to interpret all that information as well as the clinical skills and interpretation," said Christine.
And it's not only the youngest ophthalmologists who gain from each other's knowledge.
"Most generalists have a history of knowledge you can draw on that can't be replaced – they've seen it all before, so we learn a lot from them," said Xavier. "OCTs and findings I'll explain, but then I'll ask them about an approach to cataract – it's knowledge you can't get out of a text book and it's incredibly beneficial to me – probably more beneficial than the information I can offer them."
Having started their career in an established clinic, most young ophthalmologists reach the stage when they want to buy into – or even establish their own practice. The formal training offered to ophthalmologists does not currently provide the skills to take them down this path and as Chair of the RANZCO Younger Fellows Advisory Group, this is something Christine is mindful of.
"The College has considered offering some business skills in the early stages of ophthalmology training but there are so many clinical skills training doctors have to master before graduating as ophthalmologists, it is difficult to find the time to teach business skills as well," said Christine.
"This year RANZCO established a Young Fellows Advisory Group with a representative from each State of Australia (Xavier represents Victoria) and New Zealand. We've been working with our members to prioritise their requirements. By pinpointing the information Younger Fellows are seeking, we have developed formal information sessions featuring guest speakers to discuss these themes in detail.
"We're looking at offering workshops on business management as part of this Advisory Group for the younger Fellows of RANZCO."
She said other topics would include setting fees, understanding the Medicare system, establishing or buying into a practice, forging an academic career and establishing a research study.
Meanwhile, Rebecca is exploring a future of collaborative care with ophthalmic assistants including optometrists, orthoptists and nurses, via RANZCO's Leadership Development Program. She said the aim is to establish options for the many challenges ahead due to an ageing population, escalating health costs and a limited workforce. "This project is within the public hospital setting in NZ involving staff employed under an ophthalmologist's supervision," she said.
It's a project that has equal relevance in Australia and New Zealand, says Xavier. "People are getting older, diseases such as macular degeneration, diabetes and cataract are becoming more of an issue, and they're going to place more pressure on the health system."
With so much to squeeze into the working week, it's hard to imagine how Rebecca, Xavier and Christine could possibly fit more in. Yet as the saying goes, when you need something done, ask the busiest people…
Rebecca said her plan is to become involved in international work in a voluntary capacity. "I participated in a VOSO (volunteer services abroad) trip to the outer Fijian Islands as a registrar and would love to do further trips like this to support developing world ophthalmology. I can't commit to that at present, but in the future would like to. If I didn't have children these sorts of opportunities would be something I would be able to do now," she said.
Most of the voluntary work Xavier is involved in is about education, which he says is rewarding in more ways than one. "I provide lectures and tutorials to ophthalmic registrars (doctors in training), medical students, optometrists and orthoptists. It is a way of interacting
with colleagues and others in health care and I probably learn just as much from them as they do from me. The process of explaining to another is also the best way to test the thoroughness of your own understanding."
Christine already participates in regular voluntary work and is looking forward to becoming even more involved.
"I'm involved in a project in Honiara in the Solomon Islands with Dr. Geoffrey Painter from Gordon Eye Clinic. He does the cataract surgery and I help train the local ophthalmologists to manage diabetic eye disease, one of the areas they wanted help with.
"I've travelled to Fiji to work with a team for five out of the last eight years – we go to Lautoka Hospital – led by Drs. Jeremy Smith and Jai Chandra. We work with a local ophthalmologist who selects patients for us to operate on who she feels are out of her depth of experience. These include paediatric and traumatic cataracts."
Christine said she gets incredible satisfaction from volunteering. "We operated on a patient in Fiji who had cataracts in both eyes from a very young age. He was in his 30s and he had never really seen his wife or his son. I still get goosebumps thinking about the moment when we took the pad off and he could see. He started crying and telling his wife how beautiful she was and how beautiful their son was."
"Being involved in a team treating people who don't have the care we have is extremely rewarding – that's a bit selfish perhaps – but there's so much satisfaction from being able to help. We're very lucky our skills are quite portable."
Portable indeed, and when combined with such dedication, there's no guessing how much will be achieved by these three young ophthalmologists.
Balancing the Numbers
Each year, across Australia and New Zealand only around 20 young doctors are accredited as ophthalmologists by the Royal Australian New Zealand College of Ophthalmology (RANZCO). With a growing ageing population, it's difficult to imagine that this small number of highly skilled professionals will be able to cope with escalating levels of eye disease.
Stephen Best, President of RANZCO said the College is "continually in communication with state health departments across the country, looking for opportunities to increase ophthalmology registrar training positions" because he says, "in particular, it is of benefit to the community as well as the trainees, to increase the number of readily available senior registrar positions".
However Mr. Best cautioned that it "is of paramount importance that ophthalmology registrar posts are of sufficient quality to justify accreditation. It does the Australian population no favours to produce eye surgeons with insufficient training and surgical experience".
He said projecting the requirement for medical workforces through to 2025 is the responsibility of the federal government, through its agency Health Workforce Australia (now the Department of Health).
"RANZCO has worked closely with the government for a number of years, in modelling health work changes over time," said Mr. Best, adding that the situation in Australia and New Zealand, although similar on many levels, is not always the same.
"Data produced by Workforce Australia has shown that Australia has about the right number of training positions. However, in NZ they do need a few more, and after RANZCO advocated Health Workforce NZ and the District Health Boards it was agreed to an additional two to three positions in NZ next year."
Historically, many Australian ophthalmology registrars have travelled abroad, particularly to the UK, to complete their training however this is now more difficult because of EU regulations; thus the need to provide more Australian senior registrar positions.
NZ has also restricted eligibility for training posts in ophthalmology and all medical areas. From this year only NZ citizens or permanent residents may apply, whereas in the past Australians could also apply. "We are not yet sure what effect this will have on the NZ workforce, but it may be why they are now wanting to open up some more positions," said Mr. Best.
The final report of Health Workforce Australia – Health Workforce Through 2025 – published November 2012 (volume three), specifically addresses the requirement for changes in the ophthalmic training program. It factors in demographic change, the rate of international migration of ophthalmologists, the rate of production of Australian ophthalmologists, the rate of retirement of ophthalmologists as well as the undeniable changing of scope of practice within certain aspects of eye care.
"The workforce projections incorporate assumptions regarding the migration of certain tasks from ophthalmology to optometry, at the rate of 2 per cent per annum, a rate Mr. Best considers "is probably conservative".
"Which eye care professionals perform which tasks is naturally changing over time," said Mr. Best. "Collaborative eye care and eye care managed through a team approach, is having a major impact upon workforce projections.
"In a recent report from Genevieve Quilty, the CEO of Optometry Australia, it was reported that the current production rate of Australian optometrists is leading to an oversupply in the market. It was stated that the accepted number of optometrists per head of population is in the vicinity of one to 8,000/10,000, whereas the current ratio is approximately one to 7,100, and falling. With an oversupply developing in the optometric workforce, it would be reasonable to assume that the natural rate of movement of eye care duties from ophthalmology to optometry may in fact be more than 2 per cent per annum."
A snapshot of ophthalmologists put together from a survey conducted in 2009, finds that in 2009, there were 843 active ophthalmologists in Australia comprised of 154 women and 689 men. The average age was 53 years; they worked an average of 39 hours per week and approximately 38 per cent were aged 55 years and over. There were just 11 ophthalmologists in the 30–34 year age group.
(Click on image above to view table)