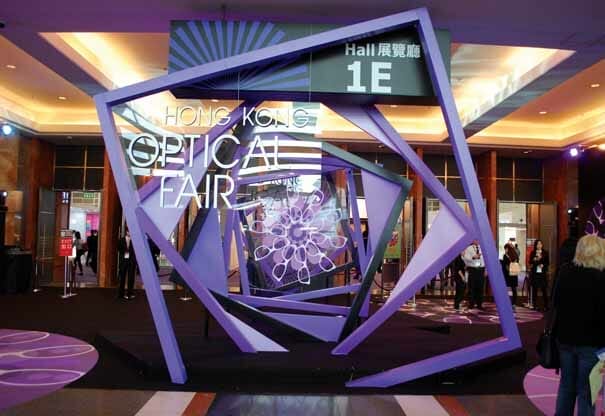 A massive 14,000 buyers from 99 countries travelled to attend the 22nd HKTDC Hong Kong Optical Fair, from the 5–7 November at the Hong Kong Convention and Exhibition Centre. The annual Fair is co-organised by the Hong Kong Trade Development Council (HKTDC) and the Hong Kong Optical Manufacturers Association.
This year's Hong Kong Optical Fair boasted a record number of 710 exhibitors from 29 countries, among them newcomers from Mexico, Spain, Sweden and the United Arab Emirates.
To assist buyers to find exactly what they were looking for, the fair was divided into zones and groups. Zones included the Chinese mainland, France, Italy, Japan, Korea and Taiwan. Disappointingly, Australia's representation was almost non-existent compared to previous years.
Group pavilions included the brand name gallery; contact lenses and accessories; diagnostic instruments; eyewear accessories; eyewear frames and lenses; kids' eyewear; optometric instruments; reading glasses; smart eyewear; sports eyewear; professional eyewear; trade services; and trend avenue.
HKTDC… organised 72 buying missions consisting of more than 4,100 trade buyers from 47 countries and regions to visit the fair
Most of the major international brands were congregated in the brand name gallery, among them ic! Berlin (Germany), Chrome Hearts (US), Converse (US), Bolle (France), Dita (US), Frederic Beausoleil (France), FYSH UK (Canada), Hachill (Hong Kong), Italia Independent (Italy), Markus-t (Germany), Mykita (Germany), Muzik (Korea), Ørgreen (Denmark), Superdry (UK), Tony Same (Hong Kong) and more. Products from each of these well-known brands were showcased throughout the Fair with regular, high-glamour eyewear parades.
Record Buyer Numbers
Buyer numbers were also up compared to the 2013 Fair with attendance from emerging markets, among them India and Vietnam, as well as developed markets including Italy, Sweden, Spain, Canada and Korea.
Interest was further boosted via the efforts of the HKTDC, which organised 72 buying missions consisting of more than 4,100 trade buyers from 47 countries and regions to visit the fair. These included buyers from emerging markets such as the Czech Republic's FEBA Spol S.R.O., Poland's Prostaf S.J., Russia's LLC "Svet-Ochi" and Malaysia's Metro Eyewear Holdings Sdn Bhd among others.
"There was an increased number of visitors and good attendance from many countries and regions, which indicates that the optical fair has become one of the most important trading platforms for the industry," said HKTDC Deputy Executive Director Benjamin Chau.
"The responses from exhibitors and buyers were satisfactory and there were overwhelming enquiries on brands, eyewear products and optometric instruments and machinery from the buyers."
"The fair was also about promoting Hong Kong manufacturers to the world," said Sophia Chong, Assistant Executive Director of the HKTDC. "Hong Kong is the third largest exporter of spectacle frames in the world, exporting US1.88 billion of optical products in 2013, with
the top three markets being USA, the Chinese mainland and Italy, with strong growth being recognised in Australia, the UK and the Netherlands."
Smart Lenses: The Greatest Attraction
Smart Glasses, and more specifically, the lenses for Smart Glasses attracted the most interest at the fair. Wearable computing is purporting to be the next big thing in consumer technology products. One of the biggest problems for "wearables" as they are becoming known, is that the devices have been impractical, bulky and unappealing for consumer applications.
But is this about to change?
Rochester Optical, an American frame and optics manufacturer which works closely with the UK's Waterside Laboratories, exhibited its range of smart glasses, including Smart Frames for Epson Moverio, Google Glass and VUZIX M100. Rochester Optical also showcased the "Chimm Collection" as part of a collaboration with celebrated Hong Kong designer Simon Chim.
I'm pretty sure it's just a question of time before this new technology category takes off in one way or another. Having talked with Rochester Optical's CEO Patrick Ho, it looks like it will be led by industries, with consumer demand following. It's a huge opportunity for Australian optometrists who are ready to embrace the future because, as Mr. Ho explained, there's no way consumers are going to enjoy a great experience with smart eyewear unless their optom is closely involved in the delivery.
Time to Embrace the Opportunity
Mr. Ho explained to me that Smart Glasses brought with them many new optical challenges, which have now been overcome. He said the key to the immediate success of smart glasses is in the hands of optometrists.
Elaborating further, Mr. Ho explained that the challenges associated with delivering a fantastic smart glass experience have been:
Inability to accommodate the perceived image depth of various smart glasses;
Displays away from optical centre induced unwanted prism;
Traditional design parameters could not accommodate strong prescriptions;
here was an inability to see the entire image display;
People experienced eyestrain and fatigue.
He said the solution varies depending on which Smart Glass is used. For instance, in the case of Google Glass it's not possible for a person who needs a prescription lens to see the distance and the display both in focus at the same time.
Rochester Optical's solution is a new lens they call "Smart Gold". The Smart Gold Lens introduces another focal point to focus on the device display so that the wearer now has the ability to focus on the display as well as focus at traditional close up and far distances. "It meets all the smart glasses wearer's needs," said Mr Ho.
"The key to this technology working is an accurate refraction that only an optometrist can provide," he said, adding that "optometry has a vital role in explaining to the public that they need special lenses in Google Glass to optimise their experience," said Mr Ho.
"We are here to help eye care professionals deliver Google Glass lenses. We have developed display kits and POS, which showcase the different frame shapes and colours… You don't need any special dispensing tools, we just need a good refraction with, most importantly, accurate monocular PD measurements. This is critical," said Mr Ho.
Rochester Optical is currently in the process of certifying an independent optical lab in Australia to make the lenses locally, then optometrists can start to Rx for Google Glass and sell the frames.
"In the meantime, Australian optometrists can contact us via our website to begin the process of stocking frames and lenses for Smart Glasses. Once the local lab is certified they will take over our representation in Australia and warehouse our products," said Mr Ho. You can read more about smart wearables in mivision's feature this issue, starting on page 69.
Sixteenth Eyewear Design Competition
Award-winning designs of the 16th Hong Kong Eyewear Design Competition were on display throughout the three-day fair. The theme of the competition this year was "Retro". The winner of the open group was Siu Wing-kit with his design concept based on a 1970s camera lens, which also claimed the creativity award and made-to-sell award.
Li Ka-sing was the first runner-up with his design featuring magnetic hinges with changeable temples to suit the wearer's personal preference. In the student group category, Wong Hiu-tung was crowned champion with her design entitled Infinity, inspired by the spectacles worn by the last Chinese emperor Puyi. Chan Chung-yan was the first runner-up with her design entitled Yearning For Childhood.
Twelfth Optometric Conference
Running alongside the Optical Fair was the 12th Hong Kong Optometric Conference. The conference explored new trends and innovations in the optical industry with the overall theme being the development of Optometry for the Future. The two-day conference featured experts from the United Kingdom, the United States, Hong Kong and Singapore. Seminars included: a preview of 2015 trends – a European optical fashion tour; the must-haves in a pair of spectacles today and selection techniques; and export regulatory requirements for eyewear products.