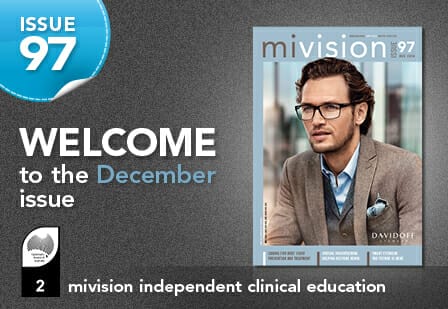 What better time of year than December to focus on kids. That's what we've done this issue. It's all about kids and how we can better care for them. Our lead story, written by consulting optometrist Annette Hoskin, looks at the very real dangers to children's eye health at home and in the community. With almost six million children worldwide every year suffering eye injuries and 90 per cent of all eye injuries preventable, she says there is plenty that optometrists and ophthalmologists can do to raise awareness and reduce the incidence of ocular damage.
Those who specialise in caring for children with eye disease and eye injuries play a crucial role in supporting families and guiding patients as they move through adolescence, into adulthood and employment. For this issue we've spoken to Sue Silveira, a representative of Orthoptics Australia, about the vital role orthoptists play in this process.
Bernie Eastwood, Vice President of the Australian College of Behavioural Optometrists, also told us about the extraordinary role of behavioural optometrists in helping children overcome vision deficiencies that can affect their development and growth.
Our fashion feature this issue is all about kids, too. You'll find a great selection of safe, functional and über-cool frames that kids will love to wear as they kick off a new year of school in 2015. Our fashion profile focuses on an exciting young Spanish company teen kids and young adults will love. 4Contra1's reasonably priced, quirky, yet fashion-focused eyewear is well deserving of attention. Also demanding attention is a whole new world of smart wearable devices, some developed to rival Google Glass, others developed with specific functionality – such as business, sport or motorcycling – in mind. We've reviewed the biggest contenders here. If you haven't already done so, it's time to familiarise yourself with this smart technology: There's no doubt it's on its way.
We also bring you all the latest news, delivered fresh from the Hong Kong Optical Fair by mivision's Todd Tai, who was absolutely rapt by the colour, technology and design options being showcased at this strategically
important optics event.
As we draw to a close for the year we bring you two good news stories. One from Kenya where Fred Hollows Foundation is making tremendous in-roads into restoring sight. With only two ophthalmologists per million, the Foundation's new alliance with Twice the Doctor to improve eye services in this African nation couldn't be more needed. The second is a local story about an extraordinary optometrist and academic who, in his spare time, is developing quite a career as a composer. Meet Melbourne's impressive Dr. Andrew Anderson, and look out for the next performance of his stunning work
.
Finally, I thank you for your continued support and feedback throughout 2014. The mivision team wishes you and your family the very best for the festive season and look forward to continuing to present the latest and greatest from the local and international optics community in 2015.
Mark Cushway,
Editor
[/vc_column_text][/vc_column]