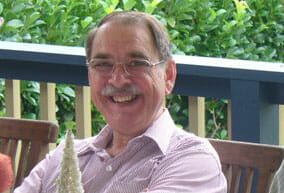 Graeme Thompson, founder of Thompson Larter & Associates Optometrists, has passed away, age 72.
Mr. Thompson died from prostate cancer, the treatment for which had been complicated by surgery following a car accident earlier this year (2014).
Mr. Thompson trained as an optometrist through the TAFE system and worked for Gibb and Beeman Optometry and later Michael Michaelides Optometry. For some years he toured Australia in a caravan working as a travelling optometrist to service the eye health needs of people in regional towns. In October 1981 Mr. Thompson established his own practice in the Sydney suburb of Pennant Hills and a few years later, went into partnership with the late Sue Larter. He developed an interest in behavioural optometry and practiced as a behavioural optometrist until his retirement in 2011.
Mr. Thompson was a founding member of ACBO in 1987. He was one of the founding group of Fellows and served on the first board as treasurer. He was treasurer from 1987 till his retirement from the board in 1996.
In 1996, Mr. Thompson was honoured withthe Keith Woodland Award for Outstanding Contribution to Behavioural Vision Care by the Australasian College of Behavioural Optometrists (ACBO). In 2002 he was recognised with an ACBO honorary life membership.
Carole Macdonald is an optical dispenser and the current manager of Thompson Larter& Associates. Having worked with Mr. Thompson for 24 years, she said he was one of the best refractionists she'd seen. "He didn't get scripts wrong – he was old school and very well trained."
Speaking of his character, Ms. Macdonald fondly referred to him as "eccentric" and a "grumpy old buggar".
"Graeme was gruff with patients but he always won them over and three years after his retirement, we still have people coming in, asking after him," said Ms. Macdonald. "He was quite eccentric – beneath that gruff exterior, he had a good sense of humour, and for the last 20 years in practice he became known for always wearing a bow tie."
Mr. Thompson was actively involved in the ACBO for many years and president 1987. He was also involved in Rotary, Lions and Probis Clubs holding a variety of positions over the years. He also participated in a trip to Fiji for Optometric Aid which he found very rewarding.
A personal joy was acting and it was when Mr. Thompson was on stage performing Joseph and the Amazing Technicolour Dream Coat with an amateur theatre group, that his former business partner Sue Larter, first met him. "Sue always said she discovered Graeme when he was on stage with that production. She thought he was hilarious and decided she wanted to work with him," said Ms. Macdonald. As a younger man Graeme had a passion for sailing and over time built two boats by hand, he was an avid woodworker and turner and loved to problem solve and work with his hands. In his later years Graeme took up gliding and bought a motor scooter and with both had a few minor accidents. "I think he enjoyed living a little more on the edge with each increasing year!," said Ms. Macdonald.