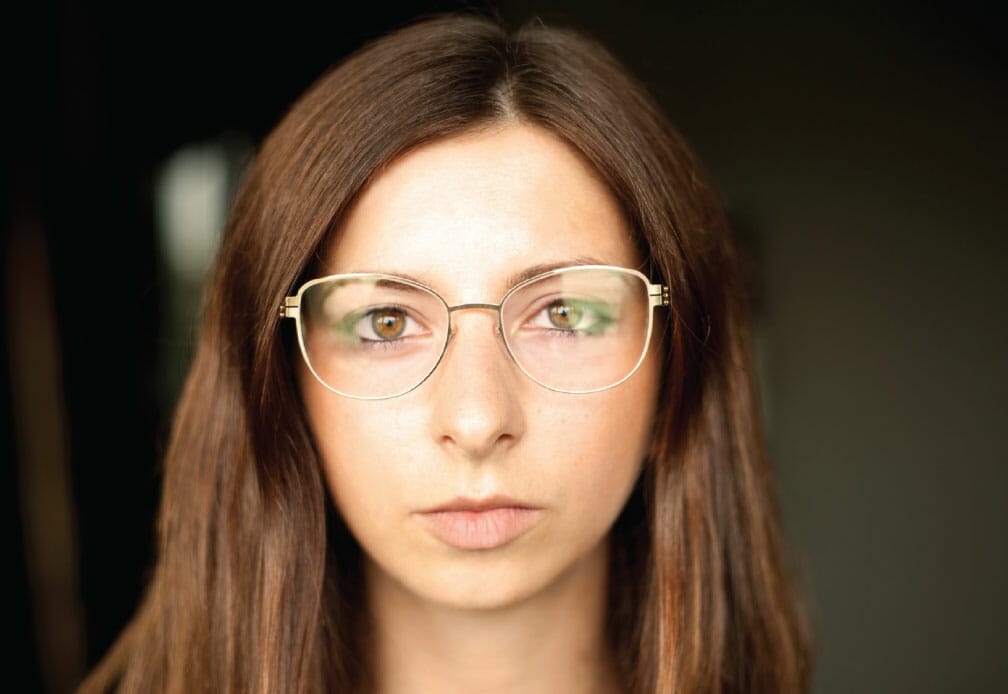 You'd have to agree… there's nothing much harder than getting back into the swing of business following a long summer break at the beach. This February you can ease the pain by helping your patients choose a new look for the office with lenses that are most suited to their work.[/vc_column_text][/vc_column]
The must haves for professional eyewear are few and relatively straightforward:
1. A frame that's ergonomically designed to comfortably rest on the nose for long hours every day;
2. A lens that's designed to help the office professional switch their attention from close to intermediate distance quickly and without causing strain;
Most notable this year is the vast array of finely crafted frames in titanium and other lightweight metals
3. A lens that reduces the impact of blue light rays that emanate from the ubiquitous digital screen.
Within these parameters there are many different options to suit your patients' sense of style, professional environment and budget.
Most notable this year is the vast array of finely crafted frames in titanium and other lightweight metals. ic! berlin's collection, quirkily named 'Something I want… to tell you' is inspired by the glamorous 50s and 60s. With a choice of panto metal frames, browlines and cats eyes, these frames appeal to those looking for elegance, absolute comfort and – with the well known ic! berlin screwless hinge that enables the temples to be removed from the fronts with a quick flick of the wrist – a technical bent.
Designer Peter Coombs, from Adelaide, gives hope to all who enjoy a short day at work (and who doesn't?) with his 4 o'clock collection, inspired by his own studio's propensity to down tools at 4pm for a social drink with friends. A jeweller by trade, Coombs has incorporated his signature sterling silver hinges in this new collection, while the faces and temples are cut from a single piece of flat titanium. Folds and twists create a unique style and sense of sophistication – perfect for the quietly confident executive.
Lightec optical frames, distributed by Eyes Right Optical, are made from a lightweight, highly flexible surgical grade stainless steel. Fitted with a robust, double-action spring-hinge, most of these frames are screwless and all are beautifully coloured and timeless in design.
William Morris has collections in metals (such as the London frames) and acetates providing absolute choice for professionals of all ages. The brand's Young Wills collection, with its chunky acetate frames, is particularly suited to the younger suits. Black Label is designed for a more mature audience with the large cats eyes, has a deep lens, which is perfect for office lenses.
Rodenstock distributes a number of frames that are suited to the urban professional, among them Mercedes Benz eyewear, which is both functional and stylish. Frames are colour coordinated with automotive finishes and finished with the 3D Mercedes Benz logo created through a complex process of embossing, stamping, cutting, galvanising and polishing.
Professional Lenses
Digital media – computers, tablets and smart phones – have become ubiquitous in the office, home and educational institutions. Consequently, optometrists are increasingly faced with patients who complain of tired eyes. Blue light that emanates from digital screens is being linked to disturbing the sleep cycle, chromatic aberration and macular degeneration.
Fortunately, today there is a host of options to choose from, according to your patient's needs and budget. Rodenstock's Ego office lens, for instance, provides an extra-wide field of vision for both near and intermediate distances. As a result, the wearer can shift their vision from the computer screen to a colleague across the room or a meeting table with clarity and comfort.
Bonastar has released a new lens coating called blueEase, which the company claims reduces the flickering, ghosting impact of blue light. Similarly, GenOp's new Blu-Olp lens filters high-energy blue and ultra-violet light using ocular lens pigment. Two options in the Blu-Olp range ensure these lenses can be optimised for intermediate and mid-distance, making them ideal for the office.
For customers who are unsure of whether to go with your office lens recommendation, its worthwhile pointing out the advantages they provide in the home as well. Office lenses can be ideal for pursuing hobbies and crafts, cooking and even watching TV.