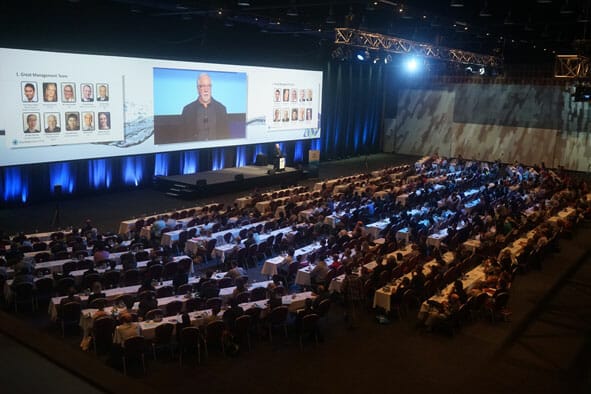 Optometrists from around the country were drawn to the warmth of the Gold Coast over the weekend of 10 – 12 April for the annual Australian Vision Conference.
About 500 delegates packed into AVC's conference room to hear the likes of Professor Brien Holden OAM speak about his Institute's commitment to harnessing the rising global incidence of myopia, which he says is rapidly becoming the number one cause of blindness in the world. Professor Holden described "a person with myopia is anyone who is ≥ 0.50 dioptres or more. A person with high myopia is ≤ –5 dioptres". He said in Australia about 31 per cent of our young people are myopic. In Taiwan that statistic is 83 per cent and a randomised study of young men going into the Korean army service had identified that around 96 per cent of them were myopic.
"Our summary of was happening in 2010 was that 28 per cent of the world was myopic and there were 1.9 million myopes. We projected out to 2050… there will be five billion myopes on the planet – now if you can't make a decent practice out of five billion myopes, something is wrong somewhere. We're talking 52 per cent of the whole world is myopic."
Google Glass will be Back, Better than Before
Andrew Hogan, Tasmanian optometrist and presenter of the ABC's program Nerdzilla presented his impressions of Google Glass, which has quietly been pulled back from the market while Tony Fadell, "father of the iPod" takes a new look at this wearable technology's potential for the future. Wearing his own Google Glass headpiece, Mr. Hogan demonstrated the more interesting features of Glass, including caption functionality which enables those who are hearing impaired to receive verbal messages in text, a translation service which enables the user to focus their Glass attention on a sign or piece of information for automatic translation into a different language, and a zoom function so that people with vision impairment can view text, images or a scene in front of them at a dimension to suit.
Mr. Hogan said despite the negative noise surrounding the withdrawal of Google Glass from the market (it was supposed to be commercialised in 2014 having been trialled by 'Google Explorers' who paid $1500 for the experience) there was definitely a future for this device. "They're going to come back and when they do, it's going to be really interesting," he told a very attentive, wide-eyed audience.
Alcon Launches Air Optix Colors
At an early Alcon breakfast on day two of AVC, delegates were introduced to Air Optix Colors – prescription colour silicone hydrogel contact lenses. In her presentation, Alcon's professional training manager Helen Gleave highlighted the opportunity for these lenses to be presented as a beauty product that would help patients to express themselves. She said in Australia $773 million is spent each year on beauty products and that three out of five patients showed interest in colour contact lenses. Ms. Gleave said the new silicone hydrogel contact lenses were had a DK/T of 138, demonstrating that incorporation of colour did not impact oxygen transmissibility.
A Content Packed Conference
These were just three of the highlights of a content packed AVC which also included fascinating presentations in paediatric ocular conditions by Drs. Nelofar Deen and Sheehan Shar; clinical research behind dry eye management using IPL by Professor Jennifer Craig, and a fascinating insight into some complex cases of glaucoma management by Associate Professor Graham Lee. Margaret Lam spoke about therapeutics and contact lenses as well as the use of contact lenses for practice and patient growth; and Professor Erica Fletcher gave an insightful update on research into the treatment of dry age-related macular degeneration. Dr. Stephen Vincent spoke about retinal pathology, OCT and low vision while Dr. Robert Bourke presented his response to a disturbing question relating to diabetic retinopathy: why do we still see third world results in first world ophthalmology?