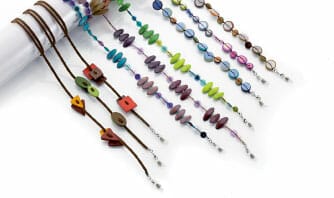 Optical accessories may take up a small space in your storeroom and in your display cabinets but make a big deal of them and they can become a powerful tool in the sales process that adds value, extends product life and builds customer loyalty.
When walking through the halls of eyewear exhibitions in Australia and overseas, but particularly Asia, I'm always struck by the array of colour and excitement that screams out at me from stands dripping with optical accessories.
Fluoro contact lens storage containers topped with crazy eyeballs, bizarrely printed frame cases, elegantly designed lens cloths, beaded and bejewelled spectacle cords – these accessory manufacturers are catering to a myriad of markets and tastes – and they do it well.
Eyewear accessories meet a multitude of purposes, key among them is to extend the life of a product, enhance its performance and enable the wearer of the glasses to express just a little more personality.
fashion accessories – jewellery, belts, scarves, stockings and socks – are the perfect way to… express a wearer's style… consider eyewear accessories in the same light…
As an eyewear retailer, eyewear accessories can add to your profit margin and help you increase sales.
So get those accessories out from the drawers and the storeroom, find a dedicated spot in your window and in the practice and make them one of the stars of the show!
Create a Themed Display
Consider creating an attention grabbing display of accessories in your window – themed in colour to the season or in context to an occasion. For example, pull together a display of glamorous feminine accessories in time for Mothers Day. Think beaded spectacle cords and smart leather embossed cases with elegant sun frames… and make sure there is a mix of price points to suit the kids' and the partner's pockets.
When the kids are heading back to school at the end of the holidays, pack your window with kids' spectacles, teamed with colourful straps and cases, fun lens cloths and groovy contact lens cases – this will get the parents thinking about options that will encourage their child's compliance and care for the product.
As we move into the depths of winter, brighten the window with Rx-able snow goggles coordinated with brightly coloured frame cases, neoprene straps and lens cloths as well as anti-fog sprays… all set on the backdrop of miniature snow peaks made from mountains of white polystyrene beads.
Accessories to Extend Product life
As you're closing a sale, why not suggest an accessory or two that will add value to the life of the frame and lens. Chances are your customer hasn't thought of it and probably doesn't even know products like this exist. Gentle lens cleaning wipes, a stylish cord to keep the frame around the neck of an active adult or a strap for an active child; a fabric frame bag that will protect the glasses and can be used to clean the lenses; groovy contact lens cases to encourage cleaning compliance… these are all small, low cost items that can be tacked onto a sale. While they may not reap huge financial rewards they will show your customer that you care about the longevity of their product and in doing so, build their loyalty and get them promoting your service to their friends.
Accessories to Add Value
It's often said that once you start regularly offering sales you'll quickly find yourself heading down the slippery slope of product discounting… and then you'll find it very difficult to make your way back to the top. Customers won't expect to pay full price anymore and they'll be happy to wait until your next sale sign reappears in the window.
Instead of offering a discount to meet the competition, consider taking the opportunity to add value to the sale by bundling spectacles with clip-on sun lenses, sports glasses with a neoprene strap and case, or sunglasses with a branded lens spray, cleaning cloth and a stylish store branded case. Wherever possible, be sure your branding is on at least some of the items you offer with the bundle – it will ensure the memory of your practice lives on in the customer's mind long after the sale.
Accessories to Express Style
There's no doubt that fashion accessories – jewellery, belts, scarves, stockings and socks – are the perfect, sometimes low cost, way to change-up an outfit and express a wearer's style. So why not consider eyewear accessories in the same light? Team a sun frame or spectacle frame with two or three cords that can be chosen to suit the occasion and your customer will instantly have multiple 'looks' they can create at home. A fluoro frame case with graffiti patterning may be the perfect choice for a day out with friends but is it the image your patient wants to project when they're entertaining a potential business partner at the opera? A slim-line black case may be more favourable.
Of course of most importance to you as an eye care professional, and to your customer, is the quality of the vision experience. By suggesting a pocket magnifier to assist a patient with low vision, offering moist lens wipes and protective casing for your customers' new sunglasses, by changing out the temples or nose pads to better suit the face, and suggesting a clip-on sun lens to suit a new pair of spectacles, you'll be ensuring your patient experiences the best quality of vision from day one… and that you'll receive their repeat business and the business of their friends.
Healy
2015 marks the 40th anniversary of the Australian owned company Healy Optical Group. Healy Optical's modern professional in house silk screen printing service offers you the opportunity to brand your cases and cloths with your company logo and details.
The wider accessories portfolio also includes a platinum spray kit, which contains a microfibre lens cloth, 30ml metal spray container and an individual screw driver. Lens cleaners are organic, citrus based anti-fog, antistatic, non-toxic non-irritant, non-flammable sprays suitable for sunglasses, spectacles, safety and sports goggles, camera lenses, smart phone and tablet screens. These kits are ideal for point of purchase displays and offer a great 'on sell' opportunity.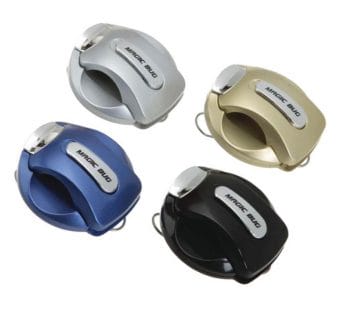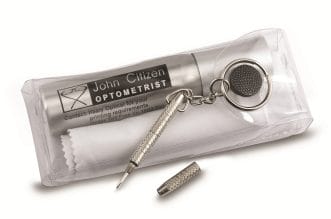 The range of Shade control flip up and Visionaries clip-on sunglasses provides an opportunity for retailers to present patients with the highest quality of affordable polarised UV protection available. All clip-on products are designed and manufactured in the USA and come with a lifetime guarantee on the clip mechanism.
The entire Healy Optical case and accessory portfolio is available to view and purchase online, with a convenient 'previous order' function to allow quick, convenient reordering.
Contact: visit www.healy.com.au